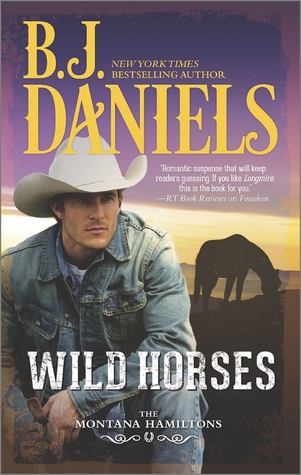 Title: Wild Horses
Series: The Montana Hamiltons #1
Author: B.J. Daniels
Format: eBook/Paperback, 384 pages
Published: February 24th 2015 by HQN Books
ISBN: 0373779569
Links: Goodreads | Amazon | B&N
Reviewer: Linda
Source: Author
Rating: 5 out of 5 Wine Glasses
It took only one impulsive moment on an empty two-lane highway to cost her everything.





A man's responsible for his own prosperity—especially if he's Cooper Burnett, the most determined cowboy in the West. No one knows what he sacrificed to claim a piece of Beartooth, Montana, for himself and his beautiful fiancée, Livie. No one knows what he's willing to do for love…until a stranger's twisted vendetta threatens the happy ending they should've had long ago.





One fateful mistake isn't the only secret Livie Hamilton is keeping from her fiancé. Victimized during a treacherous blizzard by a man she thought she could trust, she's pregnant…but unsure who the father is. With an unknown blackmailer threatening to expose her, she must confess to Cooper and trust he'll still protect her. But when the truth falls into place, she may lose the only man she's ever loved—or worse.
Linda's Thoughts:
"Jack and I are looking forward to the wedding. Jack said he's never seen a man who has such a way with horses as Cooper Barnett."
Livie nodded. Cooper gave the horses a kind of unconditional love that seemed to make them want to do anything he asked of them. She swore she'd seen the horses look at him with adoration. She chuckled at the thought since she was sure she looked at him the same way.
WILD HORSES by B.J. Daniels is the first fantastic installment in her brand new The Montana Hamiltons series. This new series will be focusing on The Hamiltons, consisting of "Buckmaster", a rich and influential widower with Presidential aspirations, his "ice queen" second wife and his six daughters. WILD HORSES is the story of horse wrangler Cooper Barnett, and of his fiance, Livie Hamilton, Montana Senator "Buckmaster" Hamilton's daughter.
Wow! There hasn't been a day since I finished reading it that I haven't thought about this book. That right there tells you that this is one fabulous book! B.J. has proven, again, that's she's truly the master of western murder mayhem. I am not exaggerating when I state that she writes romantic suspense like no other. This is, hands down, her best book yet! I know I say that with every one of her books, but this one is beyond fabulous!
First of all, I was drawn in by the cover with the sexy cowboy and the lone horse silhouetted against the rolling hills. To me, it's a reminder that B.J.'s picturesque Montana settings set against the Crazy Mountains always draw the reader into the ranch life highlighted in her stories.
Fans of B.J.'s beloved Beartooth, Montana series will be thrilled to see favorite characters from that series return in this new series, including wonderful Sheriff Frank Curry, reformed busy body Nettie Benton Curry, the Sheriff's crows :-), cafe owner Kate French and more. If you haven't read the previous books, don't worry. B.J. fills in enough of their stories so that you won't be even a wee bit lost. I want to thank B.J. for providing a very satisfying closure to a big question that has hung over Frank for much of the Beartooth, Montana series; If you have enjoyed her Beartooth, Montana series, you will definitely want to read this book to find the answer!
Livie and Cooper are deeply in love, but have a bit of a tempestuous relationship having come from opposite sides of the tracks. Livie has led a privileged life while Cooper has dusted off his past, and honorably and determinably pulled himself up from his bootstraps. Cooper adamantly doesn't want to take charity either, especially if it's from his rich and influential soon-to-be father-in-law. Cooper wants to be the provider and that creates some issues, not only with Livie, but with her family. Even so, the talking heads believe he's only after Livie's family's fame and fortune. I really liked both of the primary characters - they were each strong, engaging, stubbornly independently and genuine with background stories that will pull at the reader's heartstrings.
As the story opens, we learn that after one of their arguments, Livie had impetuously run off into a snow storm where she was "rescued" from certain death when her car ran off the road. Unfortunately, her "rescuer" placed Livie squarely into a dangerous situation that could ruin not only her, but everyone she loves. When she subsequently finds herself pregnant, she doesn't know whether the father is Cooper or her "rescuer's." To make things even worse, she's being blackmailed and now fears for her own life and the lives of those close to her.
As with B.J.'s other books, there are multiple plots that are interweaved seamlessly making for a tale that I simply did not want to put down. One of those storylines involved the return of a wife and mother long thought dead. Oh my! Oh my! Oh my! Just writing about it makes the hair on my arms stand on end. Each of the interlacing plotlines contribute to the spine-tingling anticipation and well-orchestrated action.
Following please find a few more of my favorite quotes from this engrossing book:
"Honey, before I became the man who was to marry Olivia Hamilton, I was capable of taking care of myself. I can take care of you, too, for that matter. If you should ever decide to trust me." With that he turned the key. The old pickup's engine rumbled to life and he backed out kicking up fresh gravel.
Livie bristled. She knew he thought her an overindulged debutante, but there was more to her than just being Buckmaster Hamilton's daughter and damned if she wasn't going to prove it to him. If he gave her the chance."
---
He stopped for a moment. The dark woods had taken on an eerie quality. The dense trees didn't allow him to see but only a few yards ahead of him. Maybe it was the approaching storm. Or maybe it was all his years of being a lawman, but he had a spooked feeling even before he heard the soft rustling sound ahead in the trees.
He'd often listened to other lawmen talk about the things that had spooked them. Being spooked was different from being scared. Scared was healthy since lawmen were often putting themselves into the path of danger with people who were violent.
"I think evil stays in places where something horrible has happened," he recalled a deputy sheriff saying one time. "I've felt it. It takes on a life of its own. That's why when you return to a place where something horrendous has happened, you get goose bumps. I've felt it and it spooked the hell out of me.
Reaching for his weapon, he moved toward the sound as the first drops of rain began to fall. He hadn't gone far when he caught a flash of movement out of the corner of his eye. He spun to his right, his heart drumming and weapon drawn...
---
Unable to stand another minute in the house with Angelina, the disapproving looks of his daughters and the chance that his dead first wife might show up at his door, Buckmaster drove into Beartooth to the Range Rider.
The bar was empty this time of day, which suited him just fine.
Clete poured him a Scotch and said," Haven't seen you for a while."
He figured everyone in town already knew about Sarah. "I've never needed a drink more badly than I do right now. I'm sure you heard I now have two wives."
"I wouldn't wish that on any man..."
This story is solidly crafted from beginning to end with compelling characters, conflicts, passion, jealousy, greed, secrets, and a killer on the loose. It's the perfect mix of suspense and romance with an OMG twist that you'd never imagine in a thousand years. Did I mention the sexy cowboys? If you haven't read her books, WILD HORSES is a great one to start with. I highly recommend all of her books as they're all awesome reads. LONE RIDER, the next installment in this series releases July 28, 2015 and I can't wait! I highly recommend WILD HORSES to anyone who enjoys reading gripping roller coaster rides of suspense.