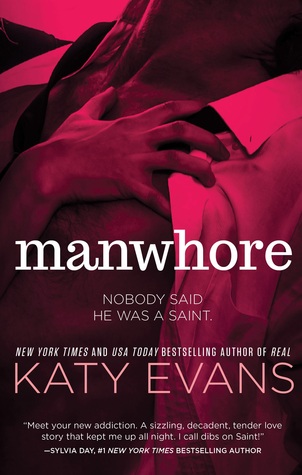 Title: Manwhore
Series: Manwhore #1
Author: Katy Evans
Format: eBook/Paperback, 368 pages
Publication: March 24th 2015 by Gallery Books
ISBN: 1501101536
Links: Goodreads | Amazon | B&N
Reviewer: Crystal
Source: Netgalley
Rating: 4 out of 5 Wine Glasses
Is it possible to expose Chicago's hottest player—without getting played?


This is the story I've been waiting for all my life, and its name is Malcolm Kyle Preston Logan Saint. Don't be fooled by that last name though. There's nothing holy about the man except the hell his parties raise. The hottest entrepreneur Chicago has ever known, he's a man's man with too much money to spend and too many women vying for his attention.




Mysterious. Privileged. Legendary. His entire life he's been surrounded by the press as they dig for tidbits to see if his fairytale life is for real or all mirrors and social media lies. Since he hit the scene, his secrets have been his and his alone to keep. And that's where I come in.




Assigned to investigate Saint and reveal his elusive personality, I'm determined to make him the story that will change my career.




But I never imagined he would change my life. Bit by bit, I start to wonder if I'm the one discovering him...or if he's uncovering me.


What happens when the man they call Saint, makes you want to sin?
Crystal's Thoughts:
Manwhore is a downright hot romance that will keep you up all night turning the pages!
Rachel Livingston has the opportunity of a life time, not only a story that could expose her writing and lead her to bigger and better things, but a story that could save her career and the future of the magazine company she works for. The catch; getting close to a multimillionaire businessman and playboy, Malcolm Kyle Preston Logan Saint. Rachel thought getting close would be the hard part but quickly lands an interview focused on his new business venture. The hard part she finds after several meetings - is staying away.
I'll be honest and state that if I wasn't already familiar with the author and her writing, I most likely wouldn't have picked up this book because of the title alone. Manwhore is definitely off-putting for me. Yuck. Luckily the story didn't live up to it's title! lol Manwhore turned out to be a sexy, scintillating, and ensnaring story that I loved.
If you have read Katy Evans' work before, then you know that her writing is very literal, which sometimes makes for a choppy read. However, that form of writing style never hampered the story-line or interrupted
the flow here. It was quite steady and over before I was ready for it to be!
☺
The repartee between characters was playful and witty, and
by 9% I was already smiling.
Rachel was an endearing character that came off as a little naive at times but I really liked her. She knows that she should focus on the job at hand but can't help but be sucked in by Saints charm and magnetism, which was totally understandable. Soon she is faced with choosing between her head that knows she should focus on her career, and her heart that is consumed by Saint. I was surprised that once the layers began to lift from Malcolm's (Saint's) character that he was a totally different man then what readers are led to expect from the blurb and title. It was a good surprise!
Though Saint has daddy issues, he doesn't let it affect his attitude. Instead it drives him to be better. A better business man. A better business owner. A better role model and leader. His persona has a good balance of dark and light. He wants Rachel, he is incredibly sweet and understanding with her, but he knows that a forever is not in his future. That doesn't stop him from going after the now though.
I was surprised by another aspect in the story as well, and I'm not sure if it was an unintentional
deviation in the character or something that should have been polished up on more.
From Rachel's actions and dialogue, I assumed she was a virgin so I was a little surprised with the first sex scene between her and Malcolm (which was panty-melting hot). It wasn't until after the fact that we learned that Rachel has slept with two other men. And like I mentioned above, I did enjoy Rachel's character immensely, but she came off as a bit of a push-over at times, especially when it came to her friends and Malcolm's friends. There is one scene where Malcolm's friend, Tahoe, is being beyond disrespectful and Rachel just sits there taking it. Another example is Rachel's friend Gina, who I did not like at all. She was a miserable character who seemed to enjoy nothing more then bringing her friends down to her miserable level with her, and Rachel allowed her to do this. I wanted to shake Rachel and yell at her not to give in to her so-called friend's negativity! Take that as you liked, but the author had no problem pulling me into the story!

I would be remiss in not mentioning how closely the story of Manwhore resembles the one of Fifty Shades of Grey. Young, sexy, and wealthy bachelor who shies away from commitment. Blushing young writer who meets said billionaire during a business interview who while putting him off can't help but fantasize about him and eventual give in... But having said that, as we've seen many times over, that kind of story obviously sells. So if you can add your own spin to it that works for both you and your readers, why not go for it?
All-in-all, Manwhore made for an exciting and passionate contemporary romance with an ending that left me frustrated, fascinated, and wanting! I can't wait for Manwhore +1, coming this July.