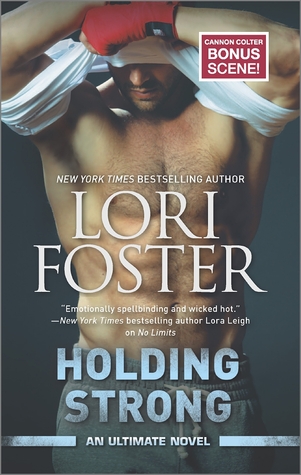 Title: Holding Strong
Series: Ultimate #2
Author: Lori Foster
Format: Paperback / eBook, 480 pages
Published: March 31th 2015 by HQN Books
ASIN: B00OYAXS9W
Links: Goodreads | Amazon | B&N
Source: NetGalley
Reviwer: Kimberly
Rating: 3.5 out of 5 Wine Glasses
An up-and-coming MMA fighter wants more than just one night from a woman fleeing her past in New York Times bestselling author Lori Foster's irresistible new novel





Heavyweight fighter Denver Lewis plays real nice, but he doesn't share. That's why he's been avoiding top-notch flirt Cherry Peyton. But a man can only resist those lush curves for so long. Their encounter surpasses all his fantasies, bringing out protective urges that Cherry's about to need more than she knows…





Denver's combination of pure muscle and unexpected tenderness has been driving Cherry wild. Yet no sooner does she get what she's been craving than old troubles show up on her doorstep. And this time, Cherry can't hide behind a carefree facade. Because the man by her side is one who'll fight like hell to keep her safe…if only she'll trust him enough to let him…
Kimberly's Thoughts:
Denver has had his eye on Cherry for awhile but since it seems like Cherry has her eye on everyone he has held himself back. When it becomes clear that they only want each other, it's on. With family drama and trust issues plaguing our couple, they both must fight for what they truly want.
The hot sexy times come up a lot faster in this book but since the previous two books in the series (Hard Knocks and No Limits) featured Denver and Cherry's sexual tension and itch for one another, it didn't necessarily feel rushed. This could definitely be read as a standalone, the beginning might just feel a bit rushed if you have no context for how Denver and Cherry have been dancing around each other. As always, Foster's dialogue, chemistry between leads, writing, and characters make this an entertainingly fun read. The book did seem to run a tad long however, too much repetitiveness with Cherry not wanting Denver to get hurt and claiming it wasn't his problem when dealing with her foster family.
Cherry was a fun character to read, she was open and fun loving while Denver hit all the points of the trifecta hero, protecting, sexy, and strong; I do wish a couple out of the hundred times he used "girl" could have been cut, though. It was a little drawn out how Denver kept himself away from Cherry because of what he deemed her excessive flirting and side eye inducing when it was linked to issues pertaining to his stepmother. Cherry's issues with her foster brothers leaned toward the melodramatic but where would the romance world be without some angst to keep our couples on their toes? Cherry and Denver never quite swim in the deep end of the pool but they work well together and were amusing to read about.
Past and future characters make appearances in this, setting it nicely in the MMA world Foster has created. I know what you all want me to say and yes, Armie makes appearances here, with one particular scene that will have your toes curling in anticipation for what is to come. There is also a bonus chapter from Cannon's pov during his wedding reception that I shamelessly read three times over. All in all, Holding Strong isn't the strongest addition to this series but I still liked it. It's a fun read that could be cut down but has some fabulous scenes involving the MMA men and world Foster has created that we all love to read about. I'll definitely be on the lookout for the next in the series.
Suggested reading order:
Hard Knocks (Ultimate, #0.5) - Review | Amazon
No Limits (Ultimate, #1) -
Review | Amazon
Holding Strong (Ultimate, #2)