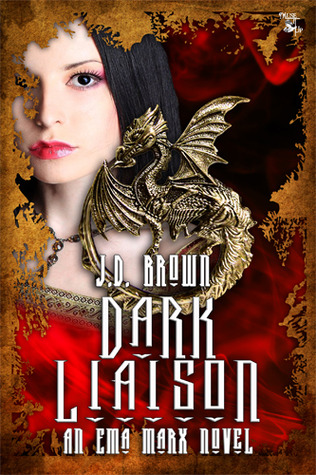 Are you holding your breath? Not yet? Then you might be as you read Dark Becoming. If you don't know what that is, let's ask our guest today, the author: J.D. Brown!
Lexi: Welcome back J.D.! In your last guest post you shared your love of coffee and a cute 'what kind of coffee drinker' are you quiz. I love a latte but that comes second to wine! What won't come second to anything are sci-fi fantasy books. Dark Becoming is the third book in your Ema Marx series and has truly caused more than one reader to read with baited breath. Do you get a little giddy before a release just knowing what you are going to put us readers through?
JD: I admit it, I enjoy torturing my characters and writing cliff hangers. It's as fun to write as it is to read. But before a release, I'm always nervous/anxious. You just never know if a funny scene or an emotional scene will come across to the readers the way you intended. So I'm kind of relieved when I scan the reviews and see that people 'got it'. LOL. Then, of course, reading their angst and longing for the next book is tons of fun. *evil laugh*
Lexi: There is a lot going on in Dark Becoming. As your blurb says she will battle through love, alliance, heartbreak, and loyalty. I don't think there is anything else that could possibly be thrown in there! Except maybe, someday, a HEA? How far will you take Ema and Jesu?
JD: I don't want to ruin the surprise, but let's just say I already know how the series will end, and yes, there will be a HEA in the last book. ;-)
Lexi: Yeah, that was a bit of a loaded question that could lead a couple of directions. So let's throw you an easier one. How many cups of coffee did you have on release day? Do you get nervous at all when your newest book baby hits the shelf?
JD: I don't remember how many cups, I tend to be a chain-coffee-drinker. But, yes, I get VERY nervous. I'm always waiting for someone to tell me I suck, and every new book released is a chance for someone to write a bad review and stomp on your ego. That hasn't happened to me yet, knock on wood, but it still makes me super nervous before a release. You kind of have to just hope for the best, which I've been blessed with so far. I have some truly awesome fans and I work hard to keep them happy.
Lexi: Each new book is a piece of you going out into the world, such an exciting thing. Especially when it is a book that readers know will put them on an emotional rollercoaster. Do you ever find yourself crying or laughing when you are writing? Or are you looking at the story in an analytical sense, piecing together the structure and making sure the story flows?
JD: Oh my God, yes, I laugh at my writing/characters all the time, especially during revisions. In the first draft, my focus is just to get the plot points and scenes on the paper in chronological order and push through it, so I don't always fully realize the witty comebacks or emotional moments until I go back and re-read the whole thing. But when I do, I always find myself laughing, crying, or yelling at the characters. I'm sure my family thinks I'm insane for talking to my computer screen, haha.
Lexi: I am so excited for Dark Becoming! Congrats on the release and I will toast my wine to its success so we may have more Ema…with her HEA. Thanks for stopping by and we hope to see you back again soon!
JD: Thanks for having me, Lexi. And I'll toast your wine with my hazelnut latte.
:-)
Kindle Edition, First Edition, 372 pages
Published February 24th 2015 by MuseItUp Publishing Inc.
Ema Marx is in a race against time. Or rather, a race against Apollyon. A powerful weapon—the legendary philosopher's stone—could tip the scale in favor of whoever gets their fangs on it first. For Ema, obtaining the stone is an uphill battle through love, alliance, heartbreak, and loyalty. Winning should mean the beginning of beautiful things, but the closer Ema gets to her destiny, the more uncertain her future becomes. Could it be this war was never meant for her? And why the heck doesn't morning sickness adhere to rules of its own name?
Don't miss the first books in the Ema Marx series!
J.D. Brown knows that vampires exist because she's dating one and no, he doesn't sparkle. Unfortunately, he's not immortal either (or maybe her standards are too low). A magnet for subcultures and weirdness, J.D. was that socially awkward girl with more fictional friends than real ones. As a child battling a hearing loss and Muckle-Wells Syndrome, J.D. found comfort in books where strong women always saved the day and got the guy. An obsession with Charmed, Sabrina the Teenage Witch and Buffy the Vampire Slayer led J.D. to believe that her mutated chromosome made her something more, not something less. Thus her stubborn flare to persevere was born. A lover of fine cuisine, coffee, and shoes, J.D. never understood why shoe stores don't serve Starbucks and soufflé. She resides in Wisconsin were she writes urban fantasy—aka vampires for adults—and has political debates with her dogs. She loves to hear from fans and is active on http://Facebook.com/AuthorJDBrown