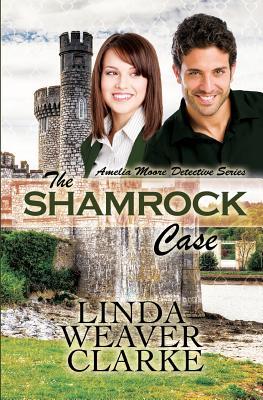 Title
: THE SHAMROCK CASE
Series
: Amelia Moore Detective Series Book 2
Author
: Linda Weaver Clarke
Narrator
: Diane Lehman
Format
: Unabridged Audiobook, 4 hours and 27 minutes
Published
: Red Mountain Shadows Publishing, November 13, 2015
ISBN
: ASIN:B017WMAK7Q
Links
:
Goodreads
|
Amazon
|
B&N
|
Audible
Reviewer
: Linda
Source
: Gifted by Author
Rating
: 4 out of 5 Wine Glasses
A COZY MYSTERY: Amelia Moore, the founder of the Moore Detective Agency, specializes in missing persons. With the help of Rick Bonito, her new partner, her business is flourishing. When Amelia is hired to search for her client's grandparents, the case takes them to Ireland. Kate must learn about her heritage. Who are her grandparents and could they still be alive after all these years? Why did her parents leave Ireland suddenly and move to America? Is there more to this case than meets the eye? 
Linda's Thoughts:

"This is what we call a shamrock. It has three leaves. Do you know what it represents?"

"Luck? Amelia answered.

Lee smiled. "That's what everyone says."

Rick shrugged. "Well, I know it's Ireland's emblem."

Lee shook his head and said earnestly, "It's much more than that. It represents our religion... who we are. When St. Patrick was trying to teach Christianity here in Ireland, he used this shamrock as an example." Lee pointed to each leaf and said, "This is the Father, the Son, and the Holy Ghost...."

Rick still held the clover in his hand. He looked at it and twirled it between his fingers as he said, "I'm calling this the Shamrock Case from now on. I love what it represents."