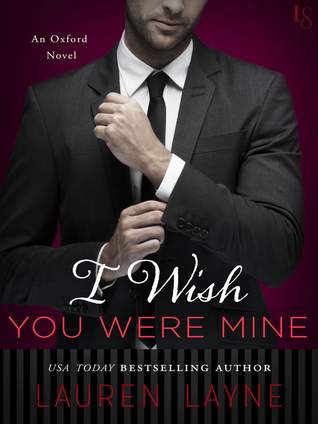 Title:
I Wish You Were Mine
Series:
Oxford #2
Author:
Lauren Layne
Format:
ebook, 260 pages
Published:
February 2nd 2016 by Loveswept
ISBN:
1101884851
Links:
Goodreads
|
Amazon
|
B&N
Reviewer:
Becky
Source:
NetGalley
Rating
:
5 out of 5 Wine Glasses
Perfect for fans of Alice Clayton and Emma Chase, Lauren Layne's Oxford series heats up in this story of forbidden desire as a brooding jock hoping for a comeback falls for a woman who's strictly off-limits.

A year ago, Jackson Burke was married to the love of his life and playing quarterback for the Texas Redhawks. Now he's retired, courtesy of the car accident that ruined his career—and single, after a nasty scandal torpedoed his marriage. Just as he's starting to get used to his new life as a health and fitness columnist for Oxford magazine, his unpredictable ex shows up on his doorstep in Manhattan. Jackson should be thrilled. But he can't stop thinking about the one person who's always been there for him, the one girl he could never have: her younger sister.

Mollie Carrington can't say no to Madison. After all, her older sister practically raised her. So when Madison begs for help in winning her ex-husband back, Mollie's just glad she got over her own crush on Jackson ages ago—or so she thought. Because as Mollie reconnects with Jackson, she quickly forgets all her reasons to stay loyal to her sister. Tempted by Jackson's mellow drawl and cowboy good looks, Mollie is sick and tired of coming in second place. But she can't win if she doesn't play the game.
Becky's Thoughts:
I first fell in love with Jackson Burke on his wedding day when he took the time during his reception to sit with his new sister-in-law, Mollie, after he noticed she was absent from the celebration. He listened to her about the embarrassment she'd felt over messing up her toast to the newly married couple, and the way he understood her just made my heart melt.
When Mollie showed her awkwardness as a nerdy 20 year old maid of honour in her sister's wedding, I couldn't help but love her too. After that, falling in love with these two together was easy. I found myself rooting for them while in turn, booing and hissing Mollie's sister Madison, eight years latter when she and Jackson later divorced.
Lauren Layne has once again created two characters in I Wish You Were Mine, who were not only made for each other, but who made the entire story sigh-worthy. I was laughing one moment and swooning the next, because of how well Jackson and Mollie worked together. Ms Layne gave Jackson and Mollie so much depth, personality and character, that the love, laughter and heartache were palpable throughout the story. I especially enjoy how the author continues to intertwine past characters...keeping them alive in our minds and hearts as the Oxford series progresses...not to mention bringing in the Stiletto Babes!!
Lincoln's story is next and I can hardly wait to meet the woman who captures this hottie's heart!