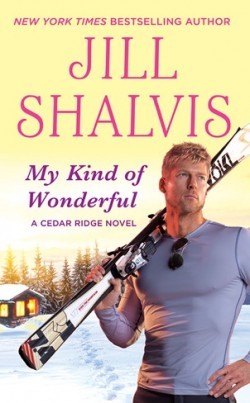 Title
: MY KIND OF WONDERFUL
Series
: Cedar Ridge #2
Author
: Jill Shalvis
Format
: Kindle, 357 Pages
Published
: Grand Central Publishing (December 22, 2015)
ISBN
: ASIN: B00W22IKD8
Links
:
Goodreads
|
Amazon
|
B&N
Reviewer
: Linda
Source
: NetGalley
Rating
: 4 1/2 out of 5 Wine Glasses
UNEXPECTED AND UNDENIABLE . . .

Bailey Moore has an agenda: skiing in the Rockies, exploring castles in Europe, ballroom dancing in Argentina. Now that she has a second lease on life, she's determined not to miss a thing. What she doesn't realize is that item #1 comes with a six-foot-one ski god hot enough to melt a polar ice cap. She doesn't want to miss out on him either, but Hudson Kincaid isn't the type of guy to love and let go. And as gorgeous as Cedar Ridge is, she's not planning to stick around.

As head of ski patrol at his family's resort, Hud thinks he's seen it all. But never has he run into someone like Bailey. She might look delicate, but her attitude is all firecracker. And her infectious joy touches something deep within him that he's been missing far too long. Now he'll just have to convince Bailey to take a chance on her biggest adventure yet . . . something rare and all kinds of wonderful.
Linda's Thoughts:

"You kissed our cutie-pie muralist."

Hell. "She kissed me."

Gray grinned.

"She did."

"You know what that makes you?" Gray asked.

"What?"

"Slow."

MY KIND OF WONDERFUL by Jill Shalvis is a riveting, emotional romance set against a ski resort background - so you can safely expect there to be a lot of white stuff included. The two leads will steal your heart as will a colorful array of secondary characters. This is the story of Hudson "Hud" Edward Kincaid and Bailey Moore.

This is the second book in Jill's Cedar Ridge series; I have not read the first, but plan to soon! I've actually sprung for SECOND CHANCE SUMMER, the first book, in audio and can't wait to start it! You can safely infer that MY KIND OF WONDERFUL works well as a standalone. Jill Shalvis has quickly become one of my favorite authors. I know that when I pick up one of her books, I can count on a full dose of an immensely satisfying happy ever after.

I really liked both Hud and Bailey. Hud is the sexy, eye turning, very capable and conscientious head of ski patrol at his family's busy ski resort and he moonlights as a Cedar Ridge cop in his "spare" time. He's also one-half of a set of twin brothers and misses his twin terribly; They separated - not on the best of terms - and Hud feels responsible for their rift... just as he feels responsible for making his family's resort viable and for their mother's illness. Every minute of his day is planned in advance; Every second is orchestrated. Having such a full plate already, doesn't allow room for a relationship. Period. Then he meets Bailey...

Bailey is a cancer survivor. I applaud how the author addressed what could have been such a sensitive subject. Bailey's lived under the imminent threat of death for ten years. She never planned to do anything, but make it through each day; That was an accomplishment in and of itself. She never expected to have a future. Miraculously, she's now been declared cancer-free and, right away, she makes a list of to-dos. She's a graphic artist by trade and, when she receives a call from the ski resort about painting a mural there, she decides to check it out! If she gets the job, she can not only paint the mural, but work on her skiing.

The couple's first meeting took my breath away... Here's a short snippet from it, but there's much more in the book:

She slid on the helmet. "Thanks, Prince Charming."

"Huh?"

"You know, Cinderella," she said. "The prince had her slipper and you had my helmet..."

I loved the family dynamics that played through-out this read and can't wait to read more of this family's HEA stories. The Kincaids' are a rough and tumble bunch. As they put it: "Go big or go home. That was the Kincaid way." As far as the couple's relationship went, I enjoyed how one night at a time only whetted their appetites for more.

Following please find a few of my lines from this addicting read:

This had already been the best sex she'd ever had and all he'd done was touch her. ---


"I know I'm the one who put limits on this... this thing," she said, and bit her lower lip, suddenly nervous. "But I'm pretty sure we're not quite done with each other."

He looked at her for what felt like a long time. "You want another night."

Still unable to take her eyes off his mouth, she didn't muzzle herself. "I want as long as it takes."

He cupped her jaw, lifting her head up so that she was looking into his eyes again. "Don't make promises you can't keep."

"What makes you think I can't keep it?"

"Because you seem to like things one night at a time," he said in that low, sexy voice. "But no way is one more night going to be enough." ---


Cupping a cheek in each hand, he lifted her back up to his desk and pressed his hips hard into hers.

Her eyes were worried. "But people keep coming---"

"The next person to come is going to be you," he said. ---


"Thank you."

"For what? You're the one who's amazing," he said.

"For believing in me."

Like a punch to the gut. He didn't break eye contact as he pulled her back in. "Always," he whispered.

Make sure you have all night, because once you start reading, you won't want to stop! If I had one complaint about MY KIND OF WONDERFUL, it's that I didn't want the story to end. I wanted to read more about this couple and their extended family. The epilogue was positively delightful. NOBODY BUT YOU, the next book in this series is already on my to-read list. I highly recommend MY KIND OF WONDERFUL to anyone who enjoys sweet and hot contemporary romances.

Suggested Reading Order: SECOND CHANCE SUMMER (Book #1) MY KIND OF WONDERFUL (Book #2) NOBODY BUT YOU (Book #3)