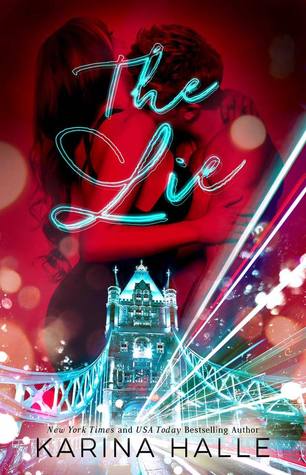 The Lie
by Karina Halle
Kindle Edition
Published February 15th 2016 by Metal Blonde Books
Their love led to a lie
Their truth led to the end

Brigs McGregor is crawling out from the ashes. After losing his wife and son in a car accident and his job from his subsequent downward spiral, he's finally moving forward, getting a prestigious teaching position at the University of London and a new life in the city. Slowly, but surely, he's pushing past the guilt and putting his tragic past behind him.

Until he sees her.

Natasha Trudeau once loved a man so much she thought she'd die without him. But their love was wrong, doomed from the start, and when their world crashed around them, Natasha was nearly buried in the rubble. It took years of moving on to forget him, and now that she's in London, she's ready to start again.

Until she sees him.

Because some loves are too dangerous to ever indulge.
And some loves are far too powerful to ignore.
Their love just might be the life and the death of them.
ABOUT KARINA HALLE
With her USA Today Bestselling The Artists Trilogy published by Grand Central Publishing, numerous foreign publication deals, and self-publishing success with her Experiment in Terror series, Vancouver-born Karina Halle is a true example of the term "Hybrid Author." Though her books showcase her love of all things dark, sexy and edgy, she's a closet romantic at heart and strives to give her characters a HEA...whenever possible.

Karina holds a screenwriting degree from Vancouver Film School and a Bachelor of Journalism from TRU. Her travel writing, music reviews/interviews and photography have appeared in publications such as Consequence of Sound, Mxdwn and GoNomad Travel Guides. She currently lives on an island on the coast of British Columbia where she's preparing for the zombie apocalypse with her fiancé and rescue pup. https://www.facebook.com/pages/Karina-Halle/140649372629593