Check out the goods in this month's new releases! Which books are you most looking forward to?
Darkness Raging
(Otherworld/Sisters of the Moon #18)
by Yasmine Galenorn
Mass Market Paperback, 336 pages
Published February 2nd 2016 by Berkley
ISBN 0515154776
The New York Times bestselling author of Panther Prowling returns to the Otherworld where one of the D'Artigo sisters faces a terrifying challenge that's more personal than she ever could have imagined.
We're the D'Artigo sisters: savvy half-human, half-Fae ex-operatives for the Otherworld Intelligence Agency. My sister Camille is a wicked-good witch. Delilah is a two-faced werecat and a Death Maiden. And me? I'm Menolly, a vampire married to a gorgeous werepuma. As the war in Otherworld arrives, Blood Wyne, Queen of the Vampires, summons me. Apparently, my position as Roman's consort entails more than I imagined...

As the Demon Lord Shadow Wing creates his own sinister version of the Keraastar Knights—the guardians of the spirit seals—to destroy the portals and free himself from the Sub Realms, his ally, the necromancer Telazhar, leads an assault from Otherworld into the streets of Seattle. And my sisters and I are caught dead center.

Then, on the eve of war, my wife, Nerissa, is captured. The enemy demands we surrender the rest of the spirit seals, or they are going to kill her. I will do anything to save her. Even if it means leading an army of vampires into the very depths of the Subterranean Realms...
Carolina Dreaming
(Dare Island #5)
by Virginia Kantra
Mass Market Paperback, 304 pages
Published February 2nd 2016 by Berkley
ISBN 0425269701
When it comes to love, anything can happen on Dare Island—especially in this latest novel from New York Times bestselling author Virginia Kantra.

After escaping a disastrous marriage, bakery owner Jane Clark has convinced herself that she has everything she needs—her precious son, a thriving business, and a roof over her head. But the arrival of a handsome stranger on the island shows her exactly what she's been missing...

The only home Gabe Murphy ever had was the Marine Corps. He's working hard to rebuild his life. It will take a special place, and a special woman, to make him want to stay.

Now Gabe is determined to prove that he's worthy of Jane's trust—and her love. But when her past reappears, that trust will be tested, and Jane and Gabe will have to fight hard to hold onto their love and make their dreams a reality...
He Will be My Ruin
by K.A. Tucker
Hardcover, 352 pages
Published February 2nd 2016 by Atria Books
ISBN 1501112074
The USA TODAY bestselling author of the Ten Tiny Breaths and Burying Water series makes her suspense debut with this sexy, heartpounding story of a young woman determined to find justice after her best friend's death, a story pulsing with the "intense, hot, emotional" (Colleen Hoover) writing that exhilarates her legions of fans.

A woman who almost had it all . . .

On the surface, Celine Gonzalez had everything a twenty-eight-year-old woman could want: a one-bedroom apartment on Manhattan's Lower East Side, a job that (mostly) paid the bills, and an acceptance letter to the prestigious Hollingsworth Institute of Art, where she would finally live out her dream of becoming an antiques appraiser for a major auction house. All she had worked so hard to achieve was finally within her reach. So why would she kill herself?

A man who was supposed to be her salvation . . .

Maggie Sparkes arrives in New York City to pack up what's left of her best friend's belongings after a suicide that has left everyone stunned. The police have deemed the evidence conclusive: Celine got into bed, downed a lethal cocktail of pills and vodka, and never woke up. But when Maggie discovers a scandalous photograph in a lock box hidden in Celine's apartment, she begins asking questions. Questions about the man Celine fell in love with. The man she never told anyone about, not even Maggie. The man Celine believed would change her life.

Until he became her ruin.

On the hunt for evidence that will force the police to reopen the case, Maggie uncovers more than she bargained for about Celine's private life—and inadvertently puts herself on the radar of a killer. A killer who will stop at nothing to keep his crimes undiscovered.
Until I'm Yours
(The Bennetts #4)
by Kennedy Ryan
Paperback, 432 pages
Published February 2nd 2016 by Forever Yours
ISBN 1455537519
The world knows her face . . .

Mean girl. Goddess. Bitch. Supermodel Sofie Baston has earned those labels . . . yet they don't scratch the surface of who she really is. Before she can follow her own dreams, Sophie must do her daughterly duty and reel in a "fish" for her father's business-a tall, brown-eyed entrepreneur who immediately hooks her. He's a big guy with an even bigger heart . . . but will that heart be open to Sofie once her darkest secret is revealed?

. . . but only one man knows her heart

To Trevor Bishop, Sofie is a beautiful mystery he would gladly spend his life solving. He figures her tough demeanor is armor against a world that's hurt her too many times. Then Sofie's deepest wounds are reopened by the powerful, ruthless man who made them. When she musters the courage to take him down, her world shatters. Now Trevor is determined to help Sofie pick up the pieces so they can build a future together. The challenge will be convincing his ice princess that it's safe to melt in his arms . . .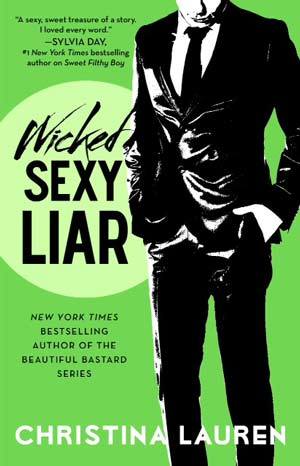 Wicked Sexy Liar
(Wild Seasons #4)
by Christina Lauren
Published February 2nd 2016 by Gallery Books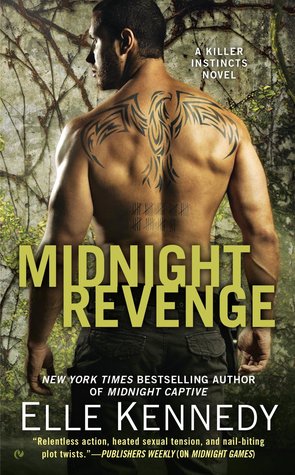 Midnight Revenge
(Killer Instincts #7)
by Elle Kennedy
Mass Market Paperback, 384 pages
Published February 2nd 2016 by Signet
ISBN 0451474430
From the USA Today bestselling author of Midnight Captive, the latest Killer Instincts novel is "off-the-charts-hot"* romantic suspense that takes readers into the heart of an enigmatic mercenary...

Out of all the stone-cold mercenaries in Jim Morgan's black ops organization, Derek "D" Pratt is the most intimidating. He is tight-lipped and covered in tattoos, and even the other guys on his team are afraid to ask him about his past. D's been off the grid for years, but after his teammate Sullivan is mistakenly captured in his place, D is forced to come out of hiding and face his demons.

When D lands in Mexico, he's ready to risk everything to save his friend. To complicate matters, Sofia Amaro, a feisty doctor whom D had a one-night stand with months ago, has tracked him down. And in an instant she's unintentionally caught up in his life-threatening rescue mission.

Now D must extract not one but two people from the most violent world he's ever encountered. And one of them is carrying his child...
Grave Visions
(Alex Craft #4)
by Kalayna Price
Mass Market Paperback, 352 pages
Published February 2nd 2016 by Roc
ISBN 0451416570
Grave Visions by Kalayna Price is the much-anticipated fourth installment in the kick-ass urban fantasy series about Alex Craft, a grave witch who can communicate with the dead.

If you want to hear voices from the dead in Nekros City, you call Alex Craft. She's a Grave Witch with reasonable rates and extraordinary powers, who specializes in revealing the secrets of the dead. But now she's the one fighting to keep her own secret. She's not human—and her newly discovered heritage is causing havoc for her both in the human realm and in Faerie. But her status as an unaffiliated fae also makes her an ideal candidate to investigate a new street drug that has surfaced in several of the spaces between the human and fae worlds.

This glamour-infused drug causes hallucinations that turn real—at least for a while and often with deadly consequences. Searching for the source of this drug—and its purpose—lands Alex front and center in the conflict brewing in Faerie and she must find answers before she's dragged so deep she loses her freedom.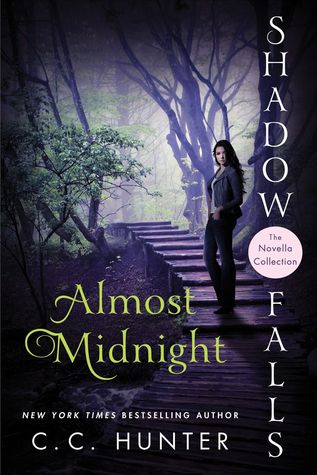 Almost Midnight
(Shadow Falls: After Dark #3,5)
by C.C. Hunter
Paperback, 407 pages
Published February 2nd 2016 by St. Martin's Griffin
ISBN 1250081009
Novella Collection

Nestled deep in the woods, Shadow Falls is a secret camp where teens with supernatural powers learn to harness their abilities and live in the normal world.

Independent and strong-willed Della Tsang did not believe in vampires...until she became one. Chase Tallman is the newest member of Shadow Falls, but what made him into the sexy, mysterious vampire he is today? And what led him to Della Tsang? And for Miranda Kane, magic has always been something she's struggled with, but when an opportunity to test her powers takes her to Paris, she'll have to prove that she's a witch to be reckoned with and belongs at Shadow Falls.

Fans won't want to miss these four remarkable stories of love, magic and friendship.
The One for Me
(Danvers #8)
by Sydney Landon
Mass Market Paperback, 304 pages
Published February 2nd 2016 by Signet
ISBN 0451476220
The New York Times bestselling author of Watch Over Me delivers a steamy new novel of irresistible attraction in her popular Danvers series.

Mark DeSanto has never denied himself anything—especially in the bedroom. Rich, attractive, and successful, men envy him and women desire him. But when a sweet, guileless beauty faints at his feet, he suddenly finds himself wondering if it's time to look for something more lasting...

Until her divorce, Crystal Webber never knew what it was like to follow her heart. Now she wants to experience all life has to offer. So when she catches a glimpse of Mark DeSanto in the halls of Danvers International, she's instantly infatuated—and eager to join him for a walk on the wild side. Fainting at his feet wasn't her plan, but at least it got his attention...

But for the first time, Mark wants to take things slow, which—considering the electricity between them—may take far more willpower than he's ever had.
The Master
(Submissive #7)
by Tara Sue Me
Paperback, 336 pages
Published February 2nd 2016 by Headline Eternal
ISBN 1472226569
Sasha Blake is scarred from a BDSM session gone wrong, but she can't deny how drawn she is to a strong Master. Determined to rejoin the Partners in Play community, she asks Abby and Nathaniel West to set her up with a Dom who will make her feel safe again as a sub.

Cole Johnson knows how to push all of Sasha's buttons, but he's convinced she's not the submissive he needs. Still, the further they go into their play, the more Cole begins to wish he could make Sasha his all the time...

When forbidden desires turn into scorching action, Sasha and Cole come face-to-face with their demons - and realize their deepening relationship might be too dangerous to last...
Kings Rising
(Captive Prince #3)
by C.S. Pacat
ebook, 385 pages
Published February 2nd 2016 by Penguin Group Australia
ISBN 174348495X
Damianos of Akielos has returned.

His identity now revealed, Damen must face his master Prince Laurent as Damianos of Akielos, the man Laurent has sworn to kill.

On the brink of a momentous battle, the future of both their countries hangs in the balance. In the south, Kastor's forces are massing. In the north, the Regent's armies are mobilising for war. Damen's only hope of reclaiming his throne is to fight together with Laurent against their usurpers.

Forced into an uneasy alliance the two princes journey deep into Akielos, where they face their most dangerous opposition yet. But even if the fragile trust they have built survives the revelation of Damen's identity - can it stand against the Regent's final, deadly play for the throne?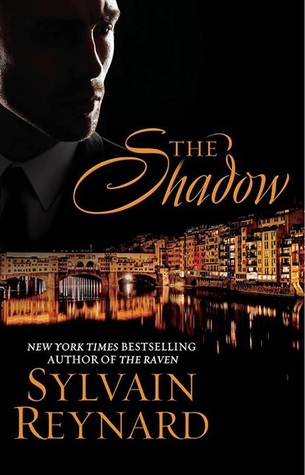 The Shadow
(The Florentine #2)
by Sylvain Reynard
Paperback, 432 pages
Published February 2nd 2016 by Berkley
ISBN 0425266508
From the New York Times bestselling author of the Gabriel trilogy comes the hotly anticipated follow-up to The Raven, a sensual novel set in Florence featuring the dangerously intoxicating coupling of Raven and William…

Raven Wood's vampyre prince has returned, pledging his love and promising justice for every wrong done to her. In the wake of their reunion, Raven is faced with a terrible decision—allow the Prince to wreak vengeance against the demons of her past, or persuade him to stay his hand. But there is far more at stake than Raven's heart...

A shadow has fallen over the city of Florence. Ispettor Batelli will not rest until he uncovers Raven's connection to the theft of the priceless art from the Uffizi Gallery. And while the Prince hunts a traitor who sabotages him at every turn, he finds himself the target of the vampyres' mortal enemy.

As he wages a war on two fronts, he will need to keep his love for Raven secret, or risk exposing his greatest weakness...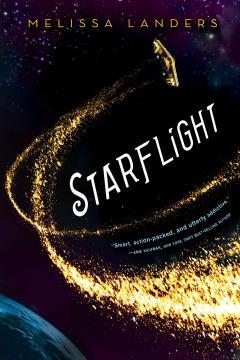 Starflight
(Starflight #1)
by Melissa Landers
Hardcover, 358 pages
Published February 2nd 2016 by Disney-Hyperion
ISBN 1484723244
Life in the outer realm is a lawless, dirty, hard existence, and Solara Brooks is hungry for it. Just out of the orphanage, she needs a fresh start in a place where nobody cares about the engine grease beneath her fingernails or the felony tattoos across her knuckles. She's so desperate to reach the realm that she's willing to indenture herself to Doran Spaulding, the rich and popular quarterback who made her life miserable all through high school, in exchange for passage aboard the spaceliner Zenith.

When a twist of fate lands them instead on the Banshee, a vessel of dubious repute, Doran learns he's been framed on Earth for conspiracy. As he pursues a set of mysterious coordinates rumored to hold the key to clearing his name, he and Solara must get past their enmity to work together and evade those out for their arrest. Life on the Banshee may be tumultuous, but as Solara and Doran are forced to question everything they once believed about their world—and each other—the ship becomes home, and the eccentric crew family. But what Solara and Doran discover on the mysterious Planet X has the power to not only alter their lives, but the existence of everyone in the universe...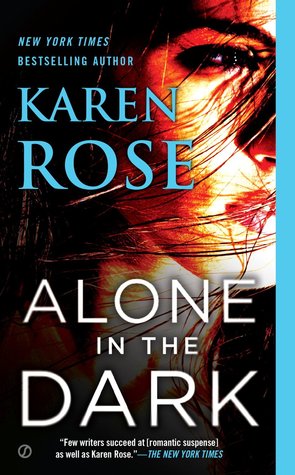 Alone In the Dark
(Romantic Suspense #17)
by Karen Rose
Mass Market Paperback, 688 pages
Published February 2nd 2016 by Signet (first published November 5th 2015)
ISBN 0451466748
The New York Times bestselling author of Closer Than You Think returns with a breathtaking new novel of suspense that crosses the line between danger and desire, and justice and revenge.

Homicide Detective Scarlett Bishop has seen enough bad guys slip through the cracks and too many innocent victims go unavenged to know good doesn't always prevail. So far she's been able to lock away her rage and her vigilante fantasies. That lock is about to break.

Former Army Ranger Marcus O'Bannion is a fierce champion of victims' rights. His secret past gives him good reason. He believes he's seen the depths of human depravity, but then his investigation into the murder of a young girl who once asked for his help lures him and Scarlett down a dark, dark road—and straight into the crosshairs of a dangerous, powerful underground ring that deals in human trade. To stop them, Scarlett and Marcus have to be just as cunning and just as ruthless. But first they have to make it out alive.
Title
: Extreme Exposure
Series
: Chasing Justice #1
Author
: Alex Kingwell
Format
: Paperback & eBook, 256pgs
Published
: Feb. 2, 2016 by Forever Yours
ASIN
: B01AGR87QK
Links
:
Goodreads
|
Amazon
NOWHERE TO RUN

Emily Blackstock is running for her life. She thought she'd escaped the men who murdered her cousin, but one terrifying night proves they mean to kill her, too. Trusting a rugged stranger to lead her to safety is risky, but Emily has no other choice... EVERYTHING TO HIDE

A former Marine, Matt Herrington has seen his share of active duty and knows what it takes to survive a ruthless killer. Protecting Emily is second nature, but as they trek through the wilderness together she stirs something within him that he's never felt before. Now the only thing more dangerous than keeping her alive is falling in love with her . . .
Title
: Hard Ever After
Series
: Hard Ink #4.6
Author
: Laura Kaye
Format
: Paperback & eBook, 96 pgs
Published
: Feb. 2, 2016 by Avon Impulse
ASIN
: B00WR18T4O
Links
:
Goodreads
|
Amazon
Justice served. Honor restored. Team reunited.

After a long battle to discover the truth, the men and women of Hard Ink have a lot to celebrate, especially the wedding of two of their own—Nick Rixey and Becca Merritt, whose hard-fought love deserves a happy ending.

As Nick and the team shift from crisis mode to building their new security consulting firm, Becca heads back to work at the ER. But amid the everyday chaos of demanding jobs and their upcoming nuptials, an old menace they thought long gone reemerges, threatening the peace they've only just found.

Now, for one last time, Nick and Becca must fight for their always and forever, because they know that when true love overcomes all the odds it lasts hard ever after.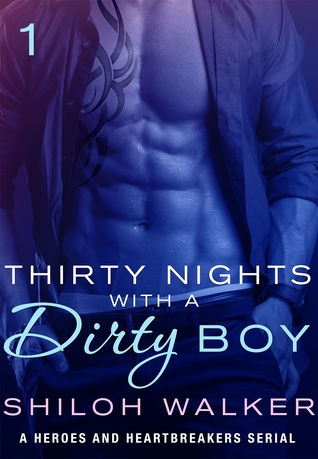 Title
: Thirty Nights With a Dirty Boy
Series
: Serial Part #1
Author
: Shiloh Walker
Format
: eBook,
Published
: Feb. 2, 2016 by St. Martin's
ASIN
: B016VJAZK8
Links
:
Goodreads
|
Amazon
Introducing Shiloh Walker's erotic Thirty Nights with a Dirty Boy e-serial!

Money Can't Buy Love...Ella Cruise doesn't like to be touched. A survivor of childhood abuse, she craves security in all aspects of her life: fulfilling work at the nonprofit she runs, more than enough money to live comfortably, and a good friend and confidant. But none of it can ease her longing for intimacy, even if just for a night. When she meets a gorgeous bartender who moonlights as a male prostitute, a bold idea begins to take shape...

But It Can Buy a Night of Passion —or Thirty...Sean Lachlan is stunned by the cool beauty's offer: 30 nights of no-strings sex in exchange for all the money he'd need to start over. The deal seems too good to be true, especially since his desire for her is no act, but Sean finds he can't turn her down. Before they know it, Sean and Ella realize they're in deep, their defenses crumbling. Will thirty nights with a dirty boy be enough after all, or will love lead Ella and Sean back to the negotiating table?
Title
: The Hunter
Series
: Victorian Rebels #2
Author
: Kerrigan Byrne
Format
: Paperback & eBook, 432pgs
Published
: Feb. 2, 2016 by St. Martin's
ASIN
: B014CR0P8I
Links
:
Goodreads
|
Amazon
They're rebels, scoundrels, and blackguards—dark, dashing men on the wrong side of the law. But for the proper Victorian-era ladies who love them, a hint of danger only makes their hearts beat faster...

A scandalous proposal.

As one of London't most elite hunters, Christopher Argent never misses his mark and always gets his man. But when his latest target turns out to be a woman—the popular, and stunningly beautiful, actress Millie LeCour—it turns his whole world upside-down. Overwhelmed by the heat that simmers between them, Christopher can't complete his mission. On the contrary, he'll do anything to save Millie's life—even if it means risking his own...

A dangerous passion...

When she learns what Christopher was hired to do, Millie is torn between the fear in her heart and the fire in her soul. Putting herself in this dangerous man's arms may be her only path to safety—but giving in to her desire may be the deadliest mistake she's ever made. With both of their lives in jeopardy, Millie and Christopher must learn to trust the real feelings they're hiding—to find the true love they're looking for...
Dare to Run
(The Sons of Steel Row #1)
by Jen McLaughlin
Mass Market Paperback, 384 pages
Published February 2nd 2016 by Signet
ISBN 0451477596
The New York Times bestselling author of the Out of Line Novels takes readers to Boston, where one gang of criminals knows how being bad can be so good...

She knows what he's like on Boston's mean streets. Now she's going to find out if he's got some heart.

Lucas Donahue is not ashamed of his criminal past, but after a brief stint in prison, he's ready to go legit and live a normal life. The problem is, no one leaves the gang without permission—even if he is one of the boss's top men. Plus someone's placed a hit on him. And then there's that feisty little bartender who's going to cause him even more trouble.

Heidi Greene knows to keep her distance from a ladies' man like Lucas—even if she can't keep her eyes off him. When he rescues her from an attack in the alley outside her bar, she's forced to stay by his side for safety. But the longer she spends time with him, the greater her chances are for getting hurt in more ways than one.
Wickedly Powerful
(Baba Yaga #3)
by Deborah Blake
Kindle Edition, 304 pages
Published February 2nd 2016 by Berkley
ASINB012QH52MK
Known as the wicked witch of Russian fairy tales, Baba Yaga is not one woman, but rather a title carried by a chosen few. They keep the balance of nature and guard the borders of our world, but don't make the mistake of crossing one of them…

The only thing more fiery than Bella Young's red hair is her temper. She knows that a Baba Yaga's power without strict control can leave the people she cares about burned, so to protect her heart—and everyone around her—the only company she keeps is her dragon-turned-Norwegian-Forest-cat, Koshka.

But when Bella is tasked with discovering who's setting magical fires throughout Wyoming's Black Hills, she finds herself working closely with former hotshots firefighter Sam Corbett—and falling hard for his quiet strength and charm.

Sam may bear the scars of his past, but Bella can see beyond them and would do anything to help him heal. Only before she can rescue her Prince Charming, she'll have to overcome the mysterious foe setting the forest fires—a truly wicked witch who wields as much power and even more anger than Bella…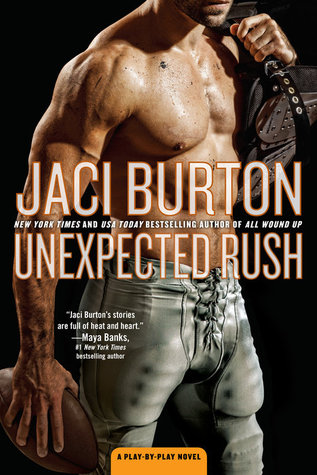 Unexpected Rush
(Play by Play #11)
by Jaci Burton
Paperback, 352 pages
Expected publication: February 16th 2016 by Berkley
ISBN 0425276813
In the new Play-By-Play novel by the New York Times bestselling author of All Wound Up, a football hot shot and his best friend's sister are breaking all the rules.

All the Right Moves

For Barrett Cassidy, playing defense for the Tampa Hawks is a dream come true. And now he may have discovered his dream woman. Harmony Evans, once the sweet, gawky teenage sister of his best friend and teammate has grown into a smart, gorgeous woman with moves he finds hard to resist. But he knows he can't get involved with his best friend's sister—it's guy code.

Harmony has always gone after what she wants with single-minded determination, from her independence to her education to her career in social work. She never expected her youthful crush on Barrett to develop into something deeper. And she's not about to let some ridiculous man rules or her brother stand in her way.

When the chemistry is this combustible, lines tend to get crossed. And when Barrett and Harmony's secret gets out, it just might be game over...
Mass Market Paperback, 464 pages
Published January 26th 2016 by Jove
ISBN 0515156108
In the new GhostWalker novel by the #1 New York Times bestselling author of Viper Game, a trained killer meets his match in a woman whose very kiss can stop a heart.

The Cajun dive in the middle of the godforsaken swamps wasn't exactly Trap Dawkins' idea of fun. But the GhostWalker wasn't there for a good time. He was looking for her. Cayenne. It's where she found her victims. Poor suckers. Then again, who wouldn't want to leave a place like this with a woman like her?

It's not Cayenne's fault. Locked up, experimented on and never knowing kindness, she was bred this way—with a heart of pure venom. Trap understands her. He survived his own dark past and he shares her desire for getting even. But now Trap's greatest danger is Cayenne herself. Because what's inside her is hard to control—especially when it's aroused by a lover as reckless as Trap.
Mass Market Paperback, 304 pages
Published February 2nd 2016 by Berkley
ISBN 0425282066
In the new Lake Sullivan romance from the author of Just a Summer Fling, a young woman's homecoming becomes an invitation to rediscover her past, reinvent her future, and redefine the meaning of family, forgiveness, and love.

Zara Hale escaped Lake Sullivan, Vermont, as a teenager and never planned to return. But a decade later, when her brother Zane is released from prison, she leaves her life as a Mixed Martial Arts champion and heads north, both to support him and to lend her golden-girl status to the opening of a new community center.

Cal Montgomery knows he let down the Hale family ten years ago, but this is his chance to make it up to them. Zane is his best friend. And Zara? She's stubborn, frustrating, strong, beautiful—irresistible. Once she's back in town, it isn't long before their professional relationship turns into something much more intimate.

Though Zara's hometown celebrity is as surprising as her feelings for Cal, she's only there for the center and for her family. But as she soon discovers, Cal's not that easy to leave, and neither are the unexpected comforts of Lake Sullivan.
Title
: Accidentally in Love with the Biker
Author
: Teri Anne Stanley
Format
: eBook,
Published
: Feb. 8, 2016 by Entangled: Lovestruck
ASIN
: B01ARRWON6
Links
:
Goodreads
|
Amazon
Aspiring writer Kelli Dalton needs a man, and fast. When she's rear-ended by a sexy-as-sin biker on the way to a Vegas romance readers convention, she sees her chance. If he'll pose as her fake boyfriend long enough to impress a bestselling author, Kelli has a shot at saving the bookstore for underprivileged kids she runs back home.

Quinn Anderson doesn't know what to make of the cute little writer who stirs his heart and his libido, but he does know he wants to get better acquainted. And if that means keeping up their sexy ruse all week, he's game.

Quinn knows girl like Kelli deserves someone with a secure future to help with her store, not a guy struggling to turn a profit on his chopper shop. But if his motorcycle designs win the big Vegas competition, he'll have enough prize money to fund his dreams…and hers.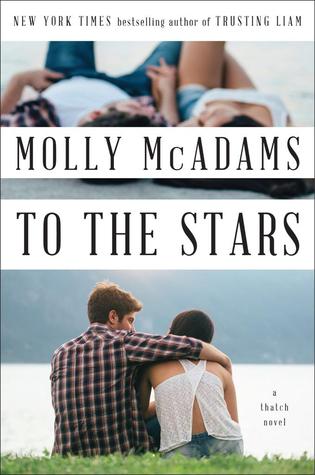 To the Stars: A Thatch Novel
by Molly McAdams
ebook, 384 pages
Expected publication: February 9th 2016 by William Morrow Paperbacks
ISBN 0062358464
In the second book in New York Times and USA Today bestselling author Molly McAdams' Thatch series, Knox Alexander must convince his long-time love Harlow Evans that they're meant to be together.

He promised to wait for her.
She told him he was wasting his time.
Not waiting for him ended up being the biggest mistake of her life.

When they were younger, Knox Alexander swore to Harlow Evans that he would wait for her to turn eighteen so they could be together. But that was three and a half years away, and Harlow couldn't ask him to give up all the fun and thrills of going away to college for her. As the years passed, Knox remained a constant in her life—whether she liked it or not—but when her eighteenth birthday came around, Harlow's heart belonged to someone else.

Every day for the last four years, Harlow has been haunted by that fateful choice. And though he may appear unaffected by what happened in their past, Knox has always tried to fill the void Harlow left. But when he comes stumbling back into her life and refuses to leave, will Harlow finally let him into her heart…?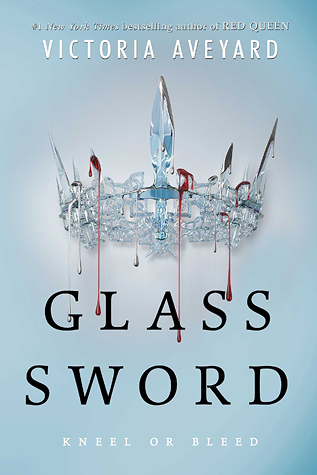 Glass Sword
(Red Queen #2)
by Victoria Aveyard
Hardcover, 448 pages
Expected publication: February 9th 2016 by HarperTeen
ISBN 0062310666
Mare Barrow's blood is red—the color of common folk—but her Silver ability, the power to control lightning, has turned her into a weapon that the royal court tries to control.

The crown calls her an impossibility, a fake, but as she makes her escape from Maven, the prince—the friend—who betrayed her, Mare uncovers something startling: she is not the only one of her kind.

Pursued by Maven, now a vindictive king, Mare sets out to find and recruit other Red-and-Silver fighters to join in the struggle against her oppressors.

But Mare finds herself on a deadly path, at risk of becoming exactly the kind of monster she is trying to defeat
.
Will she shatter under the weight of the lives that are the cost of rebellion? Or have treachery and betrayal hardened her forever?
Legend
(Real #6)
by Katy Evans
Kindle Edition, 272 pages
Expected publication: February 9th 2016 by Gallery Books
ASINB00P42WQNS
Maverick "the Avenger" Cage wants to rise to the top and become a legend in the ring. Though he keeps his identity well guarded, he's known on the fighting circuit as the new kid with a chip on his shoulder and a tattoo on his back that marks him as trouble. He's got a personal score to settle with the Underground's one and only Remington "Riptide" Tate.

As Mav trains, he meets a young girl—the only other new person in the town--and sparks fly. When things get heated between them, he finds out she's none other than Reese Dumas, the cousin of Remington Tate's wife. A girl who's supposed to root against him and a girl he's supposed to stay away from.

But Maverick fights for the woman in his heart, and the monsters in his blood. The world's eyes are on them and the victor will go down in history as the ultimate fighting champion; the ultimate LEGEND.
Searching for Mine
(Searching For #4.5)
by Jennifer Probst
Paperback
Expected publication: February 9th 2016
ISBN139781942299233
The Ultimate Anti-Hero Meets His Match…

Connor Dunkle knows what he wants in a woman, and it's the three B's. Beauty. Body. Boobs. Other women need not apply. With his good looks and easygoing charm, he's used to getting what he wants—and who. Until he comes face to face with the one woman who's slowly making his life hell...and enjoying every moment...

Ella Blake is a single mom and a professor at the local Verily college who's climbed up the ranks the hard way. Her ten-year-old son is a constant challenge, and her students are driving her crazy—namely Connor Dunkle, who's failing her class and trying to charm his way into a better grade. Fuming at his chauvinistic tendencies, Ella teaches him the ultimate lesson by giving him a special project to help his grade. When sparks fly, neither of them are ready to face their true feelings, but will love teach them the ultimate lesson of all?
Taking the Score
(Tall, Dark, and Texan #2)
by Kate Meader
ebook, 192 pages
Expected publication: February 15th 2016 by Entangled Publishing, LLC (Brazen)
His office temptation is now his full-blown fantasy…

Paying down her sister's debts has left Emma Strickland with little more than the thrift store suit on her back. And as if the suckfest couldn't get worse, she's forced to moonlight as a waitress to support herself and her cat. At a strip club. Her uptight, sexy-as-hell boss Brody Kane can never find out.

Texas property tycoon Brody Kane hired Emma for her spreadsheet skills, but her prim and proper demeanor sealed the deal. There's no room in his life for a sexy distraction … and yet, he can't stop lusting after the delicious Ms. Strickland. And then he takes an important client to a Chicago strip club and gets the worst lap dance in adult entertainment history. From Emma.

Now that he knows his office good girl has a naughty streak, Brody makes it his mission to uncover her secrets, one steamy, illicit, over-the-desk encounter at a time. But Emma is hiding more than her side job, and her final secret could end up destroying them both.
Series
: Fire #2
Author
: Anne Stuart
Format
: Paperback & eBook, 288pgs
Published
: Feb. 16, 2016 by Montlake
ASIN
: B013UVNZ4I
Links
:
Goodreads
|
Amazon
Pro bono lawyer Jenny Parker is the only true innocent in her family. The daughter of a New Orleans crime lord, she's tried for years to make her own way, but family ties always manage to pull her back in line. When her youngest brother gets involved in human trafficking, Jenny wants to believe him innocent and tries to protect him, even though it means covering for his crimes.

Matthew Ryder knows Jenny is hiding something, and he couldn't care less about her motives. As a member of the Committee, a covert anticrime agency, he's dealt with the worst the world has to offer. To him, Jenny is just another criminal. But when she asks for help, things turn dangerous quickly, and though he can't trust her, he can't turn her away.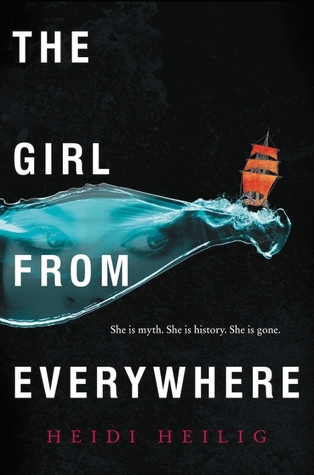 The Girl from Everywhere
(The Girl from Everywhere #1)
by Heidi Heilig
Hardcover, 464 pages
Expected publication: February 16th 2016 by Greenwillow Books
ISBN 0062380753
It was the kind of August day that hinted at monsoons, and the year was 1774, though not for very much longer.
Sixteen-year-old Nix Song is a time-traveller. She, her father and their crew of time refugees travel the world aboard The Temptation, a glorious pirate ship stuffed with treasures both typical and mythical. Old maps allow Nix and her father to navigate not just to distant lands, but distant times - although a map will only take you somewhere once. And Nix's father is only interested in one time, and one place: Honolulu 1868. A time before Nix was born, and her mother was alive. Something that puts Nix's existence rather dangerously in question...
Nix has grown used to her father's obsession, but only because she's convinced it can't work. But then a map falls into her father's lap that changes everything. And when Nix refuses to help, her father threatens to maroon Kashmir, her only friend (and perhaps, only love) in a time where Nix will never be able to find him. And if Nix has learned one thing, it's that losing the person you love is a torment that no one can withstand. Nix must work out what she wants, who she is, and where she really belongs before time runs out on her forever.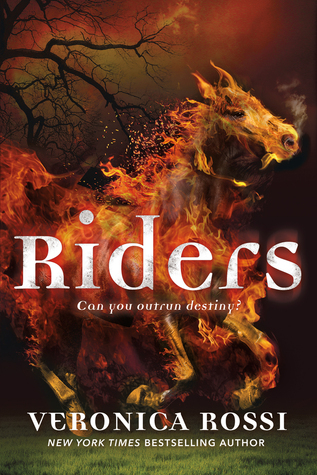 Riders
(Riders #1)
by Veronica Rossi
Hardcover, 384 pages
Expected publication: February 16th 2016 by Tor Teen
Original TitleRiders
ISBN 0765382547
For eighteen-year-old Gideon Blake, nothing but death can keep him from achieving his goal of becoming a U.S. Army Ranger. As it turns out, it does.

Recovering from the accident that most definitely killed him, Gideon finds himself with strange new powers and a bizarre cuff he can't remove. His death has brought to life his real destiny. He has become War, one of the legendary four horsemen of the apocalypse.

Over the coming weeks, he and the other horsemen--Conquest, Famine, and Death--are brought together by a beautiful but frustratingly secretive girl to help save humanity from an ancient evil on the emergence.

They fail.

Now--bound, bloodied, and drugged--Gideon is interrogated by the authorities about his role in a battle that has become an international incident. If he stands any chance of saving his friends and the girl he's fallen for--not to mention all of humankind--he needs to convince the skeptical government officials the world is in imminent danger.

But will anyone believe him?
Just Breathe
(Just Breathe #3)
by Martha Sweeney
ebook, 1st Edition
Expected publication: February 16th 2016 by Kralik Consultants
ISBN 0986227277
There's an irresistibly sexy man in my life who came out of nowhere and somehow has stuck to me. I'm not complaining — I just never saw my life happening like this. My life has changed completely from almost a year ago — something I vowed would never happen, and yet, it has. I've broken my rules, all of them because of him.

Our relationship is forced out into the public — something I'm not sure I'm ready for at all. There are many things that make me uncomfortable, mainly because I've never had a boyfriend before. Certain things arise in my life, complicating it even more, testing me in so many ways all while having to face the demons of my past.

What do you say to someone who says they love you when you still don't understand your own emotions?

Will Emma break through life's obstacles and allow herself to love and be loved?

This book is not a standalone and is meant to be read after reading the first and second books (Breathe In & Breathe Out) of the Just Breathe series.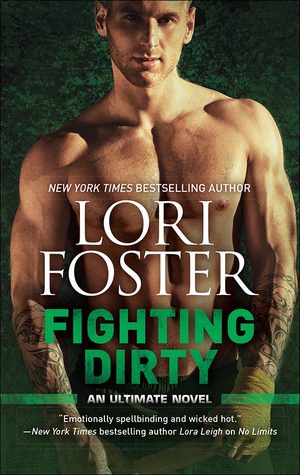 Title
: Fighting Dirty
Series
: Ultimate #4
Author
: Lori Foster
Format
: Paperback & eBook, 448 pgs
Published
: Feb. 23, 2016 by HQN
ASIN
: B0166ASG4Y
Links
:
Goodreads
|
Amazon
He's the hottest MMA fighter in the game, but one woman is ready to try out a few steamy moves of her own in an unforgettable new novel from New York Times bestselling author Lori Foster...

With the life he's led and the muscles he's gained, Armie Jacobson isn't afraid of anything. Except maybe Merissa Colter's effect on him. It's not just that she's his best friend's little sister. Fact is, she deserves better. Women pursue him for one night of pleasure, and that's all he wants to offer. Until rescuing Merissa from a robbery leads to the most erotic encounter of his life.

Good girl meets bad boy. It's a story that rarely ends well. But Merissa is taking matters into her own hands. No matter how he views himself, the Armie she knows is brave, honorable and completely loyal. And as past demons and present-day danger collide, they're both about to learn what's truly worth fighting for…
Stone Cold Cowboy
(Montana Men #4)
by Jennifer Ryan
ebook, 384 pages
Expected publication: February 23rd 2016 by Avon
ISBN 0062435302
With their hearts' desires on the line, nothing can stop the Montana Men

Sadie Higgins has a bad habit of bailing her brother out of trouble. But when he rustles a herd of cattle from the tough, honorable Kendrick brothers, it's Sadie who's in for it. Because the cowboy tracking them down is big, silent, and forbidding as hell.

Rory Kendrick is on the hunt to find out who's been stealing from him. When he stumbles upon Sadie in the woods, he barely recognizes the quiet, vulnerable beauty who has always taken his breath away. His mission shifts in an instant: He will do anything it takes to keep her safe . . . and make her his.

Sadie has always protected her family—no matter the price. But when Rory ropes her heart, she's forced to take a look at her life and make a dangerous choice—one that could cost, or gain, her everything.
Play to Win
(Risky Business #3)
by Tiffany Snow
Mass Market Paperback, 352 pages
Expected publication: February 23rd 2016 by Forever
ISBN 1455532908
PLAY FAIR . . . OR PLAY TO WIN?

Falling in love with polar-opposite men was an intoxicating ride that nearly ended Sage Reese's life. Now it's time for Sage to decide: Parker, the clean-cut, filthy-rich business magnate . . . or Ryker, the tough-as-nails undercover detective. Her choice? Neither. Because she can't stand the thought of coming between two brothers-in-arms finally trying to repair their friendship.

Yet not everyone feels the same way, including a mysterious woman who's come to Ryker and Parker for help. Sage knows firsthand how hard it is for the two former Marines to resist a damsel in distress. But something just doesn't feel right.

Now there's a danger closing in that only Sage can see, and she intends to do everything she can to protect Parker and Ryker-even at the risk of losing them both.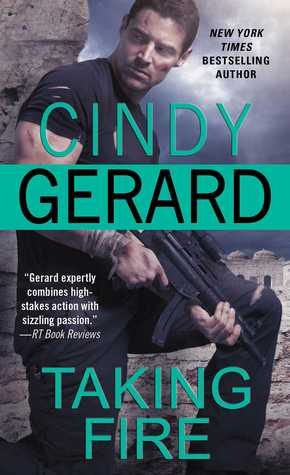 Title
: Taking Fire
Series
: One-Eyed Jacks #4
Author
: Cindy Gerard
Format
: Paperback & eBook, 384 pgs
Published
: Feb. 23, 2016 by Pocket
ASIN
: B010MHAFXW
Links
:
Goodreads
|
Amazon
Betrayal. Retribution. Redemption?

Six years ago, tough-as-nails military contractor Bobby Taggart met the woman of his dreams in war-torn Kabul—a sexy, whip-smart war correspondent who approached him at a local bar, took him to bed, made him fall in love…and then mysteriously disappeared. In her wake, the terrorist leader he'd been mining for valuable intel was assassinated—then Bobby discovered his phone had been bugged. And he's pretty damn sure he's been played for a fool...
Title
: The Rogue
Series
: Devil's Duke #1
Author
: Katharine Ashe
Format
: Paperback & eBook, 384 pgs
Published
: Feb. 23, 2016 by Avon
ASIN
: B00YNBXMPM
Links
:
Goodreads
|
Amazon
Lady Constance Read is independent, beautiful, and in need of a husband—now. The last man on earth she wants is the rogue who broke her heart six years ago, never mind that his kisses are scorching hot…

Evan Saint-André Sterling is rich, scarred, and finished with women—forever. He's not about to lose his head over the bewitching beauty who once turned his life upside down.

But Constance needs a warrior, and Saint is the perfect man for the job. Only as a married woman can she penetrate Scotland's most notorious secret society and bring a diabolical duke to justice. When Constance and Saint become allies—and passionate lovers—he'll risk everything to protect the only woman he has ever loved.
Unruly: Knights in Black Leather
by Ronnie Douglas
Paperback, 304 pages
Expected publication: February 23rd 2016 by William Morrow Paperbacks
ISBN 0062389629
Nothing's sexier than breaking all the rules . . .

When the daughter of one of the Southern Wolves gets a flat in the middle of a thunderstorm, there's only one thing to do—strip down to her underwear and get a little muddy. But when Alamo, the sexy biker shows up to rescue Ellen yet again, things are bound to get a whole lot dirtier.

Between the trouble he left behind and club rules, Alamo knows he needs to stay clear of Ellen. He's not looking for a woman or complications—even when that woman is everything a man could want. Unfortunately, Ellen isn't playing by anyone's rules but her own these days, and a Southern woman who's been raised by Wolves is awfully hard to deny.

So when they give in to their raging attraction, both get much more than they bargained for….
Necessary Risk
(Bodyguard #1)
by Tara Wyatt
Mass Market Paperback, 384 pages
Expected publication: February 23rd 2016 by Forever
ISBN 1455590274
Former child star Sierra Blake is making a stunning Hollywood comeback—and attracting a scary amount of attention. When her home is vandalized and her safety threatened, she knows it's time to bring in the professionals. But from the moment she sets eyes on her indecently sexy new bodyguard, Sean Owens, Sierra's thoughts are anything but professional…

Few things in this world scare Sean—until he realizes he's in serious danger of losing his heart to his new client. No matter how much he wants to, Sean won't let his feelings for the smart and gorgeous Sierra get in the way of doing his job. Because as the attacks against her escalate, crossing the line between business and pleasure could get them both killed.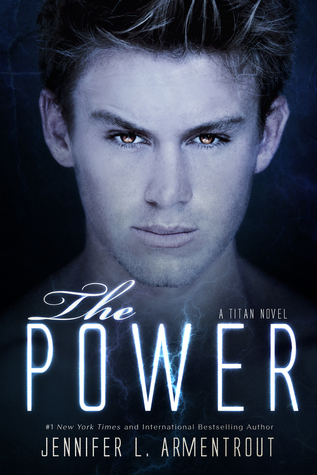 The Power
(Titan #2)
by Jennifer L. Armentrout
Paperback, 344 pages
Expected publication: February 23rd 2016 by Spencer Hill Press
With any great change, there is always strife, and the Covenant University has become the frontline between pure-bloods who want the Breed Order reinstated and the half-bloods who want the right to control their own destinies.
Fate has other plans.

The violence is escalating and war between the races seems inevitable, and it couldn't come at a worse time. Hyperion may be out of commission, but Josie and Seth know they have only earned a reprieve. Seth must get Josie fully prepared, which means controlling her newfound abilities, and they need to find the other demigods before the Titans do.
But the gods are sensing a greater threat.

Only one thing is more dangerous than a bunch of starved Titans, and that's an out-of-control Apollyon. The aether in Josie is drawing Seth in deeper, and when lust mixes with love and gives way to power, he knows being close to her is not only dangerous to her, but to everyone around them, but letting her go requires a level of selflessness that just isn't Seth's style.

The paths taken in the past are becoming the roads of the future.

Just as chaos breaks out, familiar faces from the past return, complicating the already strained bond between Josie and Seth, and when the danger from the Titans erupts with devastating consequences, the dark allure of power calls to Seth again, but this time Josie might not be able to pull him back.

And when the struggle between power and love becomes the deadliest battleground, there may be no salvation.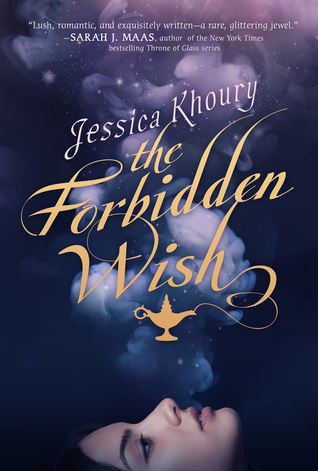 The Forbidden Wish
by Jessica Khoury
Paperback, 352 pages
Expected publication: February 23rd 2016 by Razorbill
She is the most powerful Jinni of all. He is a boy from the streets. Their love will shake the world...

When Aladdin discovers Zahra's jinni lamp, Zahra is thrust back into a world she hasn't seen in hundreds of years -- a world where magic is forbidden and Zahra's very existence is illegal. She must disguise herself to stay alive, using ancient shape-shifting magic, until her new master has selected his three wishes.

But when the King of the Jinn offers Zahra a chance to be free of her lamp forever, she seizes the opportunity—only to discover she is falling in love with Aladdin. When saving herself means betraying him, Zahra must decide once and for all: is winning her freedom worth losing her heart?

As time unravels and her enemies close in, Zahra finds herself suspended between danger and desire in this dazzling retelling of Aladdin from acclaimed author Jessica Khoury.
Runaway Vampire
(Argeneau #23)
by Lynsay Sands
Mass Market Paperback, 384 pages
Expected publication: February 23rd 2016 by Avon
ISBN 0062316044
The latest entry in the sizzling paranormal vampire series featuring the Argeneau family - no one does wickedly funny and irresistibly steamy like Lynsay Sands!

Dante Notte has heard it said that love hurts. He just wasn't expecting it to run him over in an RV. Still, a punctured lung and broken ribs are nothing compared to the full-body shock he feels whenever he's near the vehicle's driver, Mary Winslow. He needs to keep her safe from their pursuers while he rescues his brother. Most challenging of all, he needs to claim this smart, stubborn woman as his life mate.

The naked, injured, insanely gorgeous younger man who clambered into her RV insists they belong together. If Mary wasn't feeling their incredible connection in every inch of her being, she wouldn't believe it. But now that the men who took Dante's twin are after her too, trusting her gut means risking her life for an immortal who's the very definition of a perfect stranger.
Losing an Edge
(Portland Storm #8)
by Catherine Gayle
ebook
Expected publication: February 25th 2016 by Night Shift Publishing
ISBN139781942177128
Tired of being the second-best Babcock, Levi "501" Babcock is ready to outshine his older brother. Outranking his brother proves harder than he imagined—until he meets a sinfully sexy gold-medal-winning figure skater. She might be the prize he's been searching for all along.
Bubbly and spirited Cadence Johnson is determined to escape the shackles of her former partner. Moving to Portland gives her the fresh start she's craved, but the last thing she can afford is a distraction like Levi Babcock.
When Cadence's past comes back to threaten her and her life is on the line, Levi might be the safety net she never realized she needed. But will Levi still care about Losing an Edge to his biggest rival, or can he finally step out of his brother's shadow to become the hero in his own game?
Flirting with Fame
by Samantha Joyce
ebook, 352 pages
Expected publication: February 29th 2016 by Pocket Star/Simon & Schuster
ISBN 1501126830
Elise Jameson is the secret author behind the bestselling, cult hit Viking Moon series. But when a stranger poses as Elise, the painfully shy, deaf nineteen-year-old starts to see how much she's missing. Can she really hide in the shadows forever? This clever, coming-of-age debut is for anyone who has ever felt unsure in their own skin.

After a freak childhood accident leaves her deaf and physically scarred, nineteen-year-old Elise Jameson retreats into a world of vibrant characters she creates on her laptop. She is shocked when her coping mechanism turns into a career as a phenomenal bestselling novelist. Fans are obsessed with Elise's Viking Moon series and its author—a striking girl with zero resemblance to Elise who appears on the back covers. Elise sent the randomly Googled photo to her editor following a minor panic attack. Now, horrified to learn she is expected on set of the television pilot based on her novels, Elise tracks down her anonymous stand-in. To Elise's surprise, Veronica Wilde has been taking credit for Viking Moon for years. She eagerly agrees to keep up the charade if Elise will pose as her assistant.

It's hard for Elise to watch a stranger take credit for her work and get all the perks she desires, including admiration from the show's heartthrob star. Edged onto the sidelines of her own life, Elise reconsiders her choice to stay anonymous. Is she ready to come to terms with her true identity—and with the long-buried secrets that could cost her her career, her fans, and the few precious friendships she's made?