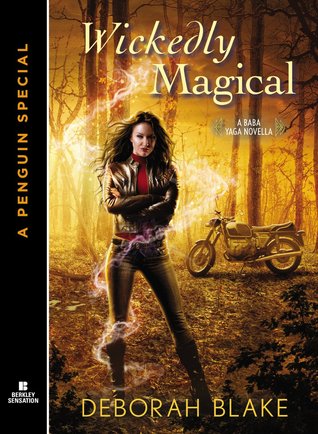 Title
: WICKEDLY MAGICAL
Series
: Baba Yaga #0.5
Author
: Deborah Blake
Format
: Kindle, 73 Pages
Published
: Berkley (August 5, 2014)
ISBN
: ASIN:B00FX7UK0K
Links
:
Goodreads
| Amazon | B&N
Reviewer
: Linda
Source
: Amazon
Rating
: 4 out of 5 Wine Glasses
Known as the wicked witch of Russian fairy tales, Baba Yaga is not one woman, but rather a title carried by a chosen few. They keep the balance of nature and guard the borders of our world, but don't make the mistake of crossing one…
Barbara Yager loves being one of the most powerful witches in the world, but sometimes she'd rather kick back in her enchanted Airstream with a beer in her hand than work out how to grant the requests of the worthy few who seek her out.
But when a man appears with the token of a family debt of honor, Barbara must drop everything to satisfy the promise owed by her predecessor—and she isn't above being a little wicked to make sure the debt is paid in full…

Deborah Blake has published seven books on modern witchcraft with Llewellyn Worldwide and has an ongoing column in Witches & Pagans Magazine. When not writing, Deborah runs The Artisans' Guild, a cooperative shop she founded with a friend in 1999, and also works as a jewelry maker, tarot reader, and energy healer. She lives in a 120-year-old farmhouse in rural upstate New York with five cats who supervise all her activities, both magical and mundane.
Linda's Thoughts:

"Who says wicked can't be good?"

WICKEDLY MAGICAL by Deborah Blake is a quick, fun introduction into the author's incredible world of Baba Yagas. I was recently at the Coastal Magic Convention where I was fortunate to catch this author on several panels. Her description of this series caught my interest so as soon as I got home, I picked up this prequel at Amazon to check it out. I'm happy to report that I was captivated and can't wait to read the next one! Even though this book consists of only 73 pages, it was not lacking as the storyline was richly fleshed and the characters were detailed.

The Baba Yaga was characteristically a wicked witch featured in old Russian folk tales. In Deborah's Baba Yaga series, there are multiple Baba Yagas located world-wide. They are powerful witches entrusted with keeping the natural balance and guarding the borders between our world and the underworld. Each Baba Yaga has a dragon companion and that companion takes on a form that doesn't stand out in these modern times. These new-age Baba Yagas are no longer inherently wicked, but crossing them is still very bad.

In this novella, readers learn that there are three Baba Yagas in the United States: Barbara, Beka and Bella. We meet all three herein but this particular tale focuses on just one of them, Barbara, who will also be the primary character in WICKEDLY DANGEROUS, the first full-length book in the series. Barbara is a motorcycle-riding witch who lives in an enchanted Airstream trailer with her dog/dragon companion.

This story begins as Barbara is approached by a brave, but desperate, man who claims that the Baba Yaga owes a debt to his family. To repay the debt, he asks that the Baba Yaga help him retrieve his lost treasures. This tale was mesmerizing and I found myself alternately laughing, gasping and teetering on-the-edge of my seat as the story progressed. You should know that this prequel did not include a romantic element, but I understand that the full-length books will.

Following please find a few of my favorite quotes:

She was tasked with guarding the doorway to the Otherworld, keeping the balance of nature (as much as anyone could in these modern times), and occasionally, helping a worthy seeker. ---


"A Baba Yaga never breaks a promise. Legs, yes. Hearts, occasionally. But never a promise." ---


"When you tell the children tales of the Baba Yaga on a cold winter's night, you might remember to mention that whether or not the witch is wicked often depends on who is telling the story."

I am officially addicted to Deborah's incredible world of Baba Yagas. I've already got WICKEDLY DANGEROUS on order and have WICKEDLY WONDERFUL in my possession having won it at the convention. I would highly recommend this magical paranormal series to anyone who enjoys witchy urban fantasy reads.

Suggested Reading Order: WICKEDLY MAGICAL (Book # 0.5) WICKEDLY DANGEROUS (Book #1) WICKEDLY WONDERFUL (Book #2) WICKEDLY EVER AFTER (Book # 2.5) WICKEDLY POWERFUL (Book #3)