A Lady's Guide to Proper (Mis)Behavior
by Mrs. Prudence Whittaker on Proper Ton Etiquette (with additions by Miss Mary Elizabeth Waters)
"A lady never discharges a firearm." —Mrs. Prudence
"A lady can only fire her gun if she keeps her powder dry." —Mary Elizabeth
Read on for an excerpt!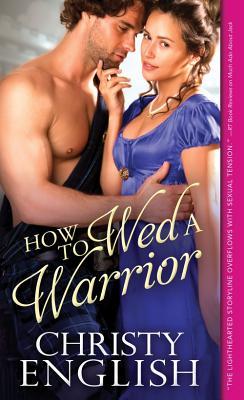 How to Wed a Warrior
(Broadswords and Ballrooms #2)
by Christy English
Mass Market Paperback, 352 pages
Published February 2nd 2016 by Sourcebooks Casablanca
ISBN 1492612901
When his wild spitfire of a sister makes a scene by drawing her claymore in Hyde Park, Highlander Robert Waters knows something must be done. To forestall the inevitable scandal, he hires widowed Prudence Whittaker to teach his sister how to be a lady - never expecting he'd become hungry for a few lessons of his own.

Outwardly prim, Pru is adept at keeping would-be suitors at bay. She has to if she wants to keep her secret. But all the drab colors and careful manners in the world will not hide her abundant charms from this determined Highlander…
Excerpt from HOW TO WED A WARRIOR
Robert's eyes gleamed with mischief—and with something else, something darker, and a bit alarming. Pru's stomach jumped at the sight of that heat, and a delicious shiver coursed through her.
When he spoke again, his voice was thick with the music of his homeland, and with something else. "Well, now, and don't I love a woman with a backbone."
"I'm sure you do. Now leave this room and go find one."
"Aye," he said, moving closer to her. She straightened her shoulders, and sniffed. His smile was infectious, and she had to work very hard not to give in and smile back.
"I do love a sniffing woman. A woman who knows her own mind, and isn't shy about telling the world."
"That is very edifying. I am sure there are many such women outside these four walls. Again, Mr. Waters, I bid you good day."
Robert laughed and shook his head, stepping even closer until he was standing a mere two feet from her.
She took in the warm scent of cedar, and a hint of something else, some spice that was all Robert Waters and little else. She was sure that if he stood so close for much longer, she would lose the ability to speak at all.
"But you see, Mrs. Prudence, that's the trouble. There are very few women beyond these four walls that speak their minds to a man and damn the consequences."
"Honesty is its own reward." Her heart thudded so hard that the pulse in her throat leaped. His eyes seemed to follow it, and then move up the line of her jaw, to her cheekbones, to her eyes.
"I wonder if it might reward me," he said.
He closed the distance between them, and kissed her.
She had been kissed before, of course. She had been a debutante during the Peninsular War, when everyone thought that the young men around them were surely going to die. She had almost been engaged, and her swain had kissed her on the garden steps of her father's house in the moonlight, so many years ago now that it seemed to have happened to another woman altogether. But this kiss was different, because Robert Waters offered it.
Pru shocked herself by accepting it for what it was—a warm touch in a world that was often very cold indeed.
She found herself pressed against him in the next instant. His hands did not come down on her. He did not touch her waist or her shoulders, but held his hands aloft, as if she kept him at gunpoint. She did not think of what that meant, but simply moved against him, taking in the heat of his body with her own. If only she might close the door and ignore her life and future and simply have him there in that lovely, overly luxurious room.
She felt his tongue on her lips, and she opened her mouth to his coaxing. He tasted of warm honey from breakfast. He tasted of man, and in some strange, indefinable way, of home.
He still had not touched her but to place his lips on hers. He withdrew his tongue, and then his mouth, and then stepped back, so that she was left alone, grasping at nothing.
About the Author
Ever since Christy English picked up a fake sword in stage combat class at the age of fourteen, she has lived vicariously through the sword-wielding women of her imagination. A banker by day and a writer by night, she loves to eat chocolate, drink too many soft drinks, and walk the mountain trails of her home in North Carolina. http://www.christyenglish.com/
And don't miss....
a Rafflecopter giveaway