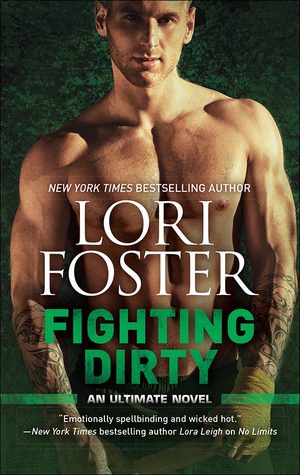 Title
: Fighting Dirty
Series
: Ultimate #4
Author
: Lori Foster
Format
: Paperback & eBook, 448 pgs
Published
: Feb. 23, 2016 by HQN
ASIN
: B0166ASG4Y
Links
:
Goodreads
|
Amazon
|
B&N
Source
: Netgalley
Reviewer
: Kimberly
Rating
: 3.5 out of 5 Wine Glasses
He's the hottest MMA fighter in the game, but one woman is ready to try out a few steamy moves of her own in an unforgettable new novel from New York Times bestselling author Lori Foster...

With the life he's led and the muscles he's gained, Armie Jacobson isn't afraid of anything. Except maybe Merissa Colter's effect on him. It's not just that she's his best friend's little sister. Fact is, she deserves better. Women pursue him for one night of pleasure, and that's all he wants to offer. Until rescuing Merissa from a robbery leads to the most erotic encounter of his life.

Good girl meets bad boy. It's a story that rarely ends well. But Merissa is taking matters into her own hands. No matter how he views himself, the Armie she knows is brave, honorable and completely loyal. And as past demons and present-day danger collide, they're both about to learn what's truly worth fighting for…
Kimberly's Thoughts:
Armie Jacobson. Her brother's bestfriend, a rising star in the MMA world, a legend with the ladies, and the man Merissa Colter has been in love with for years. Merissa has stood by as other women have gotten to have Armie for a night but after a stolen kiss in a hallway, she's ready to step into the octagon with him. Other women may have gotten Armie for a night but Merissa has had his heart for years. Wanting to protect her from a secret in his past that still haunts him, Armie has stayed away. When the SBC comes calling and wanting to make him a MMA star, though, he discovers that hiding isn't going to work anymore and maybe Merissa deserves the chance to show him how strong she is and how great they can be together. Armie and Merissa, no more hinting at but about to hit the mat full force.
Fourth in the Ultimate series, Merissa and Armie have popped in and out in the previous books, the build up to their relationship is sprinkled throughout those books and while you could pick this one up first, you would be missing out on the sweet anticipation. The glimpses we got of them included a lot of heated glances, tension, and yearning; this book is our payoff. After a robbery at Merissa's bank, she turns to Armie for comfort and while it seems she bullies him a bit to accept her stronger presence in his life, Armie needed that little bit of a push to finally hug Merissa with the arms he had been holding open to her for years. After alluding comments to a darker instance in Armie's past, we finally find out why he has tried to keep himself isolated. It's an issue that I will say is a very sensitive topic
*spoiler
- Armie was accused of rape but the woman lied -
spoiler*
, especially in today's climate, but while I found myself uncomfortable at the initial explanation of it, which is going to personally affect everyone differently, I will say the author handled it the best it could be handled. I just wish this part of the storyline could have been different but again, that's a personal issue.
Armie was the same character that has been scene stealing in all the other books but even better since we got him full force. He wallowed a bit much at times over how he didn't feel good enough for Merissa but his humor, solidness, sexy attitude, and charm will make him a contender for your favorite from the series. I was pleasantly surprised by Merissa, she appeared in other books like Armie but didn't quite have his presence, but in her own story, she's the one packing quite the punch. Merissa wouldn't let Armie hide from her, she had moments of insecurity but overall, she kicked butt and took names for what she wanted and she got him. Armie and Merissa had chemistry but their really strong suit was bringing a smile to my face. They were at turns funny, sexy, and sweet together; I could have read about this couple all day.
The suspense side of the story was a smidge weak with Merissa's ex-boyfriend being portrayed as this psycho stalker, then the but not too much of a psycho, but still a stalker. In the beginning it worked to give our hero Armie a push to make him be around Merissa, but as the story went on, Merissa took care of that herself. The rest of the SBC boys made appearances but for the most part they stayed out of the spotlight, as they should. Of course Cannon was one of the most visible as he is Merissa's brother and Armie's bestfriend but since he is my favorite from the series, I didn't mind. The author did a great job of having Armie and Merissa as the star of the show but still evolving her characters and the world she has created for them, this last in the series felt very comprehensive and a great final to the Ultimate series.
Even though this is the last in the Ultimate series, the author has set up her next with Leese, also a MMA fighter and a very good friend of Merissa. It looks like we may be leaving the SBC world and venturing into bodyguard territory. This author's writing style and books are always solid and she creates great series, her stories will always fall very close to either side of the bell curve. She teased us for a while with Armie and I'm happy to say his book did not disappoint. If looking for sweet protective men, the Ultimate series and especially Armie's story, is a treasure trove waiting for you.
Series Order:
Hard Knocks (Ultimate, #0.5)