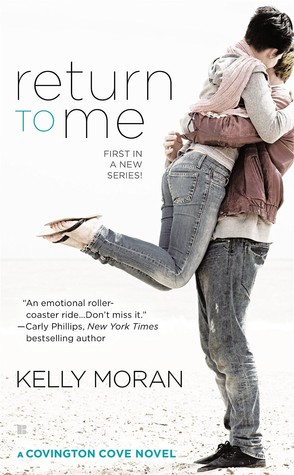 Title: Return to Me
Series: Covington Cove #1
Author: Kelly Moran
Format: eBook/Mass Market Paperback, First Edition, 304 pages
Published: March 3rd 2015 by Berkley
ISBN: 0425276872
Links: Goodreads | Amazon | B&N
Reviewer: Crystal
Source: Netgalley
Rating: 5 out of 5 Wine Glasses
With every beat of the heart comes a memory of what could have been…





Ten years ago, Cole Covington was just another rich kid who got everything he wanted—including young and trusting Mia Galdon. Then one night everything changed, and two hearts were shattered. Cole buried his guilt in the military, where love was just part of the past. Now Cole has come back home, emotionally damaged, guarded, and unprepared for what's waiting for him…





At the urging of Cole's sister, Mia has returned to the Covington family's coastal home in Wilmington as a private nurse to help Cole recover. With her uncertain personal life at a crossroad, Mia doesn't have the luxury of saying no to the job. And she soon finds out that the attraction is still alive. So are memories of betrayal. But Mia will discover more than the power of resilience. She'll discover a secret Cole has held for years, one that will force them to confront the past and give new meaning to letting go, forgiveness, and a future worth fighting for.
Crystal's Thoughts:
Return to Me is an incredibly poignant second chance romance story that I absolutely adored and the first book in a brand new contemporary series from author, Kelly Moran
!
Ten years ago Cole Covington and Mia Galdon shared a teenage romance that never stood a chance against the harsh realities of life. Now guilt-ridden and scarred from more then just his time in the military, Cole has escaped to his family's Wilmington home where not only the nightmares from the IED that almost killed him torment, but the ghosts of his past do as well. When Mia Galdon, the woman Cole loved and gave up, is called in a desperate attempt to break through Cole's recluse existence, Cole is shocked and thankful for the chance to finally apologize to Mia. But he broke something inside Mia when he lied to her all those years ago. I
n helping Cole to heal can she also heal the wound in her own heart?
Return to Me is just the kind of romance I love to read; character oriented, emotionally driven, and written with obvious passion.
Cole was raised in a wealthy family with political ambitions. He had it all, including the unlikely friendship of Mia through the summers in his family's Wilmington home. Mia was the daughter of the Covington's maid who more often then naught, ended up doing her alcoholic mother's work along with raising her young special needs sister. She knew that Cole wasn't in the same class at her but couldn't help the connection she felt between them. While Cole knew his mother would never allow a relationship to bloom between him and Mia, but with wide-eyed youth thought to carry on their affair in secret until they could run away without any ramifications. But an outrageous ultimatum from Cole's mother not only tore Mia and Cole apart, breaking each of their hearts in the process and shattering Mia's trust, but also ripped Cole's older brother from him. Their past heartaches though haven't hindered the chemistry that explodes between Mia and Cole when they're together and I loved the push and pull that this led to as they each waded through their past hurts.
There is s
izzling tension between Cole and Mia when they meet again. Both sexual and emotional.
Their past history shaped Mia and Cole into the people they are today. Cole is harder, laughs less, and has lost the happy-go-lucky attitude of his youth.
While Mia, though determined to leave the past in the past, is hesitant to trust or depend on others now, and has dedicated her life to her sister. But with a strong back bone she charges back into Cole's life like a tornado. Taking charge of his care and rehabilitation like the dedicated nurse she is. And as Cole begins to heal from his injuries so do the hurts from the past. The story-line moves seamlessly from past to present, revealing that first taste of young love and the circumstances that tore Cole and Mia apart. The raw emotion woven into the story drew me in from the beginning and made Return to Me an all-night read.
Misunderstandings, lies, and betrayals separate Mia and Cole. Only
forgiveness, acceptance
, and love can bring them back together again. But it's not an easy road...but nothing worth having in life is ever easy.
Despite the story being told in the 3rd person, Moran breathes so much life into her characters that I had no trouble knowing exactly how each character was feeling throughout the story and being able to place myself alongside them in their journey through love, loss, and forgiveness.
Return to Me
was spectacularly written, the plot moved at a steady, captivating pace and the characters tugged at my heartstrings. Kelly Moran is a new-to-me author, but I will definitely be checking out more of her works because of this remarkable tale and I can't wait for All of Me (Sept. 1st), the second novel in this series. If you love lost loves, second chance romances, and moving stories of emotional healing, then you won't want to miss Return to Me. Pick it up today!