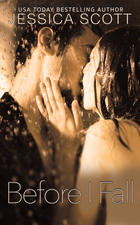 Title: Before I Fall
Series: Falling #1
Author: Jessica Scott
Format: eBook/Paperback, 300 pages
Published: March 10th 2015 by Jessica Scott
Links: Goodreads | Amazon | B&N
Reviewer: Crystal
Source: Netgalley
Rating: 4.5 out of 5 Wine Glasses
Stay focused. Get a job. Save her father's life.





Beth Lamont knows far too much about the harsh realities of life her gilded classmates have only read about in class. She'll do whatever it takes to take care of her father, even if that means tutoring a guy like Noah - a guy who represents everything she hates about the war, soldiers and what the Army has done to her family.





Noah Warren doesn't know how to be a student. All he knows is war. But he's going to college now to fulfill a promise and he doesn't break his promises. Except he doesn't count on his tutor being drop dead gorgeous and distracting as hell. One look at Beth threatens to unravel the careful lies Noah has constructed around him.





A simple arrangement turns into something neither of them can deny. And a war that neither of them can forget could destroy them both.
Crystal's Thoughts:
Jessica Scott delivers an unforgettable tale of strife, heartache, love and acceptance in her new adult contemporary romance, Before I Fall.
Beth Lamont despises anything that has to do with the war that broke her father and destroyed her family. When she is asked to tutor a young ex-soldier in her stats class though, she can't turn down the money that could go towards her father's medications. She never expected to fall so hard for Noah Warren, a man similarly damaged by the war. But that life is all Noah knows and college feels like foreign territory to him. Can two such flawed and weary souls find a love worth fighting for in each other? Or will their demons and the war they can't forget steal that from them as well?
Written with a depth of realism that only comes from experience,
Before I Fall
was a compelling read from beginning to end. Beth is a young women struggling to care for her father while juggling school and work. I couldn't help but ache for her character and the trials she endures. What would you do if you found yourself at sixteen being the caretaker of the family? Striving to keep up with not only the day-to-day bills but also a never ending amount of medical bills? Would you cut and run? Or would you stick it out no matter how overwhelming? There is one light at the end of the tunnel for Beth and that is finally obtaining her degree and finding a job with medical insurance so that her father can finally receive the care he needs. It's a sad fact of life that many of our veterans don't receive the medical care they need and deserve from the VA, and Scott brings that battle to the pages. This is not a light and fluffy story; it is at times dark, stirring and gritty.
Noah was an equally poignant hero. His struggles to acclimate himself to life outside of the war was difficult and you could feel the tension radiating from the pages. His scars run deep and are not all physical though, and as a reader you quickly see that avoidance is a well used coping mechanism for him. The chemistry between him and Beth is palpable from the start, and Noah's heart really shows when it comes to Beth. He wants nothing more then to lighten the load that Beth already shoulders but realizes that he could quickly burden it further. The build-up pulled me in farther and though the happily-ever-after was not what I was expecting, it was one that was real.
Before I Fall was a beautifully written story with well developed characters and plot that moved at a steady pace. The real world issues that the story is based around run deep but they are not overstated.
These characters could have been anyone I know, or anyone I pass on the street. It made for an engaging and powerful story that is what fans have come to expect from this talented author. I look forward to more from the
Falling series and Jessica Scott in general. She's a wonderful author with an affinity for contemporary military romances.