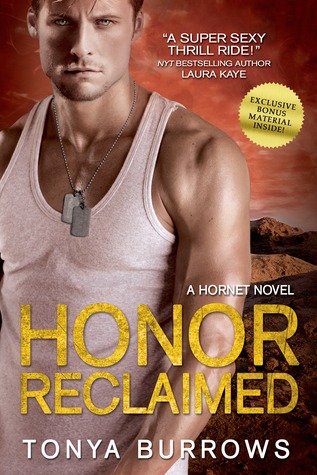 Our guest today can make a mean Andes mint cookie and loves the movie Tremors. And bonus, she has another romantic suspense book out! Welcome back Tonya Burrows!
Lexi: Let's open the wine and get right into Broken Honor! The first line of the blurb is a great hook, and reveals that we get to have Travis's story. What was your soft part of this story, what part were you just dying to tell?
Tonya: Hi Lexi! Thanks for having me back! Starting right off with a hard question, huh? *sips wine* Oh man. I've been excited to tell Quinn's story from the beginning, but can't answer this without being too spoiler-y. There's a scene toward the end of the book that I'm just dying to know readers' reactions too. It made me ugly-cry while I was writing it.
Lexi: You threw a lot into Broken Honor. An ex-SEAL with a memory problem wrapped up in a girl who finds herself pregnant and kidnapped. Wow! How did you come up with this plot, or did you always know how Travis's story would go?
Tonya: I've always known the only thing that could pull Quinn out of his tailspin was the chance to have the family he never got growing up, so his heroine had to wind up pregnant. And knowing that made the human trafficking suspense part of the plot just kind of fall into place.
There's another element to the story that I don't want to give away, but I will say I knew from the very first word in SEAL of Honor that things were going to happen this way.
Lexi: Your HORNET series has continued to receive great reviews. Each character on the HORNET team has their own issues but they function as one. How attached would you say you are to these men?
Tonya: Oh, very attached. I always get the question, "which guy is your favorite?" And it's like asking me to choose my favorite child. I love them all for different reasons. I love Jean-Luc's humor. Harvard's nerdiness and his need to be "just one of the guys". Jesse's reliability and the occasional times he lets his temper get the best of him. Marcus's charm and wit. And Ian's broodiness, which he uses like a shield to hide his big heart. Gabe was a fun character to write because he has this great dry kind of sarcasm that sneaks out when he's not trying to be all SEAL commander-ish. Seth was heartbreaking because he's just so wonderfully damaged and I have a soft spot for the wounded heroes. And Quinn…in some ways, he's more broken than Seth. He doesn't wear his scars on his skin like Seth does, but they're just as deep. My heart aches for Quinn because he's been beaten down one too many times and unlike Seth, he's on the verge of giving up.
Lexi: I don't know how you can make yourself cut out scenes! But we love that you are sharing them with us. For those of you who haven't ever stopped by Tonya's blog, you should check it out. She spends a lot of time on it…er, she puts a lot of effort into it and it shows. ☺ It is fun to read the reasons you cut out certain scenes. Have you ever cut and then put back in a scene, one you just couldn't leave alone?
Tonya: Cutting scenes is hard, but you get—well, I'm not going to say used to it, because it hurts every time. When you put so much time and effort into a scene or chapter, only to have it cut? Yeah, it sucks. That's part of the reason I share my deleted scenes on my blog and website. But for every deleted scene I share, there are 10 more that I leave to gather dust on my computer. Both Honor Reclaimed and Broken Honor were once completely different books and the scenes from those first drafts will never see the light of day, mainly because they wouldn't make sense out of the context of their draft.
I can't think of any scene off the top of my head that was cut then added back, but I did struggle with the beginning of Broken Honor. I wanted to go back to the very beginning of Quinn and Mara's relationship and I wrote about 8,000 words (around 30 pages) of it, but it was all backstory and not relevant to the rest of the book's plot. That was probably the hardest cut I've ever made. (But if you're interested, you can read some of those pages on my blog.)
Lexi: Well I am looking forward to what other little tid-bits you give us on your blog, that and reading Broken Honor. Thanks for stopping by again Tonya! Congrats and here's to many more HORNET books!
Tonya: Thank you! It was great being here. Mind if I take the rest of this wine with me? I'm gonna need it to finish my next book.
Series: HORNET #3
Author: Tonya Burrows
Format: eBook/Paperback, 350 pages
Published: February 24th 2015 by Entangled: Select
ISBN: 1622666542
Ice-cold and unbreakable, Travis Quinn is the HORNET team's hard-ass. No weaknesses. Except, of course, for the accident that not only destroyed his career as a Navy SEAL, but left terrifying blanks in his memory. But Travis remembers everything about Mara Escareno--the curve of her lips, the feel of her body...and how he walked out on her suddenly six weeks ago.

Mara could never resist the dangerously sexy Travis, which is probably how she ended up pregnant and disowned by her family. But before Travis can fully process the news, Mara is kidnapped by his enemies and plunged into the violent, merciless world of human trafficking. They want Travis--and the information locked within his damaged memory--no matter the cost. And now Travis's enemies have discovered his only weakness...Mara.
Writing has always been my one true love. I wrote my first novel-length story in 8th grade and haven't put down my pen since. I received a B.A. in creative writing from SUNY Oswego and I'm now working on a MFA in popular fiction at Seton Hill University.





When I'm not writing, I spend my time reading, painting (badly), exploring new places, and enjoying time with my family. Give me a good horror movie over a chick flick any day. (And, let's be honest, I'll take a bad horror movie too!) I'm a geek at heart and pledge my avid TV fandom to Supernatural and Doctor Who. I'm also a big fan of The Voice. What can I say? Guilty pleasure.​​



I share my life with two dogs and a ginormous cat. I'm from a small town in Western New York, but I suffer from a bad case of wanderlust and usually end up moving someplace new every few years. Luckily, my animals are all excellent travel buddies. http://www.tonyaburrows.com/