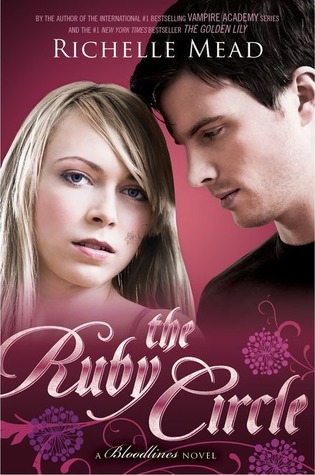 Title: The Ruby Circle
Series: Bloodlines #6
Author: Richelle Mead
Format: Hardcover, 348 pages
Published: February 10th 2015 by Razorbill
ISBN: 159514322X
Links: Goodreads | Amazon | B&N
Reviewer: Linda
Source: Library
Rating: 5 out of 5 Wine Glasses
The epic conclusion to Richelle Mead's New York Times bestselling Bloodlines series is finally here...





Sydney Sage is an Alchemist, one of a group of humans who dabble in magic and serve to bridge the worlds of humans and vampires. They protect vampire secrets—and human lives.





After their secret romance is exposed, Sydney and Adrian find themselves facing the wrath of both the Alchemists and the Moroi in this electrifying conclusion to Richelle Mead's New York Times bestselling Bloodlines series. When the life of someone they both love is put on the line, Sydney risks everything to hunt down a deadly former nemesis. Meanwhile, Adrian becomes enmeshed in a puzzle that could hold the key to a shocking secret about spirit magic, a secret that could shake the entire Moroi world.
Linda's Thoughts:
"I shook my head, smiling in spite of myself, and gave him a kiss on the cheek. Adrian. My husband. If anyone had told me a year ago that I'd be married, I would've said they were joking. If they'd told me I'd be married to a vampire, I would've said they were delusional. Looking at Adrian now, I felt a surge of love well up within me, despite our earlier tension. I could no longer imagine a life without him in it. It was impossible. Could I imagine a life with him that didn't involve us being trapped in a suite of rooms with his mother while both our people reviled us and made plans against us? Definitely. There were any number of futures I'd love to have for us, but his was our current path until something spectacular happened. Outside, the Court's gates, my people wanted to imprison me. Inside them, his people wanted to assault him. At least in this suite, we were safe. Most importantly, we were together."
THE RUBY CIRCLE by Richelle Mead was a perfect ending to a perfect series that piggy-backed to another perfect series. I expected the ending to be awesome and it was. If you haven't read Richelle Mead's Vampire Academy or Bloodlines series, you're missing out on the awesomeness of Rose and Dimitri AND Sydney and Adrian. Finishing this book was a huge emotional moment for me because I've been addicted to Richelle's Vampire Academy and Bloodlines books for years. I could count on each book to be a steady, solid, engrossing read populated with Dhampirs, Moroi, Alchemists, Vampires, Hunters, and Witches with magic galore and an humongous cliffhanger. I can't compute the number of hours my sister and I have hashed and rehashed the books over the years. Now they're all finished. Sob...
I loved how Richelle incorporated almost all our favorite primary characters from both series into this one story. I laughed and sighed so much reading this that if anyone had been around at the time, I'm sure they would have worried about me.
I hearted all the characters! I was thrilled to find that Adrian really matured in this book. He took responsibility for his actions and he exercised restraint from using too much spirit power. He has come so far from when we first met him in the Vampire Academy books. Back then, he was a broken character and really struggling with his spirit. Sydney has come a loooong way, too, becoming confident in her skin with her abilities and not afraid to love a vampire. Adrian's and Sydney's relationship strengthens more... I just love them both.
I want to mention two other characters: Eddie has grown up to be a mini-Dimitri. I'm holding out hope that he and Jill might headline a new take-off series.
I also want to assert that I cannot imagine fully enjoying this book as a standalone. I will go so far as to unequivocally state that you shouldn't read this book without reading the prior books. You'd be missing out on too much awesomeness that definitely would affect your enjoyment of this book. These are two series you just have to read in their entireties in order. But... they are all beyond fantastic! So... what's the problem? Here's the order in which they should be read:
Vampire Academy Series
•

#1 Vampire Academy
•

#2 Frostbite
•

#3 Shadow Kiss
•

#4 Blood Promise
•

#5 Spirit Bound
•

#6 Last Sacrifice
Bloodlines Series
•

#1 Bloodlines
•

#2 The Golden Lily
•

#3 The Indigo Spell
•

#4 The Fiery Heart
•

#5 Silver Shadows
•

#6 The Ruby Circle
It's very difficult to pick one favorite scene but one in particular has remained in my mind. When Sydney transformed into a cat, I laughed so much I almost cried. The whole scene was beyond hilarious, even while I worried about the dangerous situation she was in. Here's just two very short quotes from that scene that still warm my heart. I hope they serve to illustrate the humor and sweetness of this scene:
"Through the metal grating on my carrier door, Adrian's face suddenly appeared, peering in at me. "What new, pussycat?"...
"Twenty minutes later, a new message came in, this one from Sydney herself: Back in human form. Everything seems to be normal. Everything? I questioned. Well, aside from a weird urge to chase laser pointers, she responded. If that's the worst effect, I'll take it. Keep me posted. I love you."
Following please find a few more of my very favorite quotes:
"I told you before, we're the center," she said. "And the center will hold."
---
"You're a terrible liar, boy," Rand called after us.
"Is he right?" I asked quietly, once we'd put some distance between the guest cabin and us.
"That I'm a terrible liar? No. I'm a fantastic liar."
---
"Dimitri held up a car seat with one hand, which was almost comical. "We can go whenever you're ready. Lana gave us this and swears it's easy to install."
"Rose laughed at that. "Oh, this I've got to see, comrade. Dimitri Belikov, badass god, installing a baby's car seat."
---
"Sydney," Adrian interrupted, cupping my face in his hands. "Never, ever think like that. I don't regret anything we've faced. Being with you is the best thing that's ever happened to me, the one perfect decision I've made in a lifetime of fumbling and poor judgment. I'd go through it all again to be by your side. Never doubt that. Never doubt how I feel about you."
I felt that both series came full circle with this book. Richelle's writing was fantastic, as always. The story was captivating with a solidly crafted plot. The ending was highly satisfying and the epilogue was added perfection! Figure in loads of action, drama and love and I was in ecstasy. IF you haven't read both of these series, you really should rush to whatever brick and mortar or online bookstore you use and buy them all... NOW! I'm jealous as you won't have to wait for the next books after dying with a whopping cliffhanger! LUCKY, LUCKY YOU!