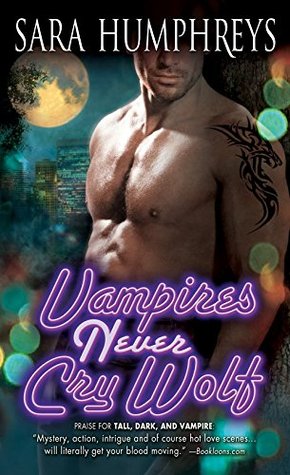 Title: Vampires Never Cry Wolf
Series: Dead in the City #3
Author: Sara Humphreys
Format: eBook/Mass Market Paperback, 320 pages
Published: March 3rd 2015 by Sourcebooks Casablanca
ISBN: 1402274122
Links: Goodreads | Amazon | B&N
Reviewer: Linda
Source: Netgalley
Rating: 5 out of 5 Wine Glasses
Sadie Pemberton is the DJ at the hottest vampire club in New York City, and she loves her freedom almost as much as she hates werewolves. She has no desire to tie herself to anyone for eternity—even the deliciously sexy Killian Bane—werewolf prince and heir apparent who has been sent to patrol the city.





But Sadie bears the mark of the moon—the mark that Killian has been looking for, the mark that's meant to reveal his perfect mate. How can the fates be so cruel? Even more importantly, how is he ever going to change her mind?
Linda's Thoughts:
In a remarkably steady voice, Sadie whispered, "Last night should never have happened."
"The only thing about last night that shouldn't have happened was the way it ended," Killian rasped....
"Is that so?" Sadie pulled his shift loose from his jeans and slipped her fingers underneath before trailing them along the hard planes of his stomach. Arching one eyebrow, she held his heavy-lidded gaze and unsheathed her fangs. "How do you suppose it should have ended?"
"The same way it should end every night from now on," he growled. Killian slid both hands into her long hair. Sadie shivered when his fingertips grazed her scalp. He pressed his hips against her before slipping his thigh between her legs. Sadie gasped with pleasure as he put pressure on just the right spot, and when a moan escaped her parted lips, a cocky grin emerged on his. Killian tightened his grip on her hair and leaned in so his mouth was just a breath away. "Every single night should end with me buried deep inside you."
VAMPIRES NEVER CRY WOLF by Sara Humphreys is my new favorite in her Dead in the City series as it takes us squarely back into Sara's world of New York supernaturals. I couldn't be more thrilled! There's some bad blood between the vampires and the werewolves and the two races have kept to themselves for ages.... until Killian Bane establishes residency in the vampires' stronghold of New York. Add in an unconventional romance, supernatural politics, and humor galore and you've got a story that will grab your attention from the first page and not let go until the very end.
Even though VAMPIRES NEVER CRY WOLF is the third installment in the series, it can be easily enjoyed as a standalone. However, I'd highly recommend reading all the books in this series as they are all fantastic.
Killian Bane, our drool-worthy hero, is the newest supernatural resident on the island of Manhattan. First of all, I love Killian's name! It's as awesome as his character. He isn't just any werewolf. He's the hot alpha werewolf prince and the heir apparent to the Werewolf Society's throne! Inquiring minds would like to know why he would choose to live in a vampire-dominated city when he could have stayed in Alaska or Canada where the wolves owned most of the territory? AND why was he frequenting Sadie's bar? You'll have to read the book to get your answers! I will share that Killian's father is pressing him to commit to a mate; but Killian has his heart set on a dream woman with a certain mark on her shoulder.
Sadie Pemberton, our carefree, independent heroine, is the new owner of The Coven, Manhattan's only supernatural bar. Business has been good but she's lying when she tells herself that she doesn't look forward to Killian Bane's regular visits. When she finally asks him why he's become such a regular as none of his group drink very much,. she discovers that he's opening up a second supernatural bar in Manhattan and that he would like to steal away her sizzling hot D.J. LOL! So much for thinking that he might be attracted to her! .But... then he catches her skinny dipping in his pool and spots a certain mark on her shoulder....
I can't think of another vampire/werewolf pairing that I've read about and that's a shame as this one rocked! They were both strong, compelling characters not looking to cross races to pair up. But... despite all the reasons that they shouldn't be together, Sadie and Killian were most definitely obsessed with each other. I loved their chemistry, their sexy bantering and their tap dancing above and under the sheets!
There's an interesting cast of supporting characters, some of whom have either been featured in, or who made appearances in, the previous books. One of my favorite scenes involved Doug and Olivia from book one. If you've been reading the books, you know they've had a miracle baby. This little excerpt as Sadie drops by to consult with her maker, shows that it doesn't matter if you're a supernatural... being a new father has some common side effects:
"What's up?" Doug asked with a loud whisper as he swung the door open. His short blond hair was in a state of disarray and the pajama pants he wore were horribly wrinkled. The poor guy looked like a disheveled mess. Pressing his finger to his lips, he stepped back and gestured for Sadie to come in. "Emily is finally asleep, and if she wakes up, I might actually cry."
Following please find a few more of my favorite quotes:
A wicked look twinkled in her eye. "I'd say it's time to nut up or shut up. All this talking is gonna make me think you're all bark and no bite.
"Wouldn't want to let you down." On a curse, he covered her eager mouth with his, and the world he knew ripped wide open. She tasted cool, sweet, and rich, like ice cream in the summertime, and in that instant Killian knew he would never, ever get enough of her. Laws of nature could be damned. This woman's taste was all he would ever crave. Were there other women? Who the hell cared?
Sadie's soft, pliant lips opened to him as he ran his tongue along the seam of her mouth and she welcomed him in. Grasping her head with both hands, he groaned and took full control of the plundering kiss. He tangled his hands in her long, wet hair, which felt like ribbons of satin as it rushed through his fingers. Killian groaned when her tongue swept along his, seeking him out with the same desperation and urgency.
This was what he needed. This woman. Her touch. Her taste. How on earth could this be wrong?
---
Killian's low, sexy growl slid over her seductively as he sidled up behind her and nuzzled her ear. "I want to go on record that I was not in favor of putting on clothing, especially when all I can think about is taking yours off."
---
"Whoa," Sadie murmured and took an involuntary step back. It had been centuries since she'd been this close to a werewolf in wolf form, and her gut instinct was to flee. Looking into those eyes though, Sadie knew she was safe. She licked her lips and folded her arms over her breasts in an effort to steady her nerves. "You're a lot bigger than I thought you'd be."
"You're not going to tell me what big teeth I have, are you? Killian's growl stopped short...
---
Killian kissed the tip of her nose and released her hands before hopping down to the tracks...
"Are you coming?" Killian's teasing voice slipped into her mind and made her smile.
"Not yet," Sadie sang. She hopped onto the tracks and winked at Killian. "But you can make it up to me later."
There's not a single dull moment in this tale!. I'm still in awe of the plethora of twists and turns that I never saw coming too.
Sara has taken two fiery individuals and somehow entwined them into a perfect sweet and caring love story. Her Dead in the City series is obsession inducing. Will Killian be Sadie's Prince Charming or is he just a big bad wolf blowing her walls down? You're going to have to read this enchanting story to find out! I highly recommend VAMPIRES NEVER CRY WOLF to anyone who enjoys feisty paranormal romances.