It's no secret that I LOVE Gena Showalter's work and I can't wait to read her new contemporary romance, out today, THE CLOSER YOU COME!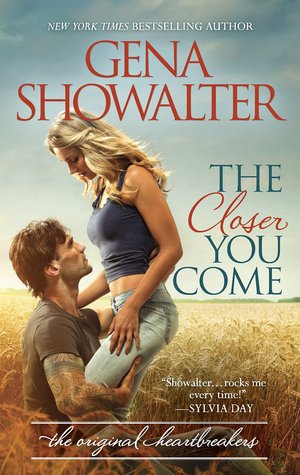 The Closer You Come
(The Original Heartbreakers #1)
by Gena Showalter
Mass Market Paperback, 400 pages
Published March 31st 2015 by HQN Books
original titleThe Closer You Come
ISBN 0373779623
New York Times bestselling author Gena Showalter introduces the Original Heartbreakers, where three not-quite-reformed bad boys are about to meet the women who will bring them to their knees.





Just released from prison, Jase Hollister has a dark and twisted past. And now, he has only one goal: stay out of trouble. Strawberry Valley, Oklahoma, sounds like the perfect place for him and his two brothers-by-circumstance to settle down and live a nice, simple life. But model citizen isn't exactly this rugged bachelor's default setting—especially when it comes to a certain hot-blooded Southern beauty…





Brook Lynn Dillon has always been responsible. Not that it's done her much good. The down-on-her-luck waitress is broke, single and fun-deprived. Until Jase comes along. He is dangerous, stunningly protective, breathtakingly sexy and as tempting as sin, and the passion sizzling between them is undeniable. But can it melt her resistance? After all, the right kind of trouble might be just what they both need.
EXCERPT:
She scanned the yard—and finally found the source of the banging. Jase, with a hammer. Shirtless Jase. Muscles honed from intense manual labor bulged as sweat glistened and trickled down tanned skin and more tattoos than she'd realized. One of his arms was fully sleeved, the colorful ink wrapping over his shoulder and covering his pectoral. On his other side, his ribcage and torso were etched with intricate designs. A handful of what looked to be letters rose above the waist of his shorts.
Am I drooling? I'm probably drooling. Wow. Just wow. He was major man-candy. Gourmet. The house specialty. He radiated the most sublime sex appeal, the kind that shattered the most ingrained resistance and battered the staunchest inhibitions, and he would definitely satisfy even the most intense sweet tooth. He worked the hammer with masterful expertise, like he could fix anything, anywhere, anytime, and she had to admit it was total girl porn.
How she longed to close the distance and study every inch of him more closely. Study, yes…
He paused to wipe his face with a rag, and she almost moaned at the increased deliciousness of him. If almost was the new word for loudly.
He looked up and stilled.
"Brook Lynn." His sunglasses were light enough that she was able to watch his gaze travel over her slowly, leisurely.
Her body reacted as though physically caressed, tingling and aching in her most intimate places. Heat flash? Maybe. Probably.
"Good morning," he said, his voice a husky rasp just as sexy as the rest of him.
"Morning." She gulped and wiped her hands on the side of her wrinkled shorts. Don't gawk at his chest. Certainly don't glance lower. "My phone. My keys. Shoes." Making words should not be this difficult. "Do you know where they are?" Better.
"Phone and keys are in the kitchen. Shoes are in your car."
She must have been too focused on the noise—and then the food—to notice the phone and keys. "Well, then. Thank you. For everything," she added, only to hesitate. "But, uh…I'm a little confused about why you didn't just take Jessie Kay and me to our home."
"Two reasons." He set the hammer aside. "I didn't have permission to enter your residence, and Jessie Kay had had too much to drink. She needed to be monitored, so…" He shrugged.
So he'd acted like the gentleman he'd once claimed he wasn't. "Well, thank you. Again," she said, and turned to retreat inside. Only then, with her gaze off him and a little distance between them, was she able to breathe.
How did he affect her so strongly? And how could she make it stop?
"You didn't eat," he said, coming in behind her.
Her eyes widened as she rounded on him, her breath hitching when she discovered he was close enough to touch. Close enough to press against, male hardness to female softness, if only she leaned forward the slightest…little…bit. No! Bad Brook Lynn! Bad!
Then his words hit her. "That feast is for me?"
His nod was slow, and his gaze hot on her, as if he'd sensed the direction of her thoughts. "Your sister, too."
Needing no further encouragement, she sat at the table and dug in, soon caught up in a whirlwind of different tastes and textures, moaning with rapturous delight. Yes, she would have added a few other spices to take the flavor to a whole new level, but all in all the meal rocked her socks.
When she finished, she dabbed at her mouth with a napkin. Oh, now I'm ladylike? She looked up to find Jase had removed his sunglasses, but hadn't pulled on a shirt…and he was staring at her as intently as she'd stared at him. It was disconcerting. Especially since his features were blank, and she couldn't read him.
A blush burned her cheeks, and she cleared her throat. "Don't judge me." Or my new food baby.
He arched a brow. "Is that what I was doing?"
Surely. "Well." She cleared her throat again. "Anyway. My compliments to the chef."
Never would she have guessed the pretty boy had a skill that didn't involve a mattress and a panting partner. "Did he train at the Institute of Divine Cuisine and Hellish Addiction?" Jessie Kay had often accused Brook Lynn of sneaking into classes.
"More like the Institute of That Was Fun, But Now It's Time For You To Go."
Nice. "You guys and your one-night stands," she said, and rolled her eyes.
"Is that judgment I hear, angel?"
Angel? The endearment proved a thousand times more personal and tantalizing than "honey," shocking her to the core. Of course, he'd meant nothing by it. She figured he probably used the words interchangeably with every female he encountered—even with her sister. But…
"No judgment," she said, and stood. "And now it's time for me to jet." Before I do or say something more stupid. "I'm late for work, so…this is goodbye."
His gaze still locked on her, he stepped closer to her, too close for comfort. She should have backed up, if only out of a sense of propriety, but she remained in place. He crossed his arms over his massive chest, those green eyes heating, burning. A sign of…arousal?
The provocative scent of him filled the air between them; it was masculine, sultry and heady, and it fogged her thoughts. It must have. Why else would she have continued to gaze up at him instead of running away?
Her heart must have heard music her ears couldn't pick up, because the treacherous organ whipped into a frenzied beat, perhaps even doing cartwheels. Her breaths began to come faster, and shallow. I'm panting. I'm freaking panting. She shifted from one side to the other. He took another step toward her, as if compelled, then another, the last whisper between them vanishing.
He's the predator, and I'm the prey.
Don't miss the prequel!
Gena Showalter is the New York Times and USA Today bestselling author of over thirty books in paranormal and contemporary romances, as well as young adult novels. Her series include White Rabbit Chronicles, Angels of the Dark, Otherworld Assassins, Lords of the Underworld, Alien Huntress and Intertwined.




Her novels have appeared in Cosmopolitan Magazine, and Seventeen Magazine, and have been translated all over the world. The critics have called her books "sizzling page-turners" and "utterly spellbinding stories", while Showalter herself has been called "a star on the rise". http://members.genashowalter.com/