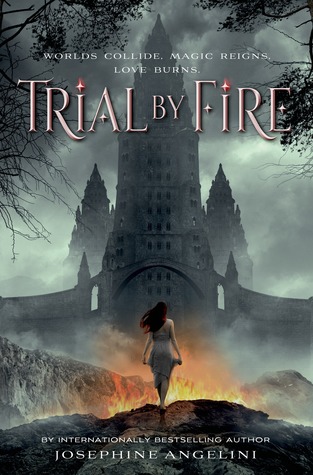 Title: Trial by Fire
Series: The Worldwalker Trilogy #1
Author: Josephine Angelini
Format: Hardcover, 374 pages
Published: September 2nd 2014 by Feiwel & Friends
ISBN: 125005088X
Links: Goodreads | Amazon | B&N
Reviewer: Linda
Source: Local Library
Rating: 4 out of 5 Wine Glasses
This world is trying to kill Lily Proctor. Her life-threatening allergies keep her from enjoying experiences that others in her hometown of Salem take for granted, which is why she is determined to enjoy her first high school party with her best friend and longtime crush, Tristan. But after a humiliating incident in front of half her graduating class, Lily wishes she could just disappear.





Suddenly, Lily is in a different Salem—one overrun with horrifying creatures and ruled by powerful women called Crucibles. Strongest and cruelest of them all is Lillian . . . Lily's other self in this alternate universe.





What makes Lily weak at home is what makes her extraordinary in New Salem. In this confusing world, Lily is torn between responsibilities she can't hope to shoulder alone and a love she never expected.
Linda's Thoughts:
The flames rise, and I twist and scream, trying to get away, but the iron shackles on my wrist keep me bound to this stake.
I'm a witch. And witches burn.
TRIAL BY FIRE by Josephine Angelini is a mind-blowing start to her new YA fantasy Worldwalker Trilogy. When I read the synopsis for it, I knew I had to read it as I love stories about Salem and about witches and I've enjoyed other books by Josephine that I've read. TRIAL BY FIRE is an unique coming of age tale set within parallel universes with good witches, bad witches, magic, willstones that act like tiny computers, powerful women called Crucibles, spirit-walking, shamans, and some romance - but the primary focus is on our heroine's journey, not the romance.
Lily Proctor, our heroine, just wants to be normal. She has life-threatening allergies that have always set her apart. But, today, she badly wants to fit in. She wants to enjoy a party with a boy, Tristan, that she's crushed on for years. Unfortunately, that is not going to happen as Tristan breaks her heart and humiliates her in front of half of her high school class in her hometown of Salem, Massachusetts. Talk about having a bad day!
Then... as she wishes she could disappear, she does. One moment after making that wish, she finds herself in a completely different Salem, an ominous Salem on the brink of war with horrifying, flesh-eating creatures and a sexy guy named Rowan Fall who is not very nice to her at first (for good reason). AND Lily finds that she's different in this new Salem too. Instead of being sickly and weak, she's healthy and strong.
I loved Lily! She was wonderfully witchy. As she struggled with her allergies, young love's yearnings and the humiliation of rejection, I felt for her (and was mad at the boy that caused her pain). Then as she began to trust in herself and learned what she was capable of, I was cheering her on! She was a character that I found it easy to relate to. She seemed genuine even though she wasn't.
There's a bit of a love triangle with Lily, Tristan from her hometown, and Rowan in the new Salem. I, personally, thought Tristan was a bit of a cad and Rowan, a sweetheart. We'll have to see where Josephine takes this. Right now, I'd unequivocally vote for more Rowan!
I found the political comparisons intriguing. Lily's old Salem valued scientists whereas in the new Salem, scientists were hunted down and killed. Old Salem placed no value on magic whereas the new Salem placed magic above all things. There are plenty of political and power plays, too, and deciphering who can be trusted was impossible.
Following please find a few of my favorite quotes:
"You and Tristan are easing into the whole relationship thing, right? Taking it slow?" Juliet asked a little too casually.
"We have sex six times a day, and we're thinking of making a porno together," Lily said, poker-faced, while she rubbed almond oil on her bare legs. She glanced up to see Juliet glaring at her. "Yes! We're taking it slow. Maybe a little too slow."
---
"She heard Rowan awake with a start before he reconciled himself to his surroundings. His back scraped across the trunk of the tree as he slid sideways--trying to see around the branch she was sitting on to get a look at her.
"Are you awake?" he asked, his voice still rough from sleep.
"Yeah."
"Did you sleep at all?"
"No." She heard him mumble something to himself and decided to cut him off before he could scold her again. "My butt did, though. Slept like a log all night."
"Well, obviously, your butt has more sense than you do."
"You're a funny man, Rowan whatever your last name is."
"Fall."
"I'd rather not."
She managed to get a tiny chuckle out of him, which she considered a huge achievement. Rowan stood up on his branch, bringing his head level with Lily's, and started to untie her. His lips were still pursed in a near smile.
"My name is Rowan Fall."
---
"Witchcraft and salt go hand in hand. Your body practically runs on it," he said, summing it up. "And I'm out of salt."
"I'll be fine. It's just a craving."
"When you crave something, it means you need it." He breathed a laugh and his eyes momentarily turned inward. "A crucible cravings is her mechanic's mandate."
---
"Yeah? Well, you and your snooty, all-knowing witches have never been to the moon. My people have, because it was there and it was a good thing to do," Lily said in her best Boston accent. "So bite my scientist-loving ass."
Josephine's writing was creative and captivating. Her two Salem worlds AND her word building were incredible. It's been a long time since I've read a story about witches that intrigued me so. AND did I mention the humor? I caught myself laughing out loud quite a few times while reading this. I can't wait for the release of the second book in this trilogy, FIREWALKER, currently scheduled to be released September 1st, 2015. I highly recommend TRIAL BY FIRE to anyone who enjoys young adult epic fantasies! If you also love well-plotted stories about witchcraft and magic, consider TRIAL BY FIRE a must-read!