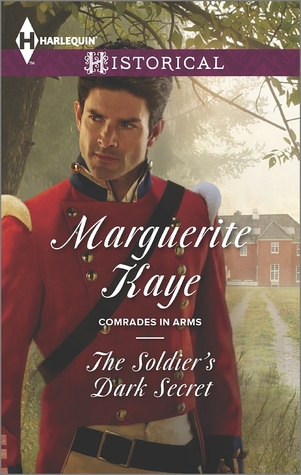 Title: The Soldier's Dark Secret
Series: Comrades in Arms #1
Author: Marguerite Kaye
Format: eBook, Paperback, 288 pages
Published: February 17th 2015 by Harlequin
ISBN: 0373298250
Links: Goodreads | Amazon | B&N
Reviewer: Linda
Source: Author
Rating: 4 out of 5 Wine Glasses
The truth behind the hero Officer Jack Trestain may have been one of Wellington's most valued code-breakers, but since Waterloo, he's hung up his uniform. If only he could just as easily put aside the tortured memories he carries deep within; Perhaps enchanting French artist Celeste Marmion might be the distraction he so desperately craves?





Except Celeste harbors secrets of her own, and questions that she needs Jack's help to solve! With Celeste's every touch an exquisite temptation, how close can Jack get without revealing his darkest secret of all?





Comrades in Arms





War heroes, heartbreakers & husbands?
Linda's Thoughts:
The soldier in the portrait had been a respected and admired officer...
The man he had become was fighting a different battle now. He had his demons, just as she had her ghosts.
THE SOLDIER'S DARK SECRET by Marguerite Kaye is a very well written historical romance featuring two wounded characters. It is the first book in Marguerite's new Comrade in Arms series. It embraces quite a bit of heartbreak as the hero is fighting a nasty case of PTSD - though it is not yet a diagnosed condition at this point in history. No worries, though, as the angst is broken up by hilarity, romance and a covert history lesson making for quite the enjoyable read.
Our hero, Jack Trestain, was an ex-intelligence officer and Wellington's best code breaker. He was an honorable man, highly decorated and much admired. A dark, dangerous secret due to a tragic incident in the war has left him fighting terrible demons. That secret that must never see the light of day is replayed in his mind as a recurring torturous nightmare when he tries to sleep, leaving him extremely sleep-deprived. He also has an overwhelming sense of guilt made even worse by grief and despair. Raw emotion can overwhelm him at seemingly unrelated times such as when a child asks him a question or at a family dinner. He has bottled the episode inside and refuses to talk about it. His PTSD has left him believing that he is incapable of love nor deserving of being loved. My heart went out to him.
Our heroine, Celeste Marmion, is a French landscape artist who has her own ghosts. She grew up unloved, deserted by her mother and without knowing her father. She has worked very hard and become a successful, confident, respected woman. Celeste was a genuine character who I found it easy to relate to.
The story opens in 1815 as Celeste has arrived at Trestain Manor in northern England commissioned to paint some landscapes for Charles Trestain before the country estate's ancestral gardens undergo a planned transformation. She has taken this assignment in England to be close to where she can search for answers to questions she has after receiving a letter from her mother penned before her mother committed suicide. The letter has resurrected all her feelings of abandonment and hurt that she had suppressed for so long. Celeste desperately needs closure to move on with her life.
Maman's life was an unfinished book. Celeste had to discover the ending, and then she could close the cover for ever.
Jack has been staying with his brother and his family at their family's home since leaving the service. He discovers Celeste's quest and offers to help her. They have a strong chemistry that only becomes more heated as time passes despite Jack's best efforts not to be attracted to Celeste. Along the way, the reader learns much about history including what really happened at Waterloo and of Wellington's egocentric personality.
One of my favorite scenes is near the beginning of the book when Celeste comes upon Jack swimming in the nude. She was scoping the gardens early in the morning when she discovered him. She's not at all embarrassed by it appreciating his well-toned body with her artist's eye - except for when she's caught by Jack - who is not at all happy that he was spied on. The scene was depicted as a unorthodox, bad start for the characters, but I found it to be a very telling scene. I loved Celeste's openness and thought then that Jack might have just met his match.
Following please find a few of my favorite quotes:
He closed his eyes and allowed himself to remember the taste of her and the feel of her and the smell of her. She was quite lovely. She was altogether ravishing. She would set any man's blood on fire. He shouldn't have kissed her.
---
"Where is your Revolutionary spirit?"
"Beheaded," Celeste said.
---
Celeste committed the cardinal sin of leaning across Jack's arm. "You will excuse me, Madam, but I have something most particular to say to Monsieur Trestain."
"That was rude," jack said, though he was smiling.
"No doubt you thought her very beautiful."
"No doubt that is what you think I thought."
---
Celeste rejoined him. "How you ladies do love a bargain," he said.
"You were listening!"
"I left before you shared the secrets of your undergarments." Jack looked sheepish. "That didn't sound quite how I intended."
Celeste blushed. "You should not have mentioned it at all. A lady's undergarments are not a fit topic for a gentleman to discuss at a military dinner."
"Actually," he retorted, "you would be surprised at how often the subject comes up."
Marguerite's writing is captivating and emotional. She has taken the difficult subject of PTSD and poignantly interwoven it into a passionate, rewarding love story. I highly recommend THE SOLDIER'S DARK SECRET to anyone who enjoys a very good, deeply moving, well-researched historical romance. It should be an absolute must-read for history buffs.