The second book in Lori Foster's ULTIMATE series is finally here! Pick up Denver's story in HOLDING STRONG today!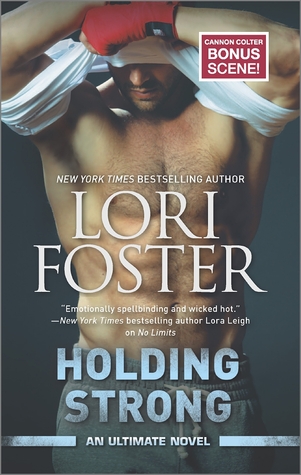 Holding Strong
(Ultimate #2)
by Lori Foster
Paperback, 480 pages
Published March 31st 2015 by HQN Books
ISBN 0373779615
SEE OUR REVIEW
An up-and-coming MMA fighter wants more than just one night from a woman fleeing her past in New York Times bestselling author Lori Foster's irresistible new novel

Heavyweight fighter Denver Lewis plays real nice, but he doesn't share. That's why he's been avoiding top-notch flirt Cherry Peyton. But a man can only resist those lush curves for so long. Their encounter surpasses all his fantasies, bringing out protective urges that Cherry's about to need more than she knows…

Denver's combination of pure muscle and unexpected tenderness has been driving Cherry wild. Yet no sooner does she get what she's been craving than old troubles show up on her doorstep. And this time, Cherry can't hide behind a carefree facade. Because the man by her side is one who'll fight like hell to keep her safe…if only she'll trust him enough to let him…
Excerpt:
Watching her laugh, seeing her tease and flirt, burned his ass big-time. He loved when she laughed and teased with him—not so much when it was with other guys.
And therein lay the problem. He had a near-savage lust for her. When he looked
at her, when he heard that carefree laugh, he felt dangerously close to losing it.
Contemplating decisions and possible mistakes, Denver Lewis sipped his beer. He should look away
from her but knew he wouldn't. She was all tits and ass and attitude in a petite frame, and God love the girl, she turned him on.
He'd avoided her, refused to be drawn in by her tempting smiles, and all in all given her the cold
shoulder since determining they wouldn't suit. He had no right to judge her for having fun elsewhere.
But knowing and accepting that as true didn't talk him off the ledge. No, if anything it wound him tighter.
Damn, she looked good. The shifting lights in the club played with her dark blond hair and the curves of her lush little body. His buddy Stack, another fighter, drew her into a fast dance. She didn't refuse. Ever.
Cherry Peyton was always the life of the party. The loud music competed with the furious drumming of Denver's heart as he monitored her every move. The music's wild tempo kept her body from touching Stack's. They danced around each other and the rest of the crowd on the floor. Every guy there made note of her, seeing her once and then taking a longer look. Her happiness, her laugh and that killer bod all combined for one hell of an impact on the male libido.
For over an hour, Denver watched her draw attention and smiles and, no doubt, sexual thoughts. He ignored other women who tried to get his attention, those who came up to him and propositioned him in modest and sometimes lewd ways.
Yeah, he wanted to get laid. But he wanted Cherry, not anyone else. It pissed him off that he couldn't get her out of his head. He should have had her before decreeing theirs an acquaintance-only relationship, then maybe he could have some perspective when it came to seeing her with other men.
Then again, maybe not—because days after meeting her, he'd known sex wasn't the only thing he wanted. He'd already begun to think of her as his, even though he hadn't even kissed her yet. If only his territorial tendencies didn't clash so badly with her playfulparty-girl personality. Seeing her accept her third glass of wine, he finished off his beer and called it quits.
At least on the alcohol. He stewed while watching her indulge in several dances with too many different guys—never mind that they were all from their group, fighters that she, and he, knew well and trusted as friends. They'd all come down en masse to cheer on one of their own. Fighters from the rec center who sparred and coached together. Men he'd known forever. Men who had befriended Cherry when she'd become roommates with Merissa, another fighter's sister. She was well and truly enmeshed in his life, friends with his friends, a part of their inner group, and if he wasn't denying himself like a freaking masochist he'd be over there with them right now. She'd be laughing and joking with him. Dancing with him. Treating him like everyone else. That she was so well accepted in their circle made it even more impossible to stop thinking about her, because everywhere he went, he saw her. Finally, after a robust dance that had her laughing aloud, Cherry began to fade. She dropped into a chair at a table with three other fighters and a few women. Her gaze never once came his way—almost as if she knew where he was and avoided making eye contact with him.
Suited Denver fine. Mostly.
Grab the Prequel (FREE) and first book in the series now!
ABOUT LORI FOSTER:
Since first publishing in January 1996, Lori Foster has become a USA Today, Publisher's Weekly and New York Times bestselling author. Lori has published through a variety of houses, including Kensington, St. Martin's, Harlequin, Silhouette, Samhain, and Berkley/Jove. She is currently published with HQN.





Lori hosts a very special annual "Reader & Author" event in West Chester, Ohio. Proceeds from the event have benefited many worthy causes, including the Hamilton County YWCA Battered Women's Shelter, the Animal Adoption Foundation, The Conductive Learning Center for children with spina bifida and cerebral palsy, and The One Way Farm, Children's Home.



Each year Lori donates all proceeds from one book to charity. You can see the benefit romance books here :http://lorifoster.com/benefit-books/