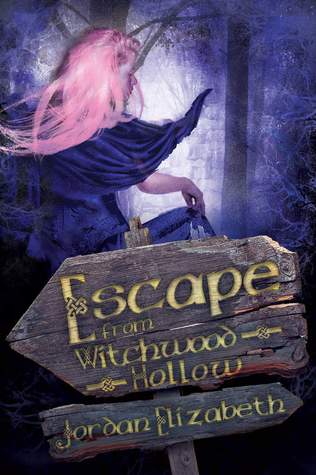 Title: Escape from Witchwood Hollow
Author: Jordan Elizabeth
Format: eBook/Paperback, 178 pages
Published: October 29th 2014 by Curiosity Quills Press
ISBN:139781620076712
Links: Goodreads | Amazon | B&N
Reviewer: Linda
Source: Netgalley
Rating: 3 out of 5 Wine Glasses
Everyone in Arnn - a small farming town with more legends than residents - knows the story of Witchwood Hollow: if you venture into the whispering forest, the witch will trap your soul among the shadowed trees.





After losing her parents in a horrific terrorist attack on the Twin Towers, fifteen-year-old Honoria and her older brother escape New York City to Arnn. In the lure of that perpetual darkness, Honoria finds hope, when she should be afraid.





Perhaps the witch can reunite her with her lost parents. Awakening the witch, however, brings more than salvation from mourning, for Honoria discovers a past of missing children and broken promises.





To save the citizens of Arnn from becoming the witch's next victims, she must find the truth behind the woman's madness.





How deep into Witchwood Hollow does Honoria dare venture?
Linda's Thoughts:
She eased across the creaking floorboards to the nearest window.
The view encompassed the woods, with dark shapes smeared into one entity, like in her sketchbook.
What lay amongst the trees?
ESCAPE FROM WITCHWOOD HOLLOW by Jordan Elizabeth is a dark, spooky tale of a sinister small-town legend about a witch who holds trespassers hostage in the dark Witchwood Hollow woods. Woods can appear creepy and sinister; Add in a deranged witch and, well, this was a story to make me avoid woodsy areas for quite a while. It was a relatively quick and intriguing read.
When unfortunate people enter the haunted Witchwood Hollow woods, they do not come out. The woods have a long history. The story explains what happened in those woods and about the maniacal character who is responsible for ensnaring people and also about the lost who are trapped there forever.
Supposedly, a witch took refuge there in the 1600s and spelled the area into a time pocket so that she could not be found. She was lonely, though, and wanted company. So those who happened upon the woods would find no exit once they'd entered thereby entertaining the witch by their attempts to escape.
The story is set in three time periods (1600s, 1800s and 2001) as seen through the eyes of three different girls from those periods. It was very interesting to read each of their stories - I do enjoy historical fiction. Their tales were quite captivating and detailed to the time period. It's a challenge to figure out who is good and who is not in this fantasy. The author did a good job establishing rapport with the characters as I came to genuinely care for some of them.
Following please find one of my favorite non-spoiler quotes:
"Damsel in distress," she muttered, her mother's favorite cuss. Regular cursing made some people look down on a person, but imaginative cursing made a person feel better and those around smile.
Even though there are YA characters who figure prominently in the story, I would only recommend this book for older teens and adults mature enough to handle the dark subject matter. There's no real violence herein; it's just disturbing to have someone so madly perverted as to trap people's souls for centuries with no escape possible.
Once I started reading this, I couldn't go to sleep until I'd finished it... AND then it took me quite a while to go to sleep afterwards as the ending was totally unexpected and bittersweet. If you think you can guess this smoothly done ending, you'll be mistaken. I'm still not sure how I feel about the way it ended. You'll have to read it to make up your mind about the ending.
ESCAPE FROM WITCHWOOD HOLLOW is well-written, mysterious and definitely imaginative. This would be a perfect read for anyone who enjoys historical fiction and who loves to be terrorized at Halloween. If you know what's good for you, don't ever piss off a witch!