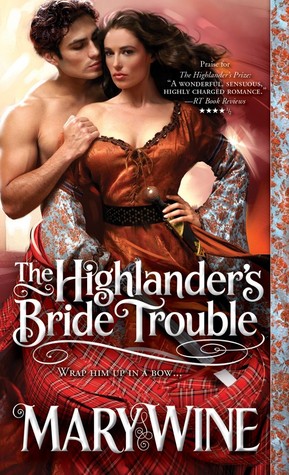 Our guest today is a well known author to the blog. She has helped us look past the raw power of Highlanders to their strong women and has wowed us with her sewing skills. You guessed it...welcome back Mary Wine!
Lexi: Another release in The Sutherlands series! Book four, The Highlander's Bride Trouble has brought you back and we are so excited! And I am guessing you are very pleased with the cover, the man takes a backseat to the fierce looking woman. Just the way it should be right Mary?
I do love showing strong women. Let's face it, living in times past was tough business. Weaklings didn't survive. In this case, Nareen was born to a high position but ended up in a bad situration when her family sent her off to an aunt. It was a common enough practice in the period, because a lady had to know how to run a large house. Nareen's aunt was a villain but it made Nareen fight to survive.
Lexi: I do love your heroines in this series, they know how to hold their own. And it sounds as if Nareen keeps up with your competent independent theme! Did you have any trouble getting inside her head?
I had trouble with her because she was angry. Trusting Saer was something she didn't want to do…and that was going to be a bit of a problem since this is a romance!
Lexi: I am looking forward to hearing Saer's point of view in The Highlander's Bride Trouble. He will have his hands full dealing with Nareen, or is it the other way around since Saer is considered a savage?
The fact that he considers himself a savage is the reason he is smitten by Nareen. And the man is smitten. He can't forget her. Her spirit draws him to her. I think he sees a kindred spirit in her. Someone who can accept him when a good portion of the world sees him as 'second class'.
Lexi: I am very glad you keep writing about these kilt clad men in your historical romances and I am excited to read Saer's story! You introduce these characters to us early on and then make us wait. The only reason we forgive you is because your stories are so much fun. Congrats on The Highlander's Bride Trouble! We hope to see you again soon!
Mass Market Paperback, 320 pages
Published August 5th 2014 by Sourcebooks Casablanca
Has this savage Highlander finally found a woman to tame him?





Nareen Grant is confident, well-educated, and quick with a dagger. So when her brother, Kael, unknowingly sends her to live at a cousin's secret brothel, she escapes to court where she meets the arrogant Highlander, Saer MacLeod…





Saer is considered savage even by most Highlanders. It will take an extraordinary woman to handle him, and Nareen enchants him like no one he's met before. When a furious Kael threatens revenge against the cousin who wronged his sister, Saer knows its his one chance to win over Nareen and reclaim the respect his family deserves…and he's going to take it.
Acclaimed author Mary Wine has written over 30 works of erotic fantasy, romantic suspense, and historical romance. An avid history-buff and historical costumer, she and her family enjoy participating in historical reenactments. Mary lives with her husband and two sons in Yorba Linda, California.
Sourcebooks is giving away one copy of The Highlander's Bride Trouble to one reader (US/Canada only please.) To enter, just leave a comment sharing one of your favorite fictional strong heroines and then fill out the rafflecopter below. Good luck!