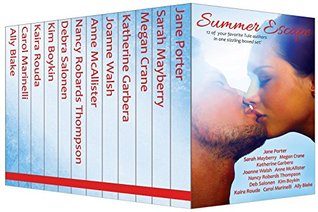 by Jane Porter, Sarah Mayberry, Megan Crane, Katharine Garbera, Carol Marinelli, Anne McAllister, Nancy Robards Thompson
Published July 31st 2014 by Tule Publishing Group
A fundraiser in memory of Heather Ferguson





Uncap the sun screen, spread out the beach towel and pour a glass of your favorite icy beverage as summer starts sizzling with 12 new "Fun in the Sun" reads from some of Tule's most loved and talented authors. There is romantic escape for everyone whether you are curled up in a chair on your deck or lounging pool or beach side. Embrace the promise of summer with a combination of sweet, sexy or steamy summer themed romances and let Tule authors' heroes sweep you away on your own romantic summer getaway.





This August only box set is in memory of Heather Ferguson, a Montana mom, educator and reader. Every dollar from the Summer Escape will go into a college fund for Heather's children.
The publisher is giving away a large turtle beach tote, bonfire skewers, yummy nuts and trail mix, cute whale napkins, a $10 Starbucks card, and some cool Tule Holiday Books swag to one reader (US ONLY). To enter, just fill out the rafflecopter below. Good luck!
a Rafflecopter giveaway