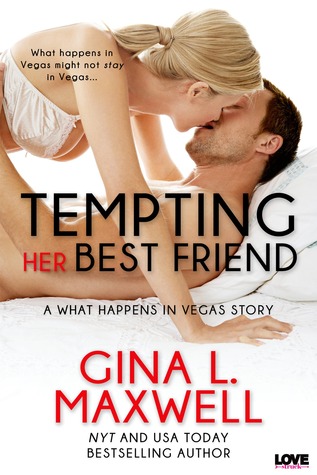 Title: Tempting Her Best Friend
Series: What Happens in Vegas
Author: Gina L. Maxwell
Format: ebook, 164 pages
Published: August 11th 2014 by Entangled: Lovestruck
ISBN: 1633750299
Links: Goodreads | Amazon | B&N | ARe
Source: Publisher
Reviewer: Crystal
Rating: 4/5
A satisfying contemporary romance from Entangled's Lovestruck imprint…





Alyssa Miller is tired of waiting for her next-door neighbor to see her as more than just his best friend. Ready to let off some steam, she heads to Las Vegas for a romance book convention where, if she's lucky, she'll get down and dirty with one of the sexy cover models.





Dillon Alexander doesn't do commitment—especially not where his best friend is concerned. She deserves a man who can give her the world, not damaged goods. But when he realizes Alyssa intends to have a one-night stand on her vacation, he hauls ass after her to make sure he's the one to scratch her itch.





Neither of them expects their explosive chemistry to burn hotter than the lights on the strip, but with a little help from Elvis, Marilyn Monroe, a flamboyant matchmaker, and TSA, what happens in Vegas might not stay in Vegas…
Thoughts:
Tempting Her Best Friend is a short, sizzling, and satisfying novella from knock-out author, Gina L. Maxwell, perfect for readers looking for a romantic morsel.
Alyssa Miller has a plan to get her best friend, neighbor, and secret love of her life to finally kick the hussies to the curb and see the blonde bombshell sitting right next-door with one sinful weekend in Vegas. But with a few careless words from Dillon Alexander, her hopes are shattered so Aly forms a new plan. Plan get-over-Dillon-and-into-bed-with-a-sexy-cover-model at the romance book convention she's attending instead. After all, a girl has needs. But when Dillon realizes Aly's plan, he knows that he can't let her go through with it. After all, what's more convenient then a friend-with-benefits right next-door for all her 'needs'? When Dillon finally convinces Aly to let him be her man for the weekend though he didn't expect to crave so much more from her...but does Aly feel the same? Or will her fears of repeating their parent's mistakes bar her from a future of love with her best friend?
With a cast of supporting characters and crazy antics that will have you giggling, Tempting Her Best Friend was a nice, refreshing read in the midst of angst filled romances with coiling plots. With the sweet romantic trope of best friends turned lovers and a long history of friendship between Alyssa and Dillon, their progression into some fabulously heated hotel sex was natural and did I mention hawt? Hawt!
Tempting Her Best Friend
is a
light contemporary romance, perfect for those warm summer's end evenings, that has just enough fun and humor
weaved into it's romance to leave you smiling at the end.