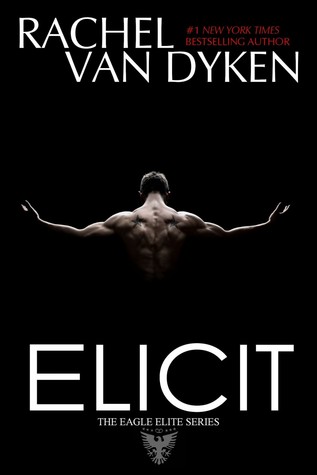 Title: Elicit
Series: Eagle Elite #4
Author: Rachel Van Dyken
Expected publication: August 11th 2014
Links: Goodreads | Amazon | Kindle | B&N
Source: Won in Giveaway
Reviewer: Crystal
Rating: 4/5
Cursed, numb, rejected, scorned, wicked, sinister, dark, twisted...my name is Tex Campisi and this is my legacy. I killed my father in cold blood and lost my soul right along with him.

I crave war more than peace, and I'm about to take my place in history as the youngest Capo dei Capi in the Cosa Nostra...that is until someone stops me, saves me from myself.





But the only person able to do that...is my best friends sister, Mo Abandanato, and she just ripped my heart out and asked me to hold it in my hands while she put bullets through it.





Im cursed so I did it.




I'm numb so I held it.




I'm wicked so I liked it.




I used the pain Mo caused as a catalyst to turn into my biggest nightmare--the five families greatest enemy. It's my turn to take a stand, knowing full well I'm going to lose my mind to the madness that is the American Mafia. I've always been told Blood is thicker than life. I wish I would have listened.




Because regardless of who you love? You will betray. You will kill.




Blood Always Wins.




The only way out is death...yours.





Welcome to the Dark Side of the Family.
Thoughts:
The fourth book in Rachel Van Dyken's Eagle Elite series did not disappoint! Lies, betrayal, sex and power. These are just a few things you'll find in Elicit, each will have you holding your breath both dreading and anticipating the next turn of the page!
In
Elicit
, Rachel Van Dyken takes readers deeper into the world of the young mafia and the shadowy crevices of the Family, picking up where
Entice
leaves off.
Tex Campisi was abandoned by his own family and taken in by his best friend's, the Abandanato's. But the day of reckoning has arrived, where he has to decide to take on the mantle of the Capo dei Capi or snub it and stay by Nixon's side. Either decision puts a bull's eye on his back. Either way he faces a future without Mo in it. The hardest choice is choosing the one he can live with.
It's a good thing Tex has never done easy because it's going to be a long, hard road if he hopes to get Mo and himself out alive. After all; this is the mafia. B
lood in, no out.
Shocking revelations, devastating heartbreak, and edge-of-your-seat intrigue is weaved into a gripping story with never-ending passion and desperate hope.
Elicit
kept me up late into the night, turning the pages for more. I won't get in-depth with the story because I don't want to spoil it for those who haven't read Entice or Elicit, there is a lot that happens in this book. So much so that I think it changes the whole direction of the series while still keeping to it's roots. Things aren't always what they seem and there were so
many twists and turns you won't know which way is up by the time you're through. But one thing that is sure from the the beginning is the chemistry between Mo and Tex. These two ignite the pages with their desire for another, and the love that they fight so hard for. Both against each-other, against the world, and against themselves. The story is complex, the characters intense, and the group dynamics between Nixon, Trace, Chase, Mil, Tex and Mo is, as always, captivating. The push and pull between Tex and Nixon, Tex and Chase, Tex and Sergio, Tex and Mo, and even Tex and himself will really tug at your heart. Tex's character grows so much in
Elicit,
if I didn't love him before this I sure as heck do now! I love how him and Mo play off each other and Mo herself is a fabulous leading lady. Strong, determined, and someone who follows her heart even if that path leads through a dark, scary labyrinth. There were several other characters that really stood out in this story and took me by surprise. Believe me when I say that you will experience every kind of emotion possible while reading Elicit.
The one thing that bothered me about this book I can't reveal without hitting any spoilers so all I'll say is that I hope there will be some repercussions of these actions in the next book and it isn't just swept
under the rug. ☺
Bottom line; Rachel Van Dyken has delivered yet another must-read book and proven that she can provide readers with a series that has not only heart but staying power. I can't wait to see what she has in-store for us and the Elite next!