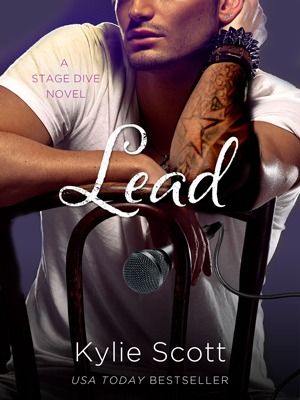 Title: Lead
Series: Stage Dive #3
Author: Kylie Scott
Format: Paperback, 288 pages
Expected publication: July 29th 2014 by St. Martin's Griffin
ISBN: 1250052386
Links: Goodreads | Amazon | Kindle | B&N
Source: NetGalley
Reviewer: Crystal
Rating: 4.5/5
Stay up all night with the sexy rockers in Stage Dive, the epic New Adult series from New York Times bestselling author Kylie Scott, author of Lick and Play.




As the lead singer of Stage Dive, Jimmy is used to getting whatever he wants, whenever he wants it, whether it's booze, drugs, or women. However, when a PR disaster serves as a wake-up call about his life and lands him in rehab, he finds himself with Lena, a new assistant to keep him out of trouble.  




Lena's not willing to take any crap from the sexy rocker and is determined to keep their relationship completely professional, despite their sizzling chemistry. But when Jimmy pushes her too far and Lena leaves, he realizes that he may just have lost the best thing that ever happened to him.
Thoughts:
Once again, author Kylie Scott has rocked my world with her sexy rockers from Stage Dive!
In
Play
, readers caught just a glimpse of Lena and her turbulent relationship with Stage Dive's lead singer and recovering addict, Jimmy Ferris. Beginning
Lead
, we back-track just a bit to the first meeting where Lena is a lowly assistant at Stage Dive's record label and on the verge of loosing her job thanks to her take-no-crap attitude. And then suddenly Mal cuts in, offering her a job as Jimmy's assistant, a.k.a. babysitter. Hot, brooding rock star? How could a girl refuse? Jimmy's not the easiest man to work for though. With a chip on his shoulder bigger then his ego, and a sex appeal so strong Lena practically looses her breath every time Jimmy enters the room, keeping a professional distance is harder then she could have ever imagined. When Jimmy and Lena cross the line between professional and personal though, will Lena be able to keep her developing feelings under wraps? And if she can't, will she finally scare Jimmy away for good? Or will it take loosing Lena for Jimmy to realize what he had?
Lead was a sensational continuation of the Stage Dive series! I cannot get enough of these intense, intriguing, and incredibly sexy rockers!
Jimmy has a heart-breaking past, one his brother was even unaware of because Jimmy shielded David from so much. It's left deep emotional scars on his person and makes him see himself as less then what he truly is. There are so many layers to his character that are masterfully peeled away in Lead, so many answers to his actions and inner workings that are revealed.
Author Kylie
Scott does a sensation job at redeeming Jimmy for fans of the series who might have had one or two misgivings about him from the begging of the series. Myself included.
Following Lena's developing feelings for Jimmy from lust to love was both exciting and scary for character
and reader alike.
Jimmy is broken, he doesn't know what love is but he knows that he needs Lena.
Lena and Jimmy's relationship was more of a slow-burn, filled with sexual tension and plenty of up's and down's to keep you turning the pages.
Scott has a way of drawing you into a story so that you feel every nuance of her character's
emotional journey, and
Lead
was packed full of emotions. You'll feel pangs in your chest, your gut will clench, you just may get a little hot under the collar once or twice *wink*, you'll giggle out loud, your eyes will water, and you'll most definitely smile.
I love the heroines in this series. They're down to earth and real, they're not afraid to stand up for what they believe in or who they love, and Lena fit in perfectly! She fights for Jimmy until there is no fight left in her and despite what I might consider in other characters as giving up, I totally related to Lena's feelings and reactions. The supporting characters in Lead we entertaining, sometimes vexing, but overall as remarkable as always.
Mal adds some much-needed humor, keeping the story-line from becoming too dark. I can't wait for the fourth and final book in the series starring Stage Dive's bass player, Ben. January can't come soon enough for me! An extraordinary book in a must read new adult romance series, be sure to pick up Kylie Scott's Stage Dive books today. You'll be mad that you waited so long if you haven't started it already! Lead could probably be read as a stand-alone but is so much better read as part of the series.
Stage Dive Reading Order:
Lick, book #1 - Review | Purchase
Play, book #2 - Review | Purchase
Lead, book #3
Deep, book #4 - Pre-order today!