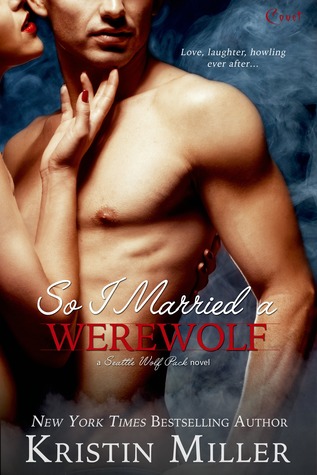 Title: So I Married a Werewolf
Series: Seattle Wolf Pack #3
Author: Kristin Miller
Format: ebook, 260 pages
Published: July 28th 2014 by Entangled: Covet
ISBN: 1633750469
Links: Goodreads | Amazon | B&N | ARe
Source: NetGalley
Reviewer: Linda
Rating: 4/5
Carter Griffin, enforcing officer for the Seattle Wolf Pack, has a problem. He's been offered the promotion of his dreams…if he can find a wife to prove he's over his playboy ways. But Carter's already walked the matrimonial road and bought the stinkin' T-shirt. Besides, a werewolf only gets one fated mate. Been there, done that.





All werewolf dog trainer Faith Hamilton wants to do is earn enough green stuff to put her younger brother through college. Okay, okay, so she also totally wants Carter, her sexy next-door neighbor, to look at her as more than a friend. It's too bad size 12 and plain isn't his type. At all.





The two friends strike a deal to help one another out. They must face a variety of challenges from a psycho ex-girlfriend to a Yorkie with a shoe fetish...and that pesky problem of only having one-fated mate in a lifetime. Will a relationship ruin their friendship…or spark a love neither anticipated?
Thoughts:
SO I MARRIED A WEREWOLF by Kristin Miller is a cute paranormal/urban fantasy romance in the Entangled Covet line. I've become quite enamored with werewolves and knew I had to read it once I read the synopsis; I was not disappointed. It's a quick read consisting of just 208 pages and it held my attention from the first chapter to the last. It has interconnected characters with Kristin's other Seattle Wolf Pack books but is easily enjoyed as a standalone.
SO I MARRIED A WEREWOLF is the story of Faith Alroy Hamilton and Carter Griff Griffin, both werewolves. Faith is a werewolf dog trainer and works three jobs to put her younger brother through college. She and her brother are turned weres having become werewolves during a vicious attack on her family by a rogue wolf; Only she and her brother survived the attack.
Carter is Faith's next door neighbor and Faith has a huge crush on her "super hunky, amazingly sexy, yowza-did-she-ever-want-him next-door neighbor." Carter is a born were. He's an enforcer with the Seattle Wolf Pack and is vying for a promotion to detective. However, there's a snag: The Pack wants their new detective to be happily married and Carter is single. Carter was married to his fated mate years ago; It was a miserable experience that left him jaded and protective of his heart. He's since earned quite a reputation as a rake. He considers Faith to be a dear friend - someone he is comfortable being himself with - and they have a standing Friday night date.
"You and me, tomorrow night.....Pizza. Beer. Some really cheesy action flick."...
"I don't have anything better to do on a Friday night than check out Jackie Chan."
Faith is strapped money-wise especially with the news that her brother has now been accepted into Yale. Carter needs a stable wife... fast. So... Carter has a brilliant idea that they could help each other; He'd help Faith put her brother through school and Faith could be his pretend wife. Once he gets his promotion, they would divorce and go back to being best friends.
"Do you remember anything about last night?" he asked.
Her stomach churned as memories of the night before swam into mental view. Oh, she recalled a few things. How could she forget? She took a solid gulp of her coffee. "I remember vodka, an ax murderer, and a marriage proposal."
"Good. The important things." He nodded.
Of course, there's complications. Alpha Carter finds that he's attracted to her and feelings like that are way outside his comfort zone. He fights their attraction valiantly. :-)))
I loved them both. Faith would do almost anything for Carter; She matures through this experience. She gains confidence and poise and learns to assert herself. I was really pulling for her with her cooking attempts and was so glad when she found success in the kitchen. Carter is the epitome of the tortured hero - even though it was mostly of his own doing. I wanted to shake him a few times... but, he was so swoon worthy and wretchedly clueless, that I kept reading hoping that the lights would come on in that stubborn noggin of his.
That kiss...it changed everything.
He'd liked it.
Really fucking liked it.
So much so that if there weren't multiple sets of eyes trained on them, he just might've slammed sweet Faith Hamilton against the wall and kissed her until he blew her snow boots off.
---
She was a goddess personified, her breasts so soft and round he could've buried his head between them, suffocated, and died a happy man.
Supporting characters are good from Tracy, Faith's best female friend, to Humperdinck, a small dog with issues.
"You'd be cute if you weren't such a little humping freak." Carter flattened the fur on the top of the dog's head. "Humperdinck." He met Faith's eyes. "I think I've just named your dog."
This is the first book I've ever read by Kristin and it won't be the last. Her word building and character development was first rate. I have not read any of her Seattle Wolf Pack books previously, but enjoyed this one so much that I hope to check those out soon. The happy ending was full of surprises. I'd highly recommend SO I MARRIED A WEREWOLF to anyone who enjoys fun paranormal urban fantasies.