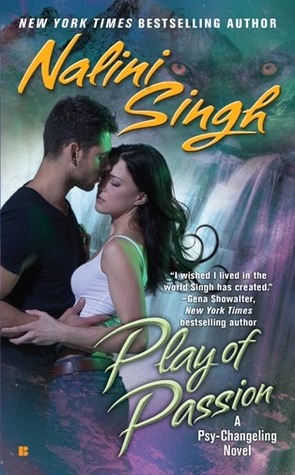 Title: Play of Passion
Series: Psy-Changeling #9
Author: Nalini Singh
Format: Mass Market Paperback, 321 pages
Published: November 2nd 2010 by Berkley
ISBN: 0425237796
Links: Goodreads | Amazon | B&N
Source: Author
Reviewer: Crystal
Rating: 4.5/5
In his position as tracker for the SnowDancer pack, it's up to Drew Kincaid to rein in rogue changelings who have lost control of their animal halves- even if it means killing those who have gone too far. But nothing in his life has prepared him for the battle he must now wage to win the heart of a woman who makes his body ignite... and who threatens to enslave his wolf.





Lieutenant Indigo Riviere doesn't easily allow skin privileges, especially of the sensual kind- and the last person she expects to find herself craving is the most wickedly playful male in the den. Everything she knows tells her to pull back before the flames burn them both to ash... but she hasn't counted on Drew's will.





Now, two of SnowDancer's most stubborn wolves find themselves playing a hot, sexy game even as lethal danger stalks the very place they call home.
Crystal's Thoughts:
After the last Psy-Changeling book being so-so for me I was excited to get back to the
Changelings in Play of Passion
. Lovable, charming, and playful Drew Kincaid is the SnowDancer pack's tracker and as such he works outside of the pack's hierarchy while reporting directly to Hawke, their alpha
. His approachable, charming attitude also helps him garner information for the pack and keep a better eye of the young ones who are the most as risk for loosing control of their wolf. After time away from the pack, Drew is instantly drawn to Indy on his return to the den. But his first attempt to woo her is a total fail. Fortunately, Drew isn't a quitter. Unfortunately, Lieutenant Indigo Riviere is just as stubborn as him.
I do love my DarkRiver cats but these SnowDancer wolves sure know how to make a girl pant! I absolutely
adored Drew and Play for Passion ended up being one of my favorite books of the series. The chemistry between Drew and Indy was off-the-charts from the start and the sexual tension mounted with each encounter.
There are many hurdles for Drew and Indy to overcome though. Ranking in the pack, difference in age, and most importantly - each of their own alpha dominance.
Indigo was a bad-ass woman, but to become lieutenant and third in command in a male dominated pack, you would have to be. She never lost her femininity though throughout the story which I loved. It's so much easier to connect with the dominant heroines when the author is able to keep that essential detail in their character.
Drew's lightheartedness
balances out Indy's seriousness well and it was a joy to follow their journey to love. I ran through a range of emotions throughout it and loved every minute!
Besides the inherent romance which was the driving factor of the plot there is the underlying Psy story-line. They're up to no good as usual and I can't wait to see how this latest development plays out.
Hawke and Sienna's possible relationship is also reaching it's head and the tension between them is thick. I'm on pins and needles for their story!
Bottom line; Play of Passion is a must read book. If you haven't picked up the
Psy-Changeling series yet you are missing out on something amazing.
Nalini Singh weaves together a paranormal romance of epic proportions with such superb world-building and characterization that these stories will stick with you for a long time to come. You won't regret picking up either one of these unparalleled stories!