If you haven't yet tried one of Lori Wilde's books or have had her on your TBR list for way too long here is the perfect opportunity to read two of her novels in one!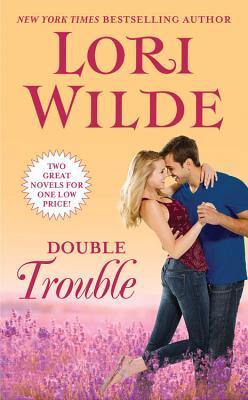 Double Trouble: Charmed and Dangerous/Mission:Irresistible
by Lori Wilde
Paperback, 688 pages
Published December 16th 2014 by Forever
ISBN 1455553115
Two Lori Wilde romances together for the first time in print!

CHARMED AND DANGEROUS

When her thrill-seeking twin sister goes missing, Maddie Cooper must come to her rescue-which means teaming up with irritating, arrogant, and altogether way too sexy FBI agent David Marshall. David isn't one to get easily distracted but his new self-proclaimed partner has him completely sidetracked with her delectable curves and knockout smile. His first priority: follow the leads in the case. Then he can go about the all-too-enjoyable task of following his heart . . .

MISSION: IRRESISTIBLE

PR specialist Cassie Cooper loves the adrenaline rush of a well-planned party. And a masquerade ball at the museum is her best yet. But when a legendary amulet is stolen practically from under her nose, she needs the help of her nemesis, archaeologist Harrison Standish. No-nonsense Harrison has all the intensity of Indiana Jones. Though just when he needs his full attention on their mission, he's having the damnedest time keeping his mind-and his hands-off Cassie . . .
Excerpt:
From Mission: Irresistible
But that was as far as he got because Cassie unsnapped her seat belt, leaned across the console, and planted a kiss on his scarred cheek.
He was so startled that he jerked his head toward her, and her mouth slipped from his cheek to his lips.
The next thing he knew he was kissing her.
It was hot and wet and moving.
For one endless second Harrison forgot about the Ford Focus parked behind him. He forgot about the Minoan hieroglyphics. He forgot about Solen and Kiya. He forgot about the amulet. He even forgot about Adam.
Whereas before there was danger, now there was nothing but pleasure. His full attention was focused on one thing and one thing alone.
Lush and full and ripe and sweet. She tasted of summer. Throbbing and heated and humid. Filled with life and intensity and drama.
He remembered swimming pools and lounging on the beach, smelled chlorine and suntan lotion. He thought of the Fourth of July, heard bottle rockets scream and Black Cats explode. He saw fireflies flickering through pecan trees, and he spied charcoal embers glowing white-hot in the bottom of a barbecue grill.
It all added up to a glorious wow.
About Lori Wilde
New York Times and USA Today bestselling author Lori Wilde has written sixty novels. She holds a bachelor's degree in nursing from Texas Christian University and a certificate in forensics. She volunteers as a sexual assault first responder for Freedom House, a shelter for battered women. Lori is a past RITA finalist and has been nominated four times for theRomantic Times Reviewers' Choice Award. She's won the Colorado Award of Excellence, the Wisconsin Write Touch Award, the Lories, the More Than Maggie, the Golden Quill, the Laurel Wreath, and the Best Books of 2006 Book Award. Her books have been translated into twenty-five languages and featured inCosmopolitan, Redbook, Complete Woman, All You,TIME, and Quick and Simple magazines. She lives in Texas with her husband, Bill. http://www.loriwilde.com/
Tour-Wide Giveaway:
a Rafflecopter giveaway