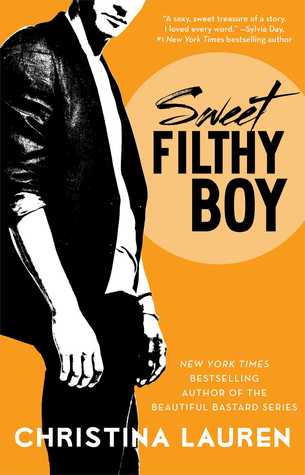 Title: Sweet Filthy Boy
Series: Wild Seasons #1
Author: Christina Lauren
Format: eBook/Paperback, 416 pages
Published: May 13th 2014 by Gallery Books
ISBN: 1476751803
Links: Goodreads | Amazon | B&N
Source: Purchased by Reviewer
Reviewer: Crystal
Rating: 5/5
One-night stands are supposed to be with someone convenient, or wickedly persuasive, or regrettable. They aren't supposed to be with someone like him.





But after a crazy Vegas weekend celebrating her college graduation—and terrified of the future path she knows is a cop-out—Mia Holland makes the wildest decision of her life: follow Ansel Guillaume—her sweet, filthy fling—to France for the summer and just…play.





When feelings begin to develop behind the provocative roles they take on, and their temporary masquerade adventures begin to feel real, Mia will have to decide if she belongs in the life she left because it was all wrong, or in the strange new one that seems worlds away.
Crystal's Thoughts:
Wow! Christina Lauren was a new author to me but after seeing on Facebook that
Sweet Filthy Boy
was on sale with glowing recommendations I decided to take a chance and purchase the book. Again - wow! I have so much love for this book, even weeks later I'm still blown away by the authors' witty writing and their delightful characters.
How could something that is so wrong feel so right?
Celebrating their college graduation Mia Holland and her two best friends are spending the weekend in Vegas before they have to go back to the real world and start acting like grown-ups. A few drinks quickly brings Mia out of her shell, and when she meets the eyes of a handsome stranger across the room her one wild night turns into a life altering occasion. But now she is faced with a decision. Return to the 'real world' to follow her father-approved path. Or follow Ansel Guillaume, her new Vegas husband, to his home country of France to spend the summer and get to know him better. One path risks her happiness, the other her heart.
When I first started reading Sweet Filthy Boy I thought, "Ugh, Vegas weekend? Really? A drunken wedding to a stranger? REALLY?" I mean, how many times could that be done and still be interesting? Well let me tell you, Christina Lauren manages to puts a unique spin on the Vegas wedding setting that makes for a captivating story that will have you turning the pages as fast as you can to see what happens next!
Each and every character, big and small, was engaging. Mia and her friends Haven and Lola were hilarious and despite being well past the college age I could still easily empathize with them and their crazy antics. I absolutely loved Ansel. Sexy french guy, what's not to love, right? But he was so darn sweet and sizzling hot, I don't know how it took Mia so long to decide, 'Him!'. I enjoyed following their journey of finding out if the connection they had in a moment could last them a lifetime. There were also some heavy emotional elements that balanced out the humor well.
The story had the perfect amount of sweet, sexy, and filthy deliciousness.
I loved every aspect of this book and consider it a must-read for all romance readers. Sweet Filthy Boy definitely makes my list of Favorite Books in 2014.