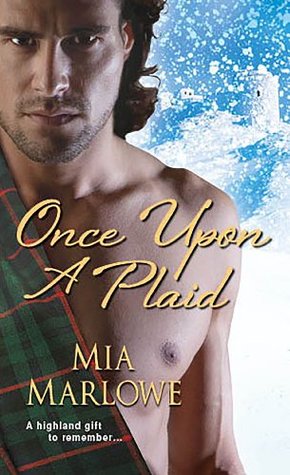 Title: Once Upon a Plaid
Series: Spirit of the Highlands #2
Author: Mia Marlowe
Format: Paperback, 352 pages
Published: October 7th 2014 by Zebra
ISBN: 1420135341
Links: Goodreads | Amazon | B&N
Source: NetGalley
Reviewer: Linda
Rating: 3.5/5
A wife may be courted, too…





Many would count Katherine Douglas fortunate indeed. Laird William Douglas is broad-shouldered, gentle-handed, everything a lass could dream. But after four years of marriage, Katherine still knows little of what goes on in his heart. And she has yet to bear him an heir. The distance between them is too great—and so she flees over the snowy highlands to Glengarry Castle, home of her childhood, to set her husband free.





But William won't let his wife slip away without a fight. Before long, he's at her father's threshold himself, witness to the rumbles of discontent in Glengarry, the bright joy of Yuletide at a family hearth, and the hidden needs of his own beloved…
Linda's Thoughts:
He wanted her to want him. To need him as he needed her. And if God never saw fit to grant them a child, for him to be enough for her without one.
ONCE UPON A PLAID by Mia Marlowe was a sweet Highlands' Christmas romance teeming with action, angst and a lovely but heartbreaking second chance at love. It is the second book in her Spirit of the Highlands series, but can be easily read as a standalone.
As the story opens, the reader learns that the Laird has journeyed to Glengarry Castle, his wife's childhood home, to retrieve her after she has run from him. His wife has left him so that he can find and marry another wife who can bear him an heir. After four years of marriage, Kat has been unable to give William an heir. She is able to get pregnant- but every pregnancy has ended in a miscarriage or a still birth. So, Kat is dealing not only with being barren, but also with the unacknowledged losses of her babes, as the babes she has lost are like non-entities. Kat's issues are sad, but ones that childless couples can relate to whatever the time period.
The author's note at the book's end includes information about the childless issue she addressed in the book. She wrote: "I decided to tackle the theme of childlessness after my sister served as a gestational surrogate for a couple who could not conceive. Infertility is a difficult enough issue in the twenty-first century, when we have access to in vitro fertilization technology and a host of other options. It was devastating in the sixteenth century, when there was no help for childless couples at all. But no matter the time period, the emotional pain is the same and my heart goes out to all who grapple with infertility...."
I loved the hero, Laird William Douglas, a gorgeous, chivalrous Highlander hunk. William was at a loss throughout much of the book as to why his wife was determined to leave him and I felt for him. He loved her so much but didn't know what to do to break the impasse in their marriage.
I struggled with Katherine Douglas, the heroine. My heart went out to Kat as she was struggling so , but her continual depression was a downer. She couldn't or wouldn't talk about it with William... but IF she had just communicated with him, I felt certain that William would have been there for her from the beginning. Unfortunately, Kat came across as childish and unreasonable too many times. She truly loved William and there was no reason to be the martyr. William was an exceptionally good man and he would have done anything for her. Unfortunately, I felt sad reading of Kat's suffering - it was palpable.
Supporting characters consisted of family, friends and castle staff. They were all terrific from Nab, Dorcas, Angus (the terrier), Margaret and more. On the other hand, the villians, led by Ranulf MacNaught certainly played their parts well, as they made my skin crawl.
Following please find a few of my favorite quotes:
He moved to stand behind her, put his arms around her, and pulled her close to his chest. "I just want to be alone with the girl I love."
"Oh, Will." She ought to pull away from him. If she didn't it would only make things harder on both of them, but she couldn't seem to help herself. She sank back into his embrace, soaking up his warmth and the strength of his bond.
"That's more like it." He kissed her neck just the way she liked for him to. A little pleasure-sprite danced over her skin.
---
"I'll be glad for your company," Will said as he draped her cloak over her shoulders and handed her the new muff. "But bundle up. Sounds colder than a banshee's tits out."
"And since when do ye know about any other tits but mine?" she asked tartly.
---
"Love me, Kat.
The words repeated in his brain like a song he was unable to find the end of.
I've loved ye since I dipped your braid in that wax. Dinna fret about making a child. Let me be enough for ye. Ye're enough for me."
I have to confess that I've agonized over my review for ages. I actually finished reading this book two months ago. It's set in the Highlands and I do love my Highlanders. There was never any question about not finishing the book. Besides the theme of saving their marriage and the couple's shared grief, there's also quite a bit of action along with humor and suspense. The author's writing was wonderfully captivating. She told the tale very well and the reader will emotionally commiserate with the couple's anguishing plight as they deal with regret, loss and love and rally when the castle needs saving.
I do not want to discourage anyone from reading this book as it's an excellent book AND there is a happy ending. That said, I would recommend this book to anyone who enjoys a good Highlander romance, albeit with a serious undertone.