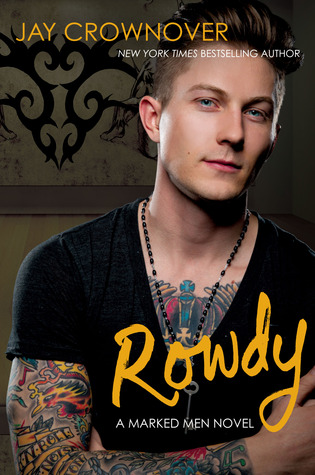 Title: Rowdy
Series: Marked Men #5
Author: Jay Crownover
Format: Paperback, 400 pages
Expected publication: October 21st 2014 by William Morrow Paperbacks
ISBN: 0062333054
Links: Goodreads | Amazon | Kindle | Audio | B&N | ARe
The New York Times and USA Today bestselling Marked Men series continues with this sizzling, sexy story of love, heartbreak, fate, and second chances.





After the only girl he ever loved told him that he would never be enough, Rowdy St. James knocked the Texas dust off his boots and set out to live up to his nickname. A good ol' boy looking for good times and good friends, Rowdy refuses to take anything too seriously, especially when it comes to the opposite sex. Burned by love once, he isn't going to let himself trust a woman again. But that's before his new co-worker arrives, a ghost from the past who's suddenly making him question every lesson he ever learned.





Salem Cruz grew up in house with too many rules and too little fun—a world of unhappiness she couldn't wait to forget. But one nice thing from childhood has stayed with her; the memory of the sweet, blue-eyed boy next door who'd been head over heels in love with her little sister.





Now, fate and an old friend have brought her and Rowdy together, and Salem is determined to show him that once upon a time he picked the wrong sister. A mission that is working perfectly—until the one person that ties them together appears, threatening to tear them apart for good.
I loved Marked Men!
Rowdy St. James escaped a dismal childhood and a broken heart when he left Texas ten years ago. With close friends that are more like family then any he ever had, Rowdy lives his life simple and happy doing what he loves. But when a blast from the past walks into the Denver tattoo shop, simple is thrown right out the door...
Salem Cruz left a severe and suppressed upbringing when she was eighteen to find her own path in life and she has never looked back. But there is one thing from her past that still haunts her, the blue-eyed boy next door that she left behind. When a chance to see him again arises, Salem can't refuse. But will Rowdy be eager to see her? Or will he be wishing for the other Cruz sister instead?
Jay Crownover's Marked Men is a wonderfully dynamic series that I absolutely adore.
Rowdy has been a bit of enigma throughout the series but in
Rowdy
, Crownover expertly peels away his layers revealing a lonely boy who has loved and lost too many times in the past. When Salem arrives, Rowdy is untrusting. She left him without a backwards glance ten years ago and then her younger sister, Poppy, broke his heart and it has never completely healed. You feel for Rowdy right away but Salem is such an engaging character that you can't help but like her right off the bat. With a sassy attitude and pin-up girl looks, Rowdy can't help but feel an attraction to Salem, unwanted as it may be. There was a feeling of insta-lust at the beginning between Salem and Rowdy, and their chemistry was a'sizzlin. But then they try to set that aside to learn each-other again, which though slowed the story down wasn't exactly a bad thing.
Rowdy must come to terms with his past if he is ever to find a future with Salem.
The entire Marked Men family encompassed the story and fans of the series are treated to more from each past couple. There are a lot of changes happening and I'm interested to see where it leads this compelling group of characters.
A sweet story and I loved Rowdy and Salem, but Rowdy was missing the emotional impact I have come to expect from the Marked Men series. The story was nice, but not exceptional. However, I love this series and the author's writing too much to be disappointed in it and am eagerly anticipating the next book, Asa. It can't come soon enough!
Rating: 3.5/5
Reviewer: Crystal
Source: Publisher



Don't miss out on the rest of the Marked Men!


About Jay Crownover:
Jay Crownover is the New York Times and USA Today bestselling author of the Marked Men series. She will also be introducing the dark and sexy world of The Point in a new series this summer starting with Better When He's Bad. Like her characters, she is a big fan of tattoos. She loves music and wishes she could be a rock star, but since she has no aptitude for singing or instrument playing, she'll settle for writing stories with interesting characters that make the reader feel something. She lives in Colorado with her three dogs. http://www.jaycrownover.com/
a Rafflecopter giveaway