Today we are celebrating the release of Diana Gardin's new adult romance, WANTING FOREVER! Look for our review of this title coming soon!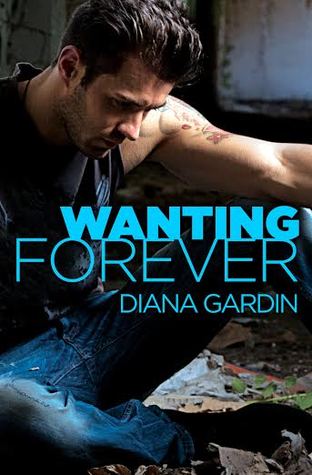 Wanting Forever
by Diana Gardin
Paperback, 288 pages
Published October 7th 2014 by Forever Yours
ISBN 1455560898
Goodreads | Amazon | B&N | ARe
Sometimes the one thing you want is exactly what you can't have.





For Sam Waters, it's Aston Hopewell. Talk about a girl out of his league. But he's just a hired hand, happy to keep his head down and work hard on her father's ranch. With a warrant out for his arrest, he can't afford trouble.





Everyone thinks Aston's life is perfect, but she knows the truth: nothing is as it seems. The only one who gets that is Sam. He understands her in a way no one ever has. But even he won't tell her everything-until the night that changes their destiny forever . . .
Excerpt:
Aston glanced over at Tamara and frowned. "We told her he had a girlfriend. Why is she still after him? She looks like an idiot."
Ashley turned surprised eyes on Aston. "Easy. She's just being Tamara. She's always like that around new guys. Especially new guys who look like Sam. I mean, damn. The boy is gorgeous."
And he was. Aston couldn't deny it. She actually had a chance to look at him tonight, really look at him without being obvious. His dark wash jeans fit him just right. She could see how tight his ass was beneath them, and she couldn't help wondering what it would feel like to reach out and pinch it. The fact that Sam was such a sweet guy made her want to do not-so sweet things to him.
Ugh! The temptation to think about him in ways she shouldn't was overwhelming. Sam was working for her father.
He wasn't from around here, which meant he'd eventually leave like all the summer people did. He was also, as she'd found out tonight, taken.
And so was she. And she couldn't stand the guy! There were times when he acted like he could see straight through her, to parts of herself she kept locked away deep inside. And that drove her crazy in ways she'd never been driven.
So why did she melt a little inside when those tawny-colored eyes locked onto hers? And why did her stomach clench when he spoke her name with that adorable drawl of his? And why the hell did she have to cross her legs and clench her muscles on the rare
occasions when he touched her?
About the Author
Diana Gardin is a wife of one and a mom of two. Writing is her second full time job to that, and she loves it! Diana writes contemporary romance in the Young Adult and New Adult categories. She's also a former Elementary school teacher. She loves steak, sugar cookies, and Coke and hates working out. http://www.dianagardin.com/
Tour-Wide Giveaway:
a Rafflecopter giveaway