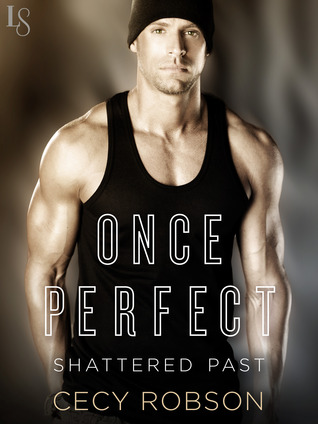 Title: Once Perfect
Series: Shattered Past #1
Author: Cecy Robson
Format: ebook, 272 pages
Published: October 7th 2014 by Flirt
ISBN: 9780553391
Links: Goodreads | Amazon | B&N | ARe
Source: NetGalley
Reviewer: Crystal
Rating: 3 out of 5 Wine Glasses
His life was never easy. Hers wasn't supposed to be this hard. They come from different worlds, but fate lures them together in a way neither expected in Cecy Robson's raw, steamy New Adult debut—perfect for fans of Monica Murphy and J. Lynn.





Evelyn Preston's future once looked perfect—until her wealthy father was caught in an embezzlement scandal and took his own life. Alone and struggling to pay her college tuition and bills, Evelyn finds a job as a waitress at the ultra-hip nightclub Excess, where she used to have more in common with the privileged private-school clientele than her fellow staff members. But something attracts her to the sexy six-foot-four bouncer and underground MMA fighter Mateo Tres Santos. Although they've led different lives, their troubled pasts bonds them in both survival and love.





Mateo is ex-army who wound up in prison for assaulting the man who harmed his sister. Now he's feeling the same protective impulse for this petite blond waitress. When Evelyn experiences a panic attack at the club, Mateo comes to her rescue. And when Mateo is wounded shielding her from a brawl, Evelyn returns the favor and comes to his aid.





As their attraction intensifies, Mateo is determined to find out what nightmares are lurking in Evelyn's past—even if that means tackling his own to save her.
Thoughts:
MMA fighter, ex-military, club bouncer, gorgeous alpha male with a sweet, protective side? How could I resist Once Perfect?
Evelyn Preston use to have it all, but then her father was caught embezzling and not only did she loose him to suicide, but she also lost the life she knew and the friends she had. Now, struggling to scrape by, Evelyn juggles nursing school while waitressing at Club Excess. While working one night Evelyn comes face-to-face with one of her biggest fears and bouncer Mateo comes to her rescue. In the beginning, his size and ability to perform violence so easily scares her. But when another bouncer reveals part of Mateo's past, Evelyn finds a kindred spirit. When devastating secrets she doesn't even realize she was keeping though surface, will Mateo and Evelyn's bond remain strong or will ghosts from the past tear it apart?
I really liked the premises of Once Perfect. Mateo was a easy to love hero with depth. He protected Evie and seemed to have a sixth sense of what she needed. The sexual tension between the two as their relationship grew from friendship to something more was wonderfully written and really had me squirming in my seat. The climax to that build-up though left me wanting with it's lack of steam.
Evelyn on the other hand, while a nice heroine to read about never really wowed me. Her past is dark and devastating but I think predicable. And while the ending was pleasent and happy, I felt it was tied up too quickly and neatly.
All in all, If you're looking for a sexy, sweet, and swoon-worthy hero to read about then I recommend Once Perfect. It was an easy, quick read that I enjoyed.