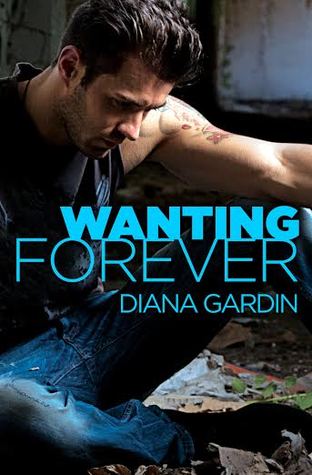 Title: Wanting Forever
Author: Diana Gardin
Format: eBook, 288 pages
Published: October 7th 2014 by Forever Yours
ISBN: 1455560898
Links: Goodreads | Amazon | B&N | ARe
Source: NetGalley
Reviewer: Crystal
Rating: 3/5
Sometimes the one thing you want is exactly what you can't have.





For Sam Waters, it's Aston Hopewell. Talk about a girl out of his league. But he's just a hired hand, happy to keep his head down and work hard on her father's ranch. With a warrant out for his arrest, he can't afford trouble.





Everyone thinks Aston's life is perfect, but she knows the truth: nothing is as it seems. The only one who gets that is Sam. He understands her in a way no one ever has. But even he won't tell her everything-until the night that changes their destiny forever . . .
Thoughts:
Sam Water's has tried to protect his best friend and girlfriend, Ever, from her father for as long as he can remember. When the abuse reaches a breaking point though, Sam can't help protecting her one last time. Even if that means leaving everything he has ever known behind...
On the run, Sam finds a position on a farm in the town of Nelson Island where no one knows him with every intention to return for Ever after the dust settles. Never did he expect a monumental promotion and possible future in the small town, nor the sizzling chemistry he instantly feels between him and the boss's daughter. But Aston Hopewell is leagues above Sam, so it shouldn't be hard to keep his mind focused on his purpose and the girl he left behind.
Aston is not a girl easily forgotten though and with her strong personality, neither is she one to be pushed to the side. Sam seems to be the only person who see's behind her tough-chick exterior and though he has secrets, Aston knows he is worth fighting for. But when Sam's past finally catches up to him will it rob him and Aston of a forever?
The blurb for Wanting Forever, does not
accurately
represents the story, I was expecting something entirely different in this book. That's not to say that I didn't enjoy the story, but it was difficult for me to get in to and here is why;
I was intrigued by Ever, Sam's girlfriend, and her story from the beginning. But the only time we see her is through several short letters and then a pivotal and heart-breaking scene in the book that I don't think clearly represented the situation. I was a little let down that her role wasn't bigger in the story.
Second, I liked Sam. I liked him a lot. He was a warm, charming character that was easy to love. But because I started out intrigued by Ever and her back story, I did not like that he was developing feelings for Aston which dragged out for quite a bit. And I didn't like him and Aston together. It wasn't until about 70% in to Wanting Forever that I felt that the characters finally reached some depth and I started connecting with the story. Aston was a strong, smart leading lady who at times was a little rough around the edges. And though I never totally got on board with Sam and Aston as a couple, by the end I enjoyed them.
There is no physical
cheating in this book, but if you believe in emotional affairs I would say that this book is rife with it.
The writing was good and the story line was okay. But I think that if the story started out differently, without the focus being on Sam and Ever, or if more insight and resolution with Ever was provided, this could have been a great book. It just missed the mark by a smidgen.