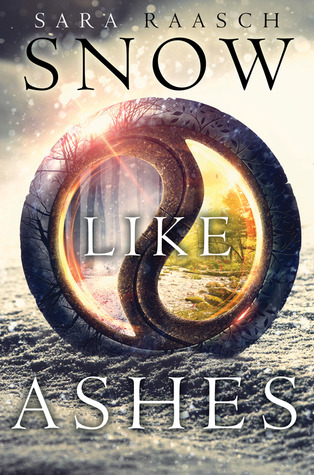 Title: Snow Like Ashes
Series: Snow Like Ashes #1
Author: Sara Raasch
Format: Hardcover, 422 pages
Published: October 14th 2014 by Balzer + Bray
ISBN: 0062286927
Links: Goodreads | Amazon | B&N
Source: Library
Reviewer: Linda
Rating: 4.5 out of 5 Wine Glasses
A heartbroken girl. A fierce warrior. A hero in the making.





Sixteen years ago the Kingdom of Winter was conquered and its citizens enslaved, leaving them without magic or a monarch. Now, the Winterians' only hope for freedom is the eight survivors who managed to escape, and who have been waiting for the opportunity to steal back Winter's magic and rebuild the kingdom ever since.





Orphaned as an infant during Winter's defeat, Meira has lived her whole life as a refugee, raised by the Winterians' general, Sir. Training to be a warrior—and desperately in love with her best friend, and future king, Mather — she would do anything to help her kingdom rise to power again.





So when scouts discover the location of the ancient locket that can restore Winter's magic, Meira decides to go after it herself. Finally, she's scaling towers, fighting enemy soldiers, and serving her kingdom just as she's always dreamed she would. But the mission doesn't go as planned, and Meira soon finds herself thrust into a world of evil magic and dangerous politics – and ultimately comes to realize that her destiny is not, never has been, her own.
Linda's Thoughts:
"Even the strongest blizzards start with a single snowflake."
SNOW LIKE ASHES by Sara Raasch is an epic YA fantasy adventure! This is Sara's debut novel and her first book in a planned trilogy; The subsequent installments are scheduled to be published in 2015 and 2016. The author has written that she has been working on this story since she was a little girl. SNOW LIKE ASHES is a magnificent beginning!
Without spoilers, here's an abbreviated synopsis of this tale's framework: Once upon a time, there was the great Kingdom of Winter. It was a kingdom of wonder - teeming with magic, sparkling with glittering ice, soft snow and, everywhere you looked, brilliant whiteness. The Kingdom of Spring was jealous of what Winter had. Spring amassed a colossal army and overwhelmingly conquered Winter in a savage invasion. Spring showed no mercy to the Winterians who survived, taking them as slaves. Only twenty five Winterians escaped Spring's brutal assault. One of them is the child of Winter's queen.
The story has one heroine and two heroes. Meira, our heroine and a Winterian soldier, is a sixteen-year-old, feisty, kick-ass character whose weapon of choice looks strikingly similar to Xena's War Princess' chakram. She has a bit of a crazy streak and isn't averse to taking on seemingly impossible risks. Meira is part of a love triangle with our two heroes: Theron, the future king of Cordell's Rhythm kingdom, and Mather, the future king of Winter. Both heroes are brave, bold, strong and fearless and each has their own pros and cons. Theron seems to have a bit more backbone than Mather in this segment, but I had the feeling that Mather may be holding back for an unknown reason.
There's a free preview novella. ICICLES LIKE KINDLING is a glimpse into Meira's life before the events of SNOW LIKE ASHES that was originally going to serve as the prologue to the book. In it, you will get a taste of the kingdom of Autumn, meet some of Meira's fellow refugees, and get an introduction to the wicked danger that will soon plague them.
SNOW LIKE ASHES is a great read - but, durn it, I dislike love triangles! I like both the heroes and can't make the choice of whose team I'd prefer... yet;Hopefully, the choice will become clearer over the next installments. The Winterians' saga is heartbreaking and I have to admire the tenacity of the survivors who continue to fight for their lands and the freedom of their enslaved people.
Following please find a few of my favorite quotes:
"Someday we will be more than words in the dark."
---
"Sometimes placing our belief in something bigger than ourselves helps us get to a point where we can be enough on our own, magic or no magic."
---
"So," I start as we pull to the left in the hall, "you're the king of Cordell's son. How's that?"
Theron chuckles. "Beneficial sometime, horrible others. You're beautiful – how's that?"
---
"Sometimes placing our belief in something bigger than ourselves helps us to get to a point where we can be enough on our own, magic or no magic."
---
"I'm at the center of this, a weird possessive feud between the Winter king and the Cordellan prince."
---
No matter what happens, no matter who turns on me, no matter what pompous swine thinks he has power over me, I am still me. I will always be me.
The author's writing is first-rate with strong, compelling characters in an incredible fantasy world filled with danger, intrigue and action. I can't wait for the next installment, ICE LIKE FIRE which is scheduled to be published October 13, 2015! I'd highly recommend SNOW LIKE ASHES to anyone who enjoys monumental YA fantasy sagas - just be prepared for it to take you on a stirring flight of imagination!