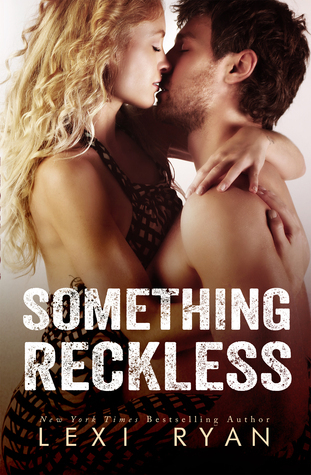 Title: Something Reckless
Series: Reckless & Real #1
Author: Lexi Ryan
Format: eBook/Paperback, 248 pages
Published: December 22nd 2014 by Lexi Ryan
ISBN: 1940832802
Links: Goodreads | Amazon | B&N
Source: Tour Co.
Reviewer: Crystal
Rating: 4/5
He talks dirty to me, but I don't know his name.





He wants to tie me up, but I don't know his face.





He turns me on, but I couldn't point him out in a crowd.





I've fallen for an anonymous stranger, and now the anonymity ends. I want more than typed secrets and texted promises. I want something reckless. Heat. Passion. The thrill of being entirely possessed.





Because I suspect this anonymous stranger isn't a stranger at all.





*****





Lizzy Thompson met riverrat69 online through a service promising to deliver meaningful relationships by forbidding its users to share names or photos until they've reached a certain benchmark. She was looking for love. He was researching an investment. They hit it off. Talked and flirted, hid behind screen names and cartoon avatars.





Now they're breaking the rules and meeting in person. But Liz is prepared. She's picked up hints and followed clues. She's nearly convinced she's discovered the identity of her dirty-talking online friend.





She wonders if her ex-lover Sam Bradshaw knows her identity too.

When she rolls the dice on one reckless night, her chance at something real could crumble.





Something Reckless is part one of the Reckless & Real series. Part two, Something Real will be released in 2015.
Crystal's Thoughts:
Another fabulous read from author, Lexi Ryan, filled with mystery, drama, and plenty of romance! I'll admit, was a little skeptical coming into this story because for some reason the prequel
(Something Wild - FREE)
just did not jive for me. But I ended up loving Something Reckless, and I couldn't put it down!
Lizzy Thompson was humiliatingly rejected by her teenage crush. In the years since though she's had a few chance hook-ups with Sam Bradshaw that didn't end up much better. And no matter how much she's tried to keep her heart guarded, he always ends up stealing it from her. But last summer's mistake might have ruined any chance she has with him in the long term...until tink24 meets riverrate69. The understanding, dirty-talking Something Real user who wants to tie her up can be no one in their small town of New Hope other Sam. So meeting in person after months of on-line chatting shouldn't be a big deal. But what if Lizzy is wrong about the man she has been exchanging sexy messages with?
Missed chances, demons from the past, familial intrusions...there always seems to be some bump in the road to true love for Sam and Lizzy. Frustrating and heart-breaking but equally hot and sexy, Something Reckless will have you eagerly and
nervously turning the pages to see what
perils await this would-be couple next. But there is no denying that true love is where their journey should end. However, author Lexi Ryan doesn't make it easy for these two. Oh no. With a plot teeming with twists and turns, and expertly brought to life, I couldn't help but want these two to just leave the past in the past and openly communicate their true feelings for each other so that they could reach that happily-ever-after. If I could jump into the pages and give them that little extra push I would. I guess it wouldn't be much of a story though if there wasn't some drawn out, heart-pounding conflict. ☺
Pieces of mystery were weaved into the plot with plenty of angst and lust to keep me glued to the story.
Though the big twist wasn't a surprise for me, I couldn't believe when I reached the last page and looked down to see, 'The End'. The story flew by!
I really enjoy all of the characters of New Hope and each were knit into the story, which I loved. Sam and Lizzy have
a soul deep connection and sizzling chemistry that was undeniable.
March can't come soon enough, and I'm on pins and needles waiting to see what happens next. I expect loads of drama, heart ache, frustration, and more spine tingling romance! Another fabulous read from author, Lexi Ryan. A must-have on your reading list!