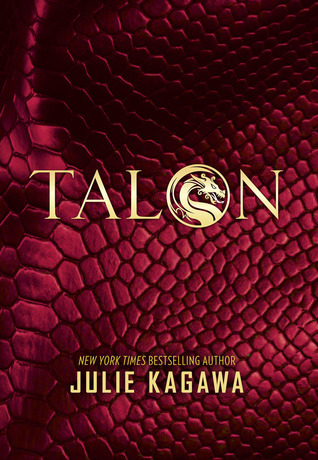 Title: Talon
Series: Talon #1
Author: Julie Kagawa
Narrated by: Caitlin Davies, MacLeod Andrews, Chris Patton
Length: 12 hrs and 32 mins
Format: Unabridged Audiobook
Release Date:10-28-14
Publisher: Blackstone Audio, Inc.
ISBN: 0373211392
Links: Goodreads | Amazon | B&N | Audible
Source: Jukebox
Reviewer: Linda
Rating: 5/5
Long ago, dragons were hunted to near extinction by the Order of St. George, a legendary society of dragon slayers. Hiding in human form and growing their numbers in secret, the dragons of Talon have become strong and cunning, and they're positioned to take over the world with humans none the wiser.





Ember and Dante Hill are the only sister and brother known to dragonkind. Trained to infiltrate society, Ember wants to live the teen experience and enjoy a summer of freedom before taking her destined place in Talon. But destiny is a matter of perspective, and a rogue dragon will soon challenge everything Ember has been taught. As Ember struggles to accept her future, she and her brother are hunted by the Order of St. George.





Soldier Garret Xavier Sebastian has a mission to seek and destroy all dragons, and Talon's newest recruits in particular. But he cannot kill unless he is certain he has found his prey: and nothing is certain about Ember Hill. Faced with Ember's bravery, confidence and all-too-human desires, Garret begins to question everything that the Order has ingrained in him: and what he might be willing to give up to find the truth about dragons.
Linda Thoughts:
"For one moment, with Garret's lips on mine and his arms trapping me against him, I was neither human nor dragon. Just me."
TALON by Julie Kagawa is an epic young adult fantasy! It's a thrilling debut for Julie's new Talon Saga series teeming with secret societies, forbidden loves and a good vs. evil theme. I'd previously inhaled Julie's awesome Iron Fey series and with my current anything-dragon infatuation, TALON was a must-read for me. I was certainly not disappointed! I've read that Hollywood has already optioned it for film and I hope they follow through. It would be so awesome to see this tale played out on the big screen!
The book features two competing secret societies. There's the organization of Talon, a clandestine dragon network with a purpose shrouded in secrecy and there's the Order of St. George , a society of dragon killers. Both are controlling, hush-hush organizations whose followers must fall in line... or else.
Ember and Dante are hatchling members of Talon and an anomaly in dragons as they're twins. We meet them as Talon has deposited them at a safe house on the beach in sunny, California for the summer. Their assignment is to assimilate in human society by observing, blending in and learning how to engage with humans. They're both thrilled to have some distance from Talon where they've been ensconced for as long as they can remember. Ember is more of a rebel enchanted with the novel pleasures of her new life including riding the waves, playing video games and eating ice cream at the mall, and just hanging out with friends. Dante is more of a straight arrow committed to strictly following Talon's edicts. When a boorish guy on a secluded beach makes unwelcome advances against Ember, Garret enters the scene and comes to her rescue.
Garret is also on assignment - but he's a member of St. George's army sent to find and take out sleeper dragons in the same sunny California locale. St. George has received intelligence that there are sleeper dragons in the area - they just don't know specifically who they are. Ember and Dante are near the top of Garret's suspicion list so being her knight in shining armor works to gain Ember's trust so he can spend more time with her. The only problem is that the more time he spends with Ember, the more Garret's attracted to her.
I loved Ember. Garret and Riley! Ember perfectly fits the mold of a fierce, stubborn and determined heroine. She refuses to blindly follow rules, is determined to decipher what's true and fights for what she believes in even when it puts her in danger. She's also a typical teenager with yearnings that she doesn't understand.
Garret, a highly trained human with bright, intense "predator" eyes and amazingly fast reflexes, is a tortured character. Until he met Ember, he'd never questioned what he'd been told by the Order of St. George that all dragons were bad and must be taken out. While still committed to what he'd been trained to do, his mind begins opening to other possibilities.
Riley is a golden-eyed, rogue dragon on the run from Talon. He's made it his job to rescue dragon hatchlings from Talon's clutches and open their minds to the truth about Talon. But he's wanted by both Talon for escaping and by St. George for being a dragon. I fell in love with him the moment he rode his motorcycle into a scene. He comes across as a bad boy women can't resist.
Dante, Ember's twin brother, was not one of my favorite characters in this book but perhaps he'll redeem himself in a later installment. Through Ember's POV, I mourned the loss of the closeness they had shared up till now.
As with many other YA books nowadays, there's a love triangle as Ember is attracted to Garret, who holds her human heart, and Riley, who makes her rebellious dragon's heart go pitty pat. It's a difficult decision for me between the two but I'm leaning towards Garret right now. I reserve the right to change my mind as this series evolves. :-)
TALON is told in three POVs with three narrators: Caitlin Davies as Ember, MacLeod Andrews as Garret (and a short stint as the voice of a dragon), and Chris Patton as Riley. Because readers are privy to the secrets in each of their heads, we understand what drives each and why they make the decisions they do and why. Each of the narrators did a terrific job of capturing the essence of the characters and bringing them to life. Their voices were clear and distinct and I was able to easily differentiate between the characters from their performances. The production was well-paced. The cast of narrators positively enhanced the production. I was so intrigued by their performances that I worked out even longer than normal and squeezed in extra workouts to give me more TALON listening time.
Following please find a few of my favorite quotes:
"I wanted to spend more time with her; she was constantly in my thoughts, and right now the only thing I wanted was to lean in and kiss her. Which was, of course, disastrous for the mission, but I couldn't help it. Somewhere between that day on the beach when I'd met her for the first time and the night of the party when we'd kissed in the ocean, she had become something more than a potential target. She had, very inexplicably, become the most important thing in my life.
And that terrified me."
---
"But I remember the strange dragon's eyes, the look on his face as he stared at me, the way my blood had warmed at the sight of him. I remembered the heat of his gaze, the instant awakening of something fierce and primal inside me when our eyes met.
The rogue dragon was trouble. Plain and simple.
And I was intrigued."
---
"Because you're exactly like me- you don't want your whole life planned out. You're tired of following Talon's rules, of not having any say in your future. You want to know who Talon really is, but it's even more than that, isn't it? You want to be free." His eyes gleamed, golden and brilliant in the shadows. "And I can show you how."
"Rnesh karr slithis," I hissed back, which was Draconic for eat your own tail, the dragon version of go screw yourself. No extra translation needed."
---
"I clenched my fist around the railing, finally forcing myself to acknowledge what that meant. I'd always known, of course. It was always there, at the back of my mind; I just didn't want to think about it. But if Ember was the sleeper...I would have to kill her."
I had so many favorite scenes in this book that it's difficult to pick just one. However, I will say that I've been unable to forget Ember's and Garret's kiss in the ocean with the waves breaking around them. Here's a short excerpt from that scene: "Kissing her in the ocean and feeling my entire world stop. Wishing I could be normal, if only to be with her. Because she hadn't just taught me how to surf and shoot zombies and to scream while plunging down a roller-coaster drop. She had shown me how to live."
Julie's writing is first rate, as always. Julie is one of my favorite authors as I know that when I pick up one of her books, I'm guaranteed a treat. I'd love to live in a world where dragons were real and living amidst us. Julie is so talented that she makes this scenario seem genuinely authentic. Be warned: TALON is a highly addictive read with loads of action, adventure and YA romance! I need the next book now as there is a major cliffhanger at the end.
The good news is that, ROGUE, the next installment in this series, is due to be released April 28th by Harlequin Teen so I don't have that long to wait! The cover has already been revealed. It's a magnificent cover of purple dragon scales - my favorite color! I can't wait! In the meantime, I'll keep searching the skies for a glimpse of those elusive dragons...