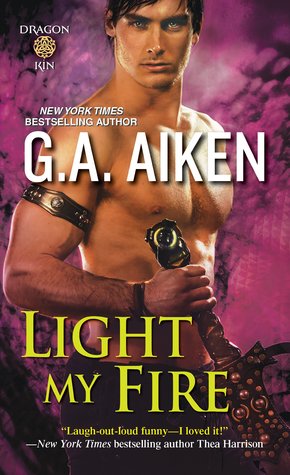 Title: Light My Fire
Series: Dragon Kin #7
Author: G.A. Aiken
Format: Mass Market Paperback, 1st Edition, 483 pages
Published: November 25th 2014 by Zebra
ISBN: 1420131591
Links: Goodreads | Amazon | B&N
Source: Netgalley
Reviewer: Linda
Rating: 4/5
The trouble with humans is that they're far too sensitive. Forget you put a woman in the local jail for a few months - and she takes it so personally! And yet she is the one trying to assassinate the queen. And now I'm trapped with Elina Shestakova of the Black Bear Riders of the Midnight... gods! That endless name!





But what am I to do? I am Celyn the Charming with direct orders from my queen to protect this unforgiving female.





Even more shocking, this unforgiving female is completely unimpressed by me. How is that even possible? But I know what I want and, for the moment, I want her. And I'm sure that she, like all females, will learn to adore me. How could she not when I am just so damn charming?
Linda's Thoughts:
Trying to catch their breath, they lay there for so long that Celyn lost track of time. That is, until Elina noted, "You are still hard inside me."
Celyn nodded, then realized she couldn't see that. "Aye," he finally answered.
"How is that possible?"
"I am dragon," he answered honestly. "Anything is possible. We're that amazing."
LIGHT MY FIRE by G.A. Aiken is the seventh installment in the author's Dragon Kin series. I have become quite enamored of dragons over the last year and when I saw LIGHT MY FIRE offered for review through NetGalley, I could not resist. LIGHT MY FIRE is a very good book - but it's really not a good standalone. Unfortunately, I had not read any of the previous books. I would recommend that if you are considering this series, to start with the first book and read the series in order.
LIGHT MY FIRE is the story of uber human with a super long name Elina Shestakova of the Black Bear Riders of the Midnight Mountains of Despair in the Far Reaches of the Steppes of the Outerplains (Whew!) AND dragon-shifter, Celyn the Charming. I liked both Elina and Celyn. Even though this book is a fantasy, the characters came across as genuine and realistic.
Elina was one ballsy woman! She'd had a hard life as her mother, Glebovicha, hated her. The story opens as Elina is climbing Devenallt Mountain, the mountain home of the White Dragon Queen who Glebovicha had tasked her with killing. Elina knew that this quest would end in her death but she continued with it because she was a Steppe and her honor was most important to her. Upon coming face to face with the Queen, instead of killing Elina, the Queen took pity on her, and had Celyn take her to a place of safety away from her court. Celyn took Elina to a jail and then promptly forgot about her for months. It was not a great way to start a relationship!
Celyn had led a relatively protected life. He was one of the Royal Guard assigned to protect the Dragon Queen. He had a laid-back, but very inquisitive nature. When the Dragon Queen gave Elina a new quest, Celyn was assigned to escort her. Elina let Celyn know where he stood right away:
"What did she say?" Eibhear asked.
"She basically said...she does not like me. We would not be friends. And if we had sex, it would be only because she was bored. Long nights and all."
Elina and Celyn came from vastly different cultures. Elina's Steppes were a woman-based society; Men were toys to them and had no power. In Celyn's Southlander's society, couples were partners and men and women shared power.
Notwithstanding their societal disparities, the characters had chemistry galore! I loved their outrageously humorous bantering and the silly situations in which they often found themselves. Even though there were romantic elements, I would not call this book primarily a romance. But... the sex was plentiful, hot and comical! Elina had a bluntly unique way of expressing herself. For instance, Elina's unusual daily greeting to those she cared about was "Hope death finds you well today."I have to give credit to Celyn for hanging in there. He mostly took what Elina doled out and then kept coming back for more.
Besides the primary plot, there were multiple interconnected storylines. The supporting characters shined too. I especially liked Celyn's father, Elina's sister and Annwyl, a human queen.
I've already mentioned Elina's crazy long name - which by the end of the book I could almost recite by rote. Other characters had super-long names, too, like these two:
•

Keita the Viper; Princess of the Royal House of Gwalchmaifab Gwyar, Second-Born Daughter and Fifth-Born Offspring to the White Dragon Queen of the Southlands, Protector of the Throne, and Bound Mate to Ragnar, Dragonlord Chief of the Olgeirsson Horde AND
•

Prince Talan of the Southlands, firstborn son of Queen Annwyl and Prince Fearghus, twin brother to Princess Talwyn and first cousin to Princess Rhianwen. One of the characters, Magnus, shortened Prince Talan's name to "The Consummate Obtainer of Pussy" which was certainly easier for me to remember.
Following please find a few more of my favorite quotes rendering a small taste of the snarky humor and the spicy sexual encounters that you'll find herein:
"Just...if you notice I'm talking too much or someone seems particularly interested in what I'm asking about, let me know. That's all. Just...have my back."
"Have...back?"
"Have my back. Simply make sure that I don't put me foot in it."
"Foot?"
He rolled his eyes. "Gods, you're literal. I mean make sure I don't talk us into a bad situation."
"Oh. Step on dick."
His eyes widened. "Pardon?"
"When men do stupid thing...we say they step on dick."
"That would imply an impressively sized dick."
---
She again patted the ground beside her. "Now come. Sit beside me. I will play with your cock while we eat."
Elina hadn't even finished chewing the second bite of her food before the dragon suddenly dove into place next to her. A smile on his handsome face, his eyebrows wiggling in anticipation.
He was adorably pathetic.
"Take care of your horse first, Dolt."
"Take care of him?"
"He cannot spend the all night wearing saddle and equipment."
"Aye, but..."
"I am not going anywhere. My hands will still be here to play with cock when you get back."
"Promise?"
---
I will not service your sister," he told her flatly, unable to think of anything else to say.
Elina laughed. "She does not want servicing. At least not from you."
"But when I came into your room earlier—"
"It gets cold on Steppes. We share beds. We share food. We do not share cocks. There is no cock sharing among the Daughters of the Steppes. That is disgusting."
"So then earlier . . ."
"She was inviting you to nap with us, like our brothers and cousins sometimes do. But not fuck."
"Oh."
"You sound disappointed."
"No. Just depressingly relieved."
Aiken's writing was top-notch. LIGHT MY FIRE was an exciting, action-packed read packed with blood, gore and lots of juicy sex which left me laughing out loud LOTS! The world and characters the author has created are truly incredible. When I get a chance, I'm going to go back and read this series from the beginning. The author has an irreverent humor that is highly addicting. If you are looking for a book with lots of laughs and smokin' farcical chemistry, then look no further than LIGHT MY FIRE... but... read the series in order!