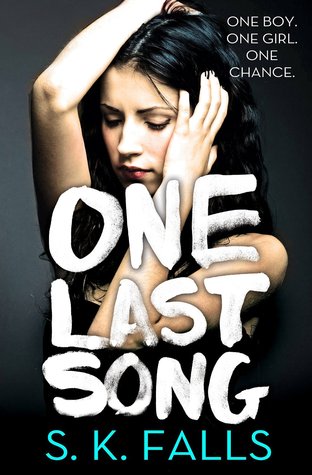 Lexi: NA, YA, no matter what you call it this book deals with some serious issues and will make you emotional. The book, One Last Song and the author is our guest today. Welcome S. K. Falls!
Thank you so much for having me! I'm thrilled to be here (and at a fellow vino appreciator's blog, no less!). ☺
Lexi: The tag line of the blurb for One Last Song packs a lot of punch, "I was seven when I swallowed my first needle". And it sounds like the book is just as strong. What kind of research did you do to get into the head of someone with Munchhausen's?
A lot of research went into this book. I read case studies by doctors who'd treated people with the syndrome. I read what the DSM-IV (Diagnostical and Statistical Manual of Mental Disorders—sort of a PDR for psychologists and other mental health practitioners) had to say about Munchausen. The problem was that there seemed to be a lot of information on Munchausen by Proxy, which is where (usually) a mother makes her child sick for the attention it garners her. I wanted just straight-up Munchausen, so I really had to dig.
Lexi: With your awards for World of Shell and Bone and One Last Song you clearly chose the right path for your life. How does your degree in psychology fit into your writing?
Thank you for those sweet words. I'm actually working toward a dual career in writing and psychology; I'm in graduate school to become a full-fledged therapist. My bachelor's degree in psychology was one of the best things I did for my writing. Psychology plays a very intimate part in every story I tell. I thrive on unraveling character motivations and beliefs, on really trying to make the reader understand what makes my characters flawed and what, ultimately, drives them to change.
Lexi: If one checks out your backlist it is easy to see 2013 was a busy year for you with the release of your paranormal romance series, Fevered Souls. What was your favorite part about writing One Last Song that was different from writing your PNR series?
I'm a huge genre hopper! I've written dystopian, PNR, and now, contemporary. Each genre is fun for its own reasons. What I loved about writing One Last Song was that I could slip into Saylor's and Drew's (and Sarita's) mindset very easily. There were no fantastical elements to contend with, which made the words come out faster—I find it easier to write darker realistic fiction, maybe because of my educational background.
Lexi: Another thing that is different with One Last Song is the fact that you self-published it first, and won the 2014 gold IPPY award. What was the process like going through the work of having One Last Song published by Grand Central/Forever Yours?
I loved the process of going with Grand Central/Forever Yours. My editor is absolutely amazing, and having her input on ways in which we could strengthen the story was a really transformational experience for me as a writer. I've also loved the processes of receiving the cover, brainstorming titles, and working with a publicist!
Lexi: From your haunting covers and hook worthy blurbs, I don't know why someone wouldn't go out and try one of your books today. (I know my kindle will be sporting one very quickly) So which of your book babies would you suggest? Doesn't matter what genre the reader is looking for, what book is closest to your heart?
Thank you so much! That's very sweet of you to say. Hmm, I won't go into the usual dialogue of how each book is like my baby, etcetera, because I'm sure you've heard that before. J I will say that One Last Song has a very special place in my heart. It's so different from all of my other stories, and it grabbed me right from the start.
Lexi: Thank you for stopping by the blog today and sharing some insight into your work! Congratulations on your successes and we hope to see you again, with another award winning book!
Thank you so much for having me! I had a blast answering your thoughtful, insightful questions! ☺
Published January 13th 2015 by Forever Yours
I was seven when I swallowed my first needle.





My mom freaked out and rushed me to the emergency room.





She stayed by my side all night.





I never wanted it to end.





When you spend your whole life feeling invisible-when your parents care more about deals and deadlines than they do about you-you find ways of making people take notice. Little things at first. Then bigger. It's scary how fast it grows. Then one day something happens that makes you want to stop. To get better. To be better. And for the first time, you understand what it's like to feel whole, happy . . . loved. For the first time, you love someone back.





For me, that someone was Drew.



(85,000 words) Previously published as IPPY award-winning novel, Secret for a Song.