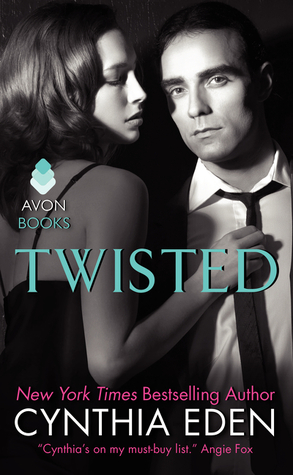 Title: Twisted
Series: Lost #2
Author: Cynthia Eden
Format: ebook, 384 pages
Publication: April 28th 2015 by Avon
ISBN: 0062349651
Links: Goodreads | Amazon | B&N
Reviewer: Crystal
Source: Edelweiss
Rating: 4 out of 5 Wine Glasses
In the second seductive LOST novel from New York Times bestselling author Cynthia Eden, an obsessed Last Option Search Team agent goes looking for trouble—and finds her in the Big Easy.



Dean Bannon comes to New Orleans for one reason only: to track down a missing sixteen-year-old girl. That's before he meets the drop-dead gorgeous con artist who makes him want to lose his legendary control.





With her past, Emma Castille doesn't claim to be psychic. She just notices things other people don't. Like the fear in a runaway's eyes—or the pain in an ex-FBI agent's heart. Her chemistry with Dean is blistering, but Emma follows her passion . . . not someone else's orders.





Then a madman breaks into Emma's home and leaves a twisted message: You're next. Now Dean refuses to let her out of his sight until he pries every last secret from her full, sexy lips. And suddenly Emma's aching to give him everything he wants.
Crystal's Thoughts:
Twisted continues Cynthia Eden's dark and thrilling new romantic suspense series, LOST, with a cynical agent who comes face-to-face with his past and a woman who not only threatens his control, but has him questioning his beliefs.
A hunt for a sixteen year old assumed runaway leads ex-FBI agent and LOST (Last Option Search Team) operative Dean Bannon to New Orleans where his only lead is a beautiful charlatan. Emma Castille might make her money as a fortune teller on the streets of the Big Easy, but she isn't psychic. She just see's what others do not; including the fear in a young girls eyes. When the maniac who is holding the young girl captive sets his sights on Emma, Dean must set aside his derisive attitude about Emma's profession and past, and protect her. But can Dean keep her close yet keep his feelings walled off, or will their searing attraction take them past the point of no return?
Cynthia Eden delivers another fast-faced, nail-biting suspense in Twisted, with a scorching romance and gripping story-line that will keep you on the edge of your seat! I do so love Cynthia Eden's book and this story is another excellent example as to why. She balances the suspense and romance in the book perfectly, never leaving one side floundering for more page time. And though I liked this first book in this series, Broken, just a tad bit more, I couldn't put either down!

As always, the whodunit of the story will keep you on your toes! I had an inkling about who the real killer was but then Cynthia Eden threw in several loops that had me second-guessing myself. At the end I was right, but I enjoyed the uncertainty of it all. Dean was a great hero with firm emotional walls that Emma, who's spunky attitude I adored, chipped away bit by bit with solid determination. Their chemistry was clear and deliciously hot.

As the series continues to build more questions arise about each of the LOST operatives past. They all have a past their trying to forget. I can't wait to unravel each of their mysteries!
Suggested Reading Order:
Broken (LOST, #1) - Review | Purchase
Twisted (LOST, #2) -
Purchase
Shattered (LOST, #3) - PreOrder (10/27/15)