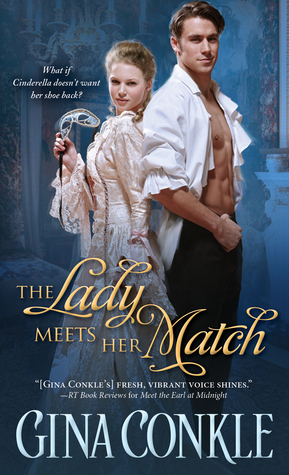 Title: The Lady Meets Her Match
Series: Midnight Meetings #2
Author: Gina Conkle
Format: eBook/Mass Market Paperback, 384 pages
ISBN: 1402294301
Narrated by: Marian Hussey
Length: 10 hrs and 33 mins
Unabridged Audiobook
Release Date:04-07-15
Publisher: NYLA
Links: Goodreads | Amazon | B&N | Audible
Reviewer: Linda
Source: Author/NetGalley
Rating: 4.5 out of 5 Wine Glasses
Locating Her Is Only Half The Battle...





Cyrus Ryland didn't become England's wealthiest bachelor by being a pushover, but the mysterious beauty he discovers sneaking around at his grand ball enflames his curiosity. When the clock chimes midnight, and she's nowhere to be found, Cyrus vows to scour all of London to uncover who she is. Little does he know that not only does Claire Mayhew not want to be found, but she wants nothing to do with him at all...
Linda's Thoughts:
The saucy Miss Tottenham slipped the strawberry into her delectable mouth, all the while looking at Cyrus. His thigh muscles tensed inside the velvet prison of his breeches. Hot pleasure shot through his body at the sight of the red berry slipping through her lips. Adding to his misery, a spurt of juice from the tender morsel painted her bottom lip red. He nearly groaned.
Tradition named the apple as the fruit of man's downfall, but tonight he'd argue mightily for the dangers of a ripe strawberry on a certain woman's lips.
THE LADY MEETS HER MATCH by Gina Conkle is a charming, fractured re-telling of Cinderella that I thoroughly enjoyed. While it is the second installment in Gina's Midnight Meetings series, each book in this series is meant to work as a standalone as the romantic relationship and the development of the plot are fully contained within each novel. I had previously listened to the first book in this series, MEET THE EARL AT MIDNIGHT, and thoroughly enjoyed it, so I was excited to listen to this one and I was certainly not disappointed! If you'd like to read my review of MEET THE EARL AT MIDNIGHT, you can find it here.
I loved both the hero, Cyrus Ryland, and the heroine, Claire Mayhew, in this book. As the tale opens, wealthy king-of-commerce bachelor Cyrus is hosting a grand ball. Claire, a woman of the working class, needs Cyrus' signature on a lease agreement which will allow her to open a coffee and pastry shop in a strip of property owned by Cyrus. In England's Georgian period when this tale takes place, independent businesswomen are frowned upon as women are not considered worthy of operating a business nor of making decisions on their own without a man. Since Cyrus has been unwilling to sign the required paperwork, Claire has vowed to obtain his signature by hook or crook. Cyrus discovers her in his dark study during the ball and is led to believe that she's taken refuge from a suitor there. Their conversation in the shadows intrigues him to where he escorts his mysterious woman into the ballroom. Their attraction is so great, that Cyrus almost kisses her while dancing which would be totally improper. As the clock strikes the midnight hour, Claire disappears, reminiscent of Cinderella. Claire also loses a shoe as she flees the ball - but her wayward shoe is a well-worn working-woman's shoe, not a glass slipper.
Both characters are realistic and captivating. This Cinderella does not want to be rescued from her desired life as a store-owner. I really enjoyed the fireworks as Cyrus' interactions with Claire prompted him to re-examine his beliefs regarding women and business. Most historical romances of this ilk chronicle a romance between two aristocrats; I like that Gina included the emerging middle class of that time in this story. One of my favorite scenes occurred when Claire attended a fight where Cyrus was one of the combatants. You'll have to read the book to find out how that came about!
Following please find a few of my favorite quotes from this novel:
A woman on the verge of moral downfall ought to be well dressed. Claire's particular transgression was gartered to her thigh, a paper hidden by yards of silk. She walked through the empty alley, confident in one comforting truth: no one dared ask a lady what her skirts concealed...
---
Growing up a steward's daughter on the grand Greenwich estate afforded her many opportunities. But life changed one fateful night, a reminder of who and what she was. Since then, she labored hard, building calluses anew on her hands and heart, all in an effort to fall into a deep sleep every night and forget what had happened years ago. Many more years of hard work stretched ahead of her.
Why not sip champagne once more?
What harm could come of that?
---
Mr. Ryland was a riddle to unfold, an attractive one at that. The lone candle flickered behind him, outlining powerful shoulders, tempting solidness she wanted to test.
"But an evening of harmless flirtation isn't out of the question."
His gaze fixed on her. "I'd welcome an evening free of complications."
Did he just proposition her?
---
Claire coaxed free another loop of cloth. The slow side of cotton against cotton matched the soft tenor or her voice.
"I have lots of talents Mr. Ryland. Listening is only one of them."
Marian Hussey, the narrator, did an awesome job of bringing the characters to life. She also narrated the first book in this series and I'm so glad that she returned for this installment. Her voice makes it very easy to differentiate between the characters; It's very clear and her accents and mannerisms enhanced this delightful tale. I would not hesitate to pick up other books narrated by Marian Hussey.
Gina's writing is exceptional, as always. While there are similarities to Cinderella's tale, Gina has put her own stamp on the classic fairy tale leaving the reader with an original, unique treat. Her stunningly sensual descriptions of the scenes, detailed descriptions of the clothing, the weather, and more make the reader feel that they are right there. The epilogue was a satisfying treasure that tied up all the loose ends and left me with a huge smile on my face. I highly recommend THE LADY MEETS HER MATCH, indeed Gina's entire Midnight Meetings series, to anyone who enjoys historical romances.
Suggested Reading Order:
Meet the Earl at Midnight (Midnight Meetings, #1) - Review | Purchase
The Lady Meets Her Match (Midnight Meetings, #2)