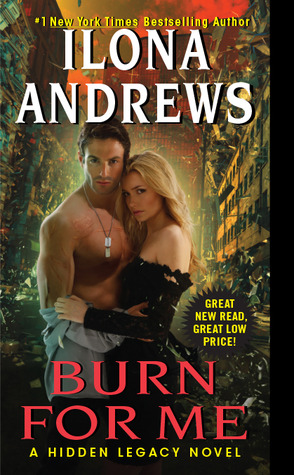 Title: Burn for Me
Series: Hidden Legacy #1
Author: Ilona Andrews
Format: ebook, 400 pages
Published: October 28th 2014 by Avon
ISBN: 0062289241
Links: Goodreads | Amazon | B&N
Reviewer: Crystal
Source: Purchased by Reviewer
Rating: 4 out of 5 Wine Glasses
#1 New York Times bestselling author Ilona Andrews launches a brand new Hidden Legacy series, in which one woman must place her trust in a seductive, dangerous man who sets off an even more dangerous desire…





Nevada Baylor is faced with the most challenging case of her detective career—a suicide mission to bring in a suspect in a volatile case. Nevada isn't sure she has the chops. Her quarry is a Prime, the highest rank of magic user, who can set anyone and anything on fire.





Then she's kidnapped by Connor "Mad" Rogan—a darkly tempting billionaire with equally devastating powers. Torn between wanting to run or surrender to their overwhelming attraction, Nevada must join forces with Rogan to stay alive.





Rogan's after the same target, so he needs Nevada. But she's getting under his skin, making him care about someone other than himself for a change. And, as Rogan has learned, love can be as perilous as death, especially in the magic world.
Crystal's Thoughts:
Meet your new addiction, urban fantasy lovers!
In a world where your magic determines your worth, Nevada Baylor is just struggling to get by as a private detective and support her family. When she is forced to accept a suicidal case the outcome could mean the rise she needs to get her business on the map... or her death. Nevada gains an unlikely partner though after a kidnapping and interrogation attempt, in one of the most powerful magic users in the world - the Prime, Mad Rogan. Adversaries turned allies, Rogan and Nevada must bring down a powerful Prime set on setting Houston on fire. But the city isn't the only thing on the verge of going up in flames...
If you liked the Kate Daniels series, then you'll love BURN FOR ME.
It is an incredible start to a must-read urban fantasy series that had a very healthy dose of romance in it. Which of course, I loved.
Some situations and characteristics in this book might seem familiar to veteran readers of Ilona Andrews but that just gave the story a coming-home feel.

☺

The steady plot pace and pulse-pounding action kept me turning the pages, anxious to find out what would happen next. While the characters captured my full attention as soon as they stepped onto the pages. Especially Mad Rogan, I can't wait to find out more about him! The tension between him and Nevada sizzled the more Nev fought their attraction. My feelings for their blooming passion vacillated; I wanted Nev to give in to Rogan but I also loved the spine-tingling sexual tension between them that her denial created.
The world that was built around Nevada was imaginative and unique. It was easy for me as a reader to picture downtown Houston with a magical edge. All in all, BURN FOR ME was a fast, furious, and bewitching read and I look forward to the next book in the series.
Ilona Andrews does urban fantasy like no other!