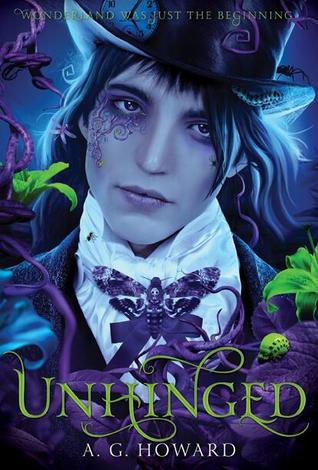 Title: Unhinged
Series: Splintered #2
Author: A.G. Howard
Narrated by: Rebecca Gibel
Length: 13 hrs and 12 mins
Format: Unabridged Audiobook
Release Date:01-08-14
Publisher: Blackstone Audio, Inc.
Links: Goodreads | Audible | Amazon | B&N
Reviewer: Linda
Source: Purchased
Rating: 4 out of 5 Wine Glasses
Alyssa Gardner has been down the rabbit hole and faced the bandersnatch. She saved the life of Jeb, the guy she loves, and escaped the machinations of the disturbingly seductive Morpheus and the vindictive Queen Red. Now all she has to do is graduate high school and make it through prom so she can attend the prestigious art school in London she's always dreamed of.

That would be easier without her mother, freshly released from an asylum, acting overly protective and suspicious. And it would be much simpler if the mysterious Morpheus didn't show up for school one day to tempt her with another dangerous quest in the dark, challenging Wonderland—where she (partly) belongs.

As prom and graduation creep closer, Alyssa juggles Morpheus's unsettling presence in her real world with trying to tell Jeb the truth about a past he's forgotten. Glimpses of Wonderland start to bleed through her art and into her world in very disturbing ways, and Morpheus warns that Queen Red won't be far behind.

If Alyssa stays in the human realm, she could endanger Jeb, her parents, and everyone she loves. But if she steps through the rabbit hole again, she'll face a deadly battle that could cost more than just her head.
Linda's Thoughts:
Logic wrapped in nonsense ...
UNHINGED by A.G. Howard is the second book in the author's fantastic Splintered series. The series is a fractured Tim-Burtonish-style retelling of Alice of Wonderland, a favorite fairy tale of mine growing up. I'm listening to this series in audio. I actually listened to the last twenty minutes of this particular audible sitting in my garage; There was just no way I could stop it without hearing the end. The ending of this one is a terrible cliffhanger that left me reeling. It's one of those cliffhangers to end all cliffhangers endings. Thank goodness, I have ENSNARED, the next and final book in this trilogy, ready to go. It appears that the next book will take us back to Wonderland. I can't wait!
The works of art that the author has utilized for her covers are what drew me to the series in the first place. I was so mesmerized that I did a bit of research on them. Credit for the creation of the bizarrely offbeat covers are due to the combined talents of cover designer Maria Middleton and artist Nathalia Suellen. KUDOS to both of them! The covers are magnificent!
This is a series that needs to be enjoyed in order. I speak from experience as I initially tried to jump right into book three, ENSNARED, and was immediately hopelessly lost. When it hadn't gotten any better by the third chapter, I stopped. However, I was so determined to read this series, I purchased the first two books and started listening from the beginning. I'm so glad I did as the series is obsession-inducing. Just know that while there are series that can be enjoyed without reading the prior books - this is not one of them.
Alyssa is the awesome heroine in this series. She is our pseudo Alice.
Our heroes are Jebediah "Jeb" Holt and Morpheus. Jeb has been Alyssa's human best friend since childhood. He is her gallant knight. chivalrous and caring. He's driven a bit too much by his own art but Jeb would die for Alyssa; He proved that in the first book. I hate that the Wonderland characters all seem to believe that Jeb is fair game to manipulate and use for their own purposes.
Morpheus is sexy and forbidden, manipulative and arrogant. He's a moth who can shift into a human. He's unscrupulous and he has a history of misleading Alyssa and putting her squarely in harm's way... but that's part of what makes him a delicious bad boy.
This book picks up a year after SPLINTERED, the first book, ended. Alyssa's mom is out of the asylum and they are repairing their mother/daughter relationship. Alyssa and Jeb have been happily dating for a year. Alyssa no longer uses bugs in her art - she's moved to a different medium. Alyssa's human life is put into peril when she discovers that Wonderland is in trouble. Red is wreaking havoc there and only Alyssa can stop Red and save Wonderland. Will Alyssa give up her human life to save Wonderland?
I have a few complaints about the book. I wish there'd been more about Wonderland, a little less adolescent drama, and a lot less of the love triangle. All the action takes places away from Wonderland in this book. I missed that magical element of falling down the rabbit hole and interacting with all the crazy inhabitants there. I really, really, really dislike love triangles! One part of me is drawn to Morpheus but my heart remains with Jeb's team as Morpheus doesn't play fair at all. I just can't respect anyone who doesn't play fair.
Rebecca Gibel, the narrator, is the perfect narrator for this series. Her voice was spot on for each character - and that's saying something since there's quite a quirky array of characters. Her voicing of Jeb made me swoon each time while her voicing of some of the creepy characters gave me the chills. I would be remiss if I didn't mention her talented rendition of Morpheus' cockney accent. Wow! She made me feel like I was listening to multiple narrators when, in reality, it was her alone. I never once lost interest as Rebecca spun this wickedly inventive adventure with appropriate pacing, pauses, accents, and tones that held my rapt attention. I already have the next book, ENSNARED, on my phone ready to go and am so glad that Rebecca is narrating it! Actually, after listening to Rebecca's narration of both SPLINTERED and UNHINGED, I can't imagine reading these books without Rebecca's interpretation. If you have read the books and not listened to these in audio, you have missed out!
Following please find a few of my favorite quotes:
"Smoke fills the room, gray and sylphlike, lovely in its deadly grace. It trails into the fire and forms what appear to be wings—black and magnificent. A man's silhouette fills out the image, two arms reaching for me.
Morpheus, or a mirage?
My mind trips back to our dance across the starlit sky in Wonderland, how amazing it felt to be so free. What would it feel like to dance with him in the middle of a blazing inferno, surrounded by an endless power that breathes and grows at our will?"
---
"He puts it on, and his gaze locks to mine. His jewels flicker between passion and defiance—an evocative and intimidating combination. "Fair warning, I intend to make good use of that time. I will be gentle, but I will not be a gentleman. You will be the center of my world. I'll show you the wonders of Wonderland, and when you're drunk on the beauty and chaos that your heart so yearns to know, I will take you under my wings and make you forget the human realm ever existed. You'll never want to leave Wonderland or me again."
---
"What is a lovely queen like you"—his nose wrinkles—"doing in a smelly place like this?"
UNHINGED is a testament to the author's brilliant imagination. She has a way with words like nothing else I've ever read or listened to. She has woven an incredibly chaotic world of quirky characters where there are no rules. If you loved Carroll's Alice's Adventures in Wonderland as a child, you should definitely delve into Howard's captivating, amusing, macabre new version! I highly recommend this series to anyone who enjoys entertaining, vividly dark fairy tales!