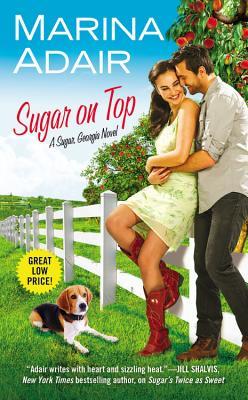 Sugar on Top
(Sugar, Georgia #2)
by Marina Adair
Paperback, 352 pages
Published April 28th 2015 by Forever
ISBN 1455528684
She's sassy and sweet





The last thing Glory Mann wants is to become chairman of the Miss Peach Pageant in Sugar, Georgia. Spending months hearing nothing but the clinking of pearls and judgment? No thank you! But when Glory is forced to take the rap for a scandal she didn't commit, the judge sentences her to head the committee. Even worse, her co-chairman is rugged, ripped . . . and barely knows she's alive.





He's ready and willing





Single dad Cal McGraw can't take any more drama in his life. After a difficult divorce, his little girl became a boy-crazy teenager and his hands are full. The last thing he needs is to spend his down time with the town bad girl. Glory is pure trouble-tempting and tantalizing trouble. But he can't deny the strong chemistry between them-or how her touch turns him inside out. Now as squabbles threaten to blow up the contest and the town of Sugar itself, Cal must risk everything on the sexy wild card to get a second chance at love . . .
Don't miss a second in this sweet contemporary romance series!
Sugar's Twice as Sweet: Sugar, Georgia: Book 1
Excerpt:
Glory walked to the door and peeked out the peephole, doing some panting of her own when she recognized Cal's sexy blue eyes peeking back.
She knew the minute he realized she was on the other side of the door because he smiled and took a step back, as though waiting for her to just open up her door and welcome him inside.
"I know that you know it's me, Boots, so open up."
Oh, she knew it was him all right. Her nipples told her that the second he'd knocked. Plus she could smell the testosterone through the door, and his soap, which from the looks of it he'd showered, too. Although, she thought bitterly, he'd put on a fresh pair of jeans and an untucked gray button-up, not a pair of shorts with dancing pigs on them and a tank that said RESIDENT BED HOG across the chest.
"Or I can go get my tools from the truck—your call."
And since the thought of Cal with tools made her hot, she opened the door—wide enough to see his face.
"What do you want?" she asked, more than aware that she hadn't put her bra back on after her shower.
Time to be firm. "I had a fun time, I'd love to do it again, but like I already told you, panties are a strict date five topic."
"You said date four if they're special."
She had said that, damn it.
He pushed the door open a tad and his eyes dropped to her pajamas. He grinned. "And, Boots, those shorts don't leave much room for imagination." He pushed the door open wider and leaned in. "Or panties."
He was right. She was commando under there. Not that she'd confirm his suspicions or even had time to. Before she knew what was happening, Cal took her hand in his and led her down the stairs toward his truck—and the already opened passenger door.
She stopped at the bottom step. "I'm not wearing shoes and I'm in my pajamas."
"Which answers the question of what you sleep in. Although, I have to admit, I took you for more of an in-the-buff girl." She felt her cheeks heat but played it cool. "Ah, good to know."
Cal slipped his jacket over her shoulders, then turned around to offer her his back. "Pajama issue solved. Now climb on."
Knowing that he wasn't going to let her be until she did as he asked, at least that was the lie she told herself, she wrapped her arms around his neck and legs around his middle—which only managed to smash her front deliciously against his broad, muscular back.
He walked her over to his truck, sat her on the seat, and shut her door, not saying a word until he was in the driver's seat with his door shut.
He didn't start the engine, didn't explain what he was doing, just turned to her and smiled. "I had a great time tonight, which after my day seemed impossible. But you made it fun, made it easy to talk about Payton, and just . . . easy. With you, tonight, it all seemed so easy, so thank you."
And wasn't that the most romantic thing anyone had ever said to her. "I had a great time, too."
"Good." His smile was back and he got out of the truck, walked around, and opened her door.
Glory rolled her eyes, but inside she was melting. "What are you doing?"
"Walking my date to her doorstep." He looked at her bare feet and waggled a brow. "Or carrying."
"That's okay, I can walk." But one hand was already around her back, the other firmly planted on her butt, and he was scooping her out of the truck, not putting her down until he was up the stairs and at her door.
Hands shoved in his pockets, he leaned against the rail. She opened her mouth to speak when he said, "Hang on." He reached out and closed her front door. "There. Now, you were saying."
"Just, thank you," she whispered and neither of them moved, neither of them spoke. It was as though time hung, and in that one moment nothing else mattered. Only the two of them and this insane connection.
His eyes dropped and he cleared his throat. That's when she realized he was waiting for his jacket.
"Oh, right. Sorry." She started to take it off when he gripped the collar and tugged her to him.
"I don't care about the jacket, I'll get it next time."
Her knees wobbled at the idea that he wanted a next time.
Oh my God, Charlotte was right, she had it bad. Glory was a certified McGraw addict; she had every last symptom, even down to wanting their next time to be now.
Cal must have been suffering from the same affliction, because he tilted his head and delivered a gentle kiss that seemed to last for hours. Languid and soft and with deliberate control, the man kissed her as if there was nowhere else he'd rather be. This wasn't a race or a sprint to the bed; to him, kissing was his way of connecting, sharing.
By the time they came up for air, Glory's bones had turned to mush and her entire world had shifted because Cal wasn't just special, he was perfect.
Then he did the one thing that could have made her fall, had her opening herself up to all the what-ifs and going all in. Cal gave her one last kiss on the cheek and made his way down the stairs, giving her what she wanted, time to prove he was serious, that she was worth waiting for, worth fighting for.
Only every step he took caused her chest to coil tighter and tighter until it hurt to breathe.
One date. A hundred. It didn't matter. This was Cal. He was one of the good ones. He'd come all this way, in the middle of the night, to escort her to the door, and there she was, watching him walk away, wondering if she'd get another chance.
The least she could do was invite him inside and offer him a cold beverage.
He was rounding the truck when her feet finally got the message from her brain, and she took off down the steps, not stopping until she was standing in front of him. "Don't go."
About the author:
Marina Adair is a lifelong fan of romance novels. Along with the Sugar series, she is also the author of the St. Helena Vineyard series and the upcoming Shelter Cove series. She currently lives in a hundred-year-old log cabin, nestled in the majestic redwoods of the Santa Cruz Mountains, with her husband and daughter. As a writer, Marina is devoted to giving her readers contemporary romance where the towns are small, the personalities large, and the romance explosive. She also loves to interact with readers and you can catch her on Twitter at @MarinaEAdair or visit her at www.MarinaAdair.com.
Tour-Wide Giveaway:
a Rafflecopter giveaway