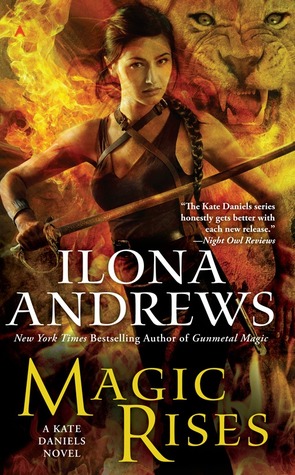 Title: Magic Rises
Series: Kate Daniels #6
Author: Ilona Andrews
Format: eBook/Paperback, 1st Edition, 355 pages
Published: August 2013 by Ace Berkley Penguin
ISBN: 1937007588
Links: Goodreads | Amazon | B&N
Reviewer: Crystal
Source: Purchased by Reviewer
Rating: 5 out of 5 Wine Glasses
Mercenary Kate Daniels narrates a surprising trip with her bite-me humor. The pack of her mate Curran, werelion Beast Lord, need rare medicine from Europe to save children who die from stuck shapeshifting. Europe offers them barrels of the drug if they guard a spoiled princess. Knowing the invite is a trap, of course they sail right in.
Crystal's Thoughts:
Katie Daniels returns with a gripping new adventure that will hold you captive well past the last page!
The Pack is in desperate need of panacea, a magical herb compound that drastically decreases the chance of loupism in shifter youths. When a chance to obtain barrels of the medicine is offered in exchange for guarding a pregnant wolf shifter until she gives birth Kate and Curran know that they can't refuse. Not only is the life of young Maddie on the line without more panacea
, but also the life of any future children of Kate and Curran. However, they know this is a trap. Who the trap is for though is the big question.
Magic Rises is without a doubt, my favorite book of the series so far. With unsurpassed creativity, Ilona Andrews takes the world we already know across the ocean and opens it up to a whole new realm of trials, lore, danger, and heavy-hitting players. Adding depth to the already well-bonded series arc, keeping it fresh and exciting.
Kate handles being thrown in a castle full of shifters that look down on her because of her mere human status in her
usual tough-talking, straight-shooting manner, but when the man-beast she loves pushes their relationship to the near breaking point, all of those old fears and doubt return to the forefront.
The feels in this book gripped my heart with an iron fist. Not to mention all of the inner blubbering I did at different intervals while griping my chest in empathized pained.
Kate stands behind Curran and her belief in their love for as long as she can, but when certain situations are brought to light without enough answers she goes through a bitter spiral of
fear, doubt, disbelief, fury, and heartbreak. And as a reader you are sucked into every tumultuous moment. Gah! I don't to get too spoilery so I won't expand on that much more, but there were times that I seriously wanted to drop a boulder on Curran's head and then strangle him for good measure. I was also a little miffed at the lack of remorse in Curran when reasons were at last, aired out. The whole situation left me floundering and questioning the longevity of their relationship. I'll definitely be picking up the next book in the series, Magic Breaks, and diving in as soon as humanly possible just to reassure myself.

☺
Bottom line; Magic Rises was a story packed with white-knuckle suspense of all flavors, I could not put this book down! I love the continual growth of the series; the plot was well paced and flowed from page to page and the world building was superb as usual.
Each and every character from the story is enrapturing, from the most vile to the most beloved. Five stars coming from a reader who usually sticks to the straight-up romance side of literature, should tell you just how blown away I was by this urban fantasy and the authors ability as writers!
Suggested Reading order:
See our series review of books #1-5
Magic Bites,
Magic Burns,
Magic Strikes,
Magic Bleeds,
Magic Slays,
Magic Rises,
Magic Breaks