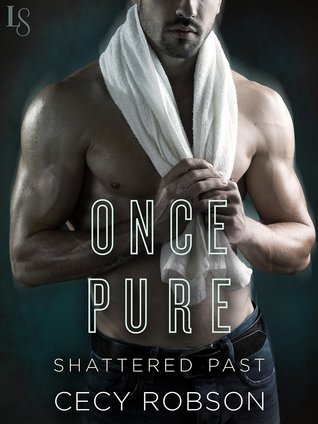 Title: Once Pure
Series: Shattered Past #3
Author: Cecy Robson
Format: eBook, 270 pages
Published: May 19, 2015 by Loveswept
ASIN: B00P54ZO3Y
Links: Goodreads | Amazon | B&N
Source: Netgalley
Reviewer: Kimberly
Rating: 3.5 out of 5 Wine Glasses
She bears the scars of the past. He blames himself for things he can't control. Their defenses are up, but in Cecy Robson's latest Shattered Past novel—perfect for fans of Monica Murphy and J. Lynn—true love lands a knockout punch.




Sofia Tres Santos remembers a time before her life went sour, before her innocence was ripped away, before she began punishing herself with risky behaviors and unworthy men. Now, at twenty, she just hopes she's ready to rebuild some of what she lost. One way or another, it always comes back to her childhood friend and longtime crush, Killian O'Brien.




As strong as Killian is, Sofia has always been his one weakness. He knows Sofia has suffered and wants to ensure she's never hurt again—not like before, and definitely not under his watch. When Sofia agrees to work at his mixed martial arts gym, Killian seizes the opportunity to help and protect the sweet girl he's always cared for. And yet, as he trains Sofia to defend herself using his hard-hitting MMA techniques, he's drawn to the vulnerable beauty in ways he never expected.




As Sofia grows stronger, she also grows brave enough to open herself up to love. And along the way, she challenges everything Killian believes to be true, showing him that no matter how much he dominates in the ring, the real battle is fought in the heart.
Kimberly's Thoughts:
Sofia and Killian were childhood best-friends but a traumatic experience leaves its mark on Sofia and sends Killian on a dark winding guilt trip. They go their separate ways for a few years only to reconnect when Sofia is hired to straighten out Killian's accounting for his gym. They rediscover the friendship that was always there while romantic feelings start to make themselves known. These two are meant to be together but as secrets get revealed they are going to have to fight for it.
Once Pure is third in the Shattered Past series but can definitely be read as a standalone, there are mentions of past couples that people who read the previous books will enjoy. Killian and Sofia are both in their early twenties but I still think this read more like a contemporary romance instead of a new adult. They both exhibit sensitivity and at times a lack of confidence that comes with this age but came across more mature in a way that I think will appeal to a broader readership.
Killian is going to steal quite a few hearts with his sexy exterior and tender interior. He owns and runs a gym while being a MMA (mixed martial arts) star but has no problem asking Sofia for help when it comes to balancing the books and promoting. Sofia prefers to remain in the background and while she may have diminished her inner flame, Killian still sees it burning. Sofia's rape is obviously a defining moment in her life but as the story goes on her character grows in way that the strength she builds from that moment is the only thing defining her. Sofia easily could have developed into a one dimensional quiet mousy character but the author infused her with this great strong vulnerability that only became stronger and less vulnerable. Killian had almost the opposite progression, he easily could have been left as the tough, untouchable, and muscle bound alpha but instead he is revealed to be multifaceted. He is, of course, strong strength wise but also gentle, kind, and vulnerable when it comes to Sofia. They are adorable together; the story might get a bit cliche and induce some good natured eye rolls but I still found myself fighting big grins.
Secondary characters, which mostly consist of Killian's brothers and sister, played a big part in the story and I can definitely see some future leading men and woman potential. The first half was quick reading for me as I was locked into Killian and Sofia sweetly coming together while the second half kind of slowed down. All I can say is bring your umbrella because the angst pours down on you. Our leads start to get a little too emotional and begin to question and guilt trip themselves to death over circumstances tied to Sofia's rape. It's all a little heavy handed and one or two of these angst moments could have been left out as all together it became too much.
Now, why I think you all should read this and what I consider the hidden gem of the story is the subtle way Killian builds Sofia up. He is never pushy with her and in fact, the kind way he takes things slow for her will warm your heart, but Killian manages to slowly get Sofia to work out with him and get her to learn self defense moves. In an un-meaningful way that means so much he'll say he wants her to know how to defend herself and then quietly positions her to gain those tools. It's not heavily focused on in the story and why I call it the hidden gem but when Sofia gets herself out of a dangerous situation and says to Killian "I fought because that is what you ingrained in me" it really hit home for me. These two aren't only sweet and sexy together but more importantly stronger together. Killian and Sofia make each other better, what could be more romantic than that?