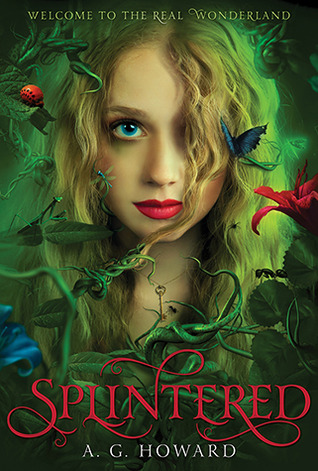 Title: Splintered
Author: A. G. Howard
Narrated by: Rebecca Gibel
Length: 12 hrs and 38 mins
Series: Splintered, Book 1
Format: Unabridged Audiobook
Release Date:01-01-13
Publisher: AudioGO
Links: Goodreads | Amazon | Audible | B&N
Reviewer: Linda
Source: Purchased by Reviewer
Rating: 4.5 out of 5 Wine Glasses
This stunning debut captures the grotesque madness of a mystical under-land, as well as a girl's pangs of first love and independence.





Alyssa Gardner hears the whispers of bugs and flowers—precisely the affliction that landed her mother in a mental hospital years before. This family curse stretches back to her ancestor Alice Liddell, the real-life inspiration for Lewis Carroll's Alice's Adventures in Wonderland. Alyssa might be crazy, but she manages to keep it together. For now.





When her mother's mental health takes a turn for the worse, Alyssa learns that what she thought was fiction is based in terrifying reality. The real Wonderland is a place far darker and more twisted than Lewis Carroll ever let on. There, Alyssa must pass a series of tests, including draining an ocean of Alice's tears, waking the slumbering tea party, and subduing a vicious bandersnatch, to fix Alice's mistakes and save her family. She must also decide whom to trust: Jeb, her gorgeous best friend and secret crush, or the sexy but suspicious Morpheus, her guide through Wonderland, who may have dark motives of his own.
Linda's Thoughts:
Jeb - "You're going to be a famous artist." His voice is deep velvet - soothing and sure. "You'll live in one of those artsy, upscale apartments in Paris with your rich husband. Oh, who just happens to be a world-renowned exterminator. How's that for a twist of fate? You won't even have to catch your own bugs anymore. That'll give you more time to spend with your five brilliant kids. And I'll come visit every summer. Show up on the doorstep with a bottle of Texas BBQ sauce and a French baguette. I'll be weird Uncle Jeb."
Alyssa - "I'm going to fall in love with an artist. And we'll have two kids and live in the country. A quiet life, so we can hear our muses and answer when they call.
Tipping up my chin to meet his gaze, he gives me a tender, starlit smile—one that melts my insides. "I like your version better."
SPLINTERED by A. G. Howard is a well-paced inventive romp in Wonderland! I listened to this in audio and really enjoyed this breathtakingly vibrant fractured retelling of Alice in Wonderland. Actually, it's not a rehashing - it's more of a what-really-happened tale than a retelling. Regardless, the author has a brilliant imagination and a way with words like nothing else I've ever read or listened to. I played some passages over and over as I needed to full absorb and savor every word and experience.
First, I absolutely have to mention the covers for all the books in Howard's Splintered series. They are each fantastical works of art and I love just looking at them. It's because of the covers that I resolved to delve into this series - and I'm so glad I did!
Secondly, this is a series that needs to be enjoyed in order. I speak from experience as I tried to jump into book three, ENSNARED, and was immediately hopelessly lost. When it hadn't gotten any better by the third chapter, I stopped. However, I was determined to read this series, so I purchased the first two books and started listening from the beginning. There are series that can be enjoyed without reading the prior books - this is not one of them.
Alyssa is the awesome heroine in this series. I found that I could easily identify with her as she moved from one peril to another. She is our pseudo Alice as she takes on the task of saving Wonderland and thereby releasing her family from a curse.
Jebediah "Jeb" Holt has been Alyssa's human best friend since childhood. He accompanies her into Wonderland. He is her gallant knight and quite the talented and tolerant guy. I'm definitely Team Jeb!.
I'm torn as far as Morpheus, aka The Caterpillar, is concerned. He's sexy and forbidden, manipulative and arrogant. He's not human and doesn't play fair. One part of me likes him, the other shuns him. I know he genuinely cares for Alyssa but he isn't truthful with her and he often puts her in harm's way.
DURN! Did I mention that I really dislike love triangles?
This installment mostly takes place in a sinister, morbidly stunning fabled underground world which is eerily alike but vastly different from the gentler world originally penned by Lewis Carroll. There's an underlying moral to this story also - to be true to who you are and to follow your heart.
There is a complex assortment of secondary characters - some good, some bad, some can and do teeter either way - but together they make this book an even more entertaining read. I loved the appearance of many characters from Carroll's book.
Following please find a few of my favorite quotes:
"I've been collecting bugs since I was ten; it's the only way I can stop their whispers. Sticking a pin through the gut of an insect shuts it up pretty quick."
---
"I scroll past images every bit as violent and beautiful as Jeb's paintings: luminous, rainbow-skinned creatures with bulbous eyes and sparkly, silken wings who carry knives and swords; hideous, naked hobgoblins in chains who crawl on all fours and have corkscrew tails and cloven feet like pigs; silvery pixielike beings trapped in cages and crying oily black tears."
---
"Raising one hand, he tilts his hat to that sexy slant. "You want me. Admit it."
Even if he's partly right, I'll never tell him. "Why would I want you?"
He lifts three fingers to countdown. "Mysterious. Rebellious. Troubled. All those qualities women find irresistible."
"Such an optimist."
"My cup is never empty."
"Too bad your brain is." The words bite, but my smile softens with affection."
---
"Now, you listen, Alyssa Victoria Gardner. Normal is subjective. Don't ever let anyone tell you you're not normal. Because you are to me. And my opinion is all that matters. Got it?"
---
"One who's naked shouldn't judge apparel,"
Rebecca Gibel, the narrator, is phenomenal. Her voice was spot on for each character - and that's saying something since there's quite an array of characters. She made me feel like I was listening to multiple narrators when, in reality, it was her alone. Her voicing of Jeb made me swoon each time while her voicing of some of the creepy characters gave me the chills. I never once lost interest as Rebecca spun this wickedly inventive adventure with appropriate pauses, accents, and changes in tone and pacing that served to hold my rapt attention. I already have the next book, UNHINGED, on my phone ready to go and am so glad that Rebecca is narrating it AND the third book, ENSNARED, also! Actually, after listening to Rebecca narration of SPLINTERED, I can't imagine reading the book without Rebecca's interpretation.
A.G. Howard has woven an incredibly chaotic world of quirky characters where there are no rules. If you loved Carroll's Alice's Adventures in Wonderland as a child, you should try Howard's captivating, amusing, macabre new version! You will be amazed at the author's creativity. I was particularly mesmerized by the rhymes she re-made! I highly recommend SPLINTERED to anyone who enjoys exciting, engaging, and entertaining fractured fairy tales.