Tuesdays have never been so sexy!
Sexy Snippets is a weekly feature hosted by Reading Between the Wines for the 18+ crowd. Want to join in? Just grab the button, post a sexy paragraph or two from your current read and share the author & title so other participants can add the book to their TBR list if they like, and then leave a comment with a link to your post. And don't forget to have a sexy good time!
Here's a sweet and sexy little snippet from Lorraine Heath's The Gunslinger (June 24th), a wonderful novella set in the old west with a sexy, yet tortured, gunslinger and a woman misunderstood.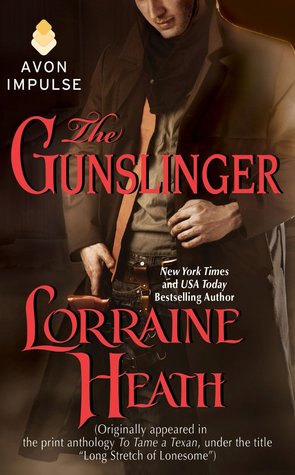 His words brought tears to her eyes. She knew she would forever remember him. His arms closed around her, pressing the soft curves of her body against the hardened planes of his. She had tended his wounds, but she longed to tend his heart. When his mouth covered hers, she denied him nothing. Hr groaned and she felt him shudder.




With nimble fingers, he unbuttoned her gown and slid it past her shoulders. The soft cotton traveled the length of her body and pooled quietly at her feet. She fought the urge to hide form his appreciative gaze. He never took his eyes from her as he stripped out of his own clothes. She stepped into his embrace, and he carried her down to the quilts spread out over the straw. Warm and protective, his body blanketed hers. She pressed a kiss to a scar on his chest. How she longed to ask him to seek another means of loving, a means that would keep him out of harm's way. How would she bear it when the news came that the notorious gunslinger had been slain?
Goodreads | Amazon | B&N
*This is an ARC copy of the book provided by the publisher. The finished copy may vary.